Friday Box Office Analysis
By Tim Briody
August 27, 2011
BoxOfficeProphets.com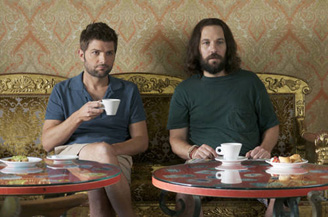 ---
Three new releases even weaker than last week and the looming theat of Hurricane Irene on the east coast make for one of the slowest box office weekends in recent memory.

[tm:5226_]The Help[/tm]

Once again, we'll start with The Help. Widely expected to win the weekend with about $15 million or so, it earned $4.4 million on Friday, more than enough for first place. Rather than have a multiplier similar to 3.42 it pulled in last frame, the weekend proper will suffer as much of the east coast has shut down in preparation of Irene. Normally bad weather doesn't have a significant impact on box office, but it's a very large portion of the country that's hunkering down in anticipation of Irene, so the impact to box office should be noticeable. We'll hedge bets here and give The Help its second consecutive weekend at the top with $11.8 million.

Columbiana

The top opener of the weekend, which isn't saying much, Columbiana earned $3.7 million on Friday. The openers should fare even worse than the leggy The Help in terms of being impacted by Irene, so Columbiana should end up with $9.2 million for the weekend.

[tm:956_]Don't Be Afraid of the Dark[/tm]

The horror remake, which probably has an even lower awareness level than last week's [tm:5234_]Fright Night[/tm], earned $3.6 million. Fright Night's multiplier was 2.6 and given the circumstances, it's likely Don't Be Afraid of the Dark will throw under that. Look for a weekend of $8.6 million.

[tm:5148_]Our Idiot Brother[/tm]

[bp:4264_]Paul Rudd[/bp]'s comedy is a disappointment on a weekend even with lowered expectations, earning only $2.4 million on Friday. It'll vanish quickly, helped along by lowered box office across the board, with an opening weekend of $6 million.

If you're anywhere in the path of Irene, stay safe.