Weekend Wrap-Up
Conan Brings Only the Lamentation of the Box Office
By John Hamann
August 21, 2011
BoxOfficeProphets.com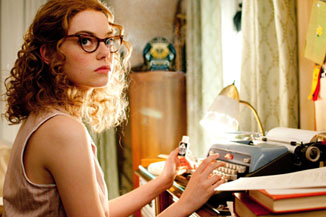 ---
From Conan of old: "To crush your enemies, see them driven before you, and to hear the lamentation of their women". Conan crushed absolutely jack this weekend, finishing the weekend with approximately half the gross of "The Help", a film filled with women who are doing zip in regards to lamentation. It was another bizarro weekend at the box office, as four films rolled out this weekend. Two were remakes (Conan, Fright Night), one was a sequel (Spy Kids: Infinity), and one was a botched book adaptation (One Night). The holdovers ruled this weekend, as The Help sizzles and turns into the story of the late summer.

Our number one film of the weekend is last weekend's number two film, The Help, from Walt Disney Pictures. A book adaptation done right and then handed off to that unbeatable Disney Marketing Machine, The Help has come out of nowhere to rule the box office over the last 12 days. In its first five days, The Help earned a surprisingly large $36 million. Over that weekend proper, it earned $26 million. This weekend, The Help held strongly, earning $20.5 million and dropping only 21%. As I stated in last weekend's column, dramas don't usually show up in the summer, and if they do, are usually counter-programming kept to small theaters and art houses. The Help is neither. It's out to 2,690 venues, and had a very healthy venue average of $7,613 this weekend. If a film is to move from second to first, these days it almost has to be a drama, and a good one at that. The Help is beginning to stir memories of The Blind Side, this time with Emma Stone instead of Sandra Bullock.

Why, then, is this drama so successful when others have tried and failed to gain a foothold in the summertime? First off, this is a good movie. It's 73% fresh at RottenTomatoes and earned an A+ Cinemascore, a score reserved for films that really strike a chord with audiences. Since it debuted, though, there has been a very interesting debate about how race is treated in this film. I must admit I didn't realize it until I saw Wyatt Cenak on The Daily Show this week, but then began to read the different opinions on the Web. Some consider The Help to be a film that eases white guilt about race relations in the 1960s. Others believe the film brings these issues to the forefront, and is a true depiction of life for black and whites of that era. I have not seen the film, so will not offer an opinion. If you would like to read about the issue, Salon.com offers a great blog post that looks at both sides of the argument.

These kinds of discussions can make a film like The Help even more popular, as one can't take a side unless they've seen what's being discussed. Regardless of the debate, Disney has a huge film on their hands. The Help has now earned an extremely impressive $71.8 million so far against a minuscule budget of only $25 million. Despite being August, next weekend serves up a solid line up of new releases, so The Help would have do something pretty special to hang on to the number one spot. Regardless, this is going to be a solid $100 million picture for Disney, as their marketing machine has done it again.

Finishing second is not one of our new releases. Instead, it's Rise of the Planet of the Apes, which is now in its third weekend and still in the top two. Rise improved on its percentage drop compared to its sophomore session, as the Andy Serkis film earned another $16.3 million and dropped 41% (last weekend's drop was 49%). Rise is quickly becoming a dynamo for Fox, as the $93 million effort has now pulled in $133.8 million domestically, and is already approaching $100 million in overseas business. As an aside, I can't tell you how happy I am to see two films with largely positive reviews finish at number one and number two in late August. All too often we are left with The Expendables to close out the summer.

Speaking of bad films opening in late August, Spy Kids: All the Time in the World is third this weekend, as Robert Rodriguez impersonates the villain in this film by making a stinker and serving it up to unsuspecting children. All the Time in the World earned an okay $12 million as it becomes the lowest opener in the franchise's history. This was billed as being in 4D – audiences were handed a scratch and sniff card for the fourth "D" (I wonder if they charged even more). One critic said he got a faulty card – all he could smell "was flop sweat and embarassment". Spy Kids 4 had a critical embargo on it (really?), but at the time of this writing, it had four positive reviews and 20 negative, for a 17% fresh rating. Rodriguez and the Weinsteins spent only $27 million putting this one together, so it won't be a complete loss for the studio (the only loss goes to the parents and children paying for it).

Conan's lamentation is fourth this weekend, as the Ahnold remake doesn't pull in audiences. Maybe it was the title – Conan the Barbarian 3D (how do I spell anachronism?) - that put people off, but this Conan earned only $10 million from 3,015 venues. That gives the Barbarian a venue average of only $3,317, which means only tumbleweeds or parents sleeping after Spy Kids 4 were in attendance after Friday night. This Conan the Barbarian 3D cost Millenium Films over $70 million to make, and will be lucky to see a $30 million return from North American box office. I was never expecting to see overly solid reviews, but the overall theme of those reviews was that this was not even a "check your brain at the door: kind of movie. This is the second time now an Arnold Schwartzenegger sequel or remake has failed, as Terminator Salvation was a domestic failure in 2009 (I liked it), and this Conan didn't earn much more that what the Arnold version debuted to in 1982. According to the-numbers.com, the 1982 version opened to $9.5 million almost 30 years ago. How's that for progress?

The remake of Fright Night is fifth, as the remake that did it right earned the least. The remake of the 1985 fun fright fest took in only $8.3 million this weekend, and leads me to wonder if its just too early to start remaking '80s films. This seemed to have all the right ingredients – Colin Farrell as the neighborly vampire, Anton Yelchin as the teen he terrorizes, all packaged into a 74% fresh film (88% if you look at "top critics"). The marketing for Fright Night was not up to the effort that the filmmakers put into it, as Disney failed to sell this as either '80s nostalgia or current teen fare. Why did they fail to sell it? Fright Night cost less than $20 million to produce, so I would imagine it didn't fit the formula for a high level of marketing as there was little risk. Fright Night finished well away from expectations, and leaves me wondering why they didn't wait for the back-to-college audience for this one.

Sixth this weekend is the smurfing Smurfs, a movie that is reminding me I need a vacation. Now in its fourth weekend of release, The Smurfs earned $8 million, giving the little blue devils a weekend drop of 42%. The Smurfs are now a plague around the globe, as the domestic total is $117.7 million, and the overseas gross has reached over $140 million. The end is nigh.

Seventh goes to Final Destination 5, last weekend's number three film. Like the characters in the film, Final Destination 5 got cut badly this weekend, as it earned only $7.7 million and dropped 57%. The drop was completely expected, as these are one weekend films. Final Destination cost Warner Bros. only $40 million to make, and it has a running total of $32.3 million already. It will likely pull in that $40 million domestically, and then another $40 million (or more) overseas.

Eighth goes to 30 Minutes or Less, Jesse Eisenberg's miss from last weekend. After opening to $13 million last weekend, 30 Minutes landed on its head in its second frame, earning only $7.7 million. It dropped 53%, and has a gross so far of $25.8 million. Sony spent $28 million on this one.

Ninth is One Day, the last of our new releases. The romance, starring Anne Hathaway and Jim Sturgess (Across the Universe), was dead on arrival this weekend, as the review-dependent flick failed to get much love. One Day took in only $5 million from a light 1,719 venues. This one cost less than $20 million to make, and will need a strong take in the UK to stay profitable.

Finally in tenth is Harry Potter and the Deathly Hallows Part 2, as we enjoy the last appearance for Harry Potter in this column. Deathly Hallows Part 2 earned $4.4 million and dropped 39%. It has now earned $365.9 million stateside, and is approaching $900 million in oveseas grosses. Talk about a good way to go out.

Overall this weekend, the box office is soft, but that's what happens over these dog days of August. The top 12 this weekend brought in $118.1 million, ahead of the $110 million brought in last year, when The Expendables was on top for the second straight weekend. Next weekend brings two films that might actually be good: Our Idiot Brother with BOP fave Paul Rudd, and Don't Be Afraid of the Dark from producer Guillermo Del Toro; the other is Columbiana, which is already good, as it stars the lovely Zoe Saldana.