Friday Box Office Analysis
By Tim Briody
August 20, 2011
BoxOfficeProphets.com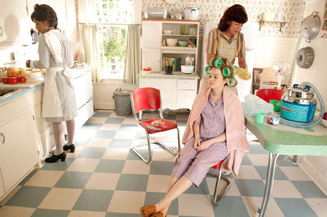 ---
[tm:5226_]The Help[/tm]

We'll skip this week's sorry bunch of openers for now and tell you that The Help was the top film on Friday with $5.8 million, which is off a pretty fantastic 23.6% from last Friday. The word-of-mouth for the film adaptation of the best-seller has been pretty phenomenal, and mixed with a weak crop of new films, that's the recipe for some legs. Last weekend's multiplier was a solid 3.4 and that's likely to continue this weekend, so that would mean a second frame of $19.7 million for The Help.

Spy Kids: All the Time in the World

The fourth entry in the Spy Kids series (and first since 2003), Spy Kids: All the Time in the World is the top new film on Friday, but does not come close to Spy Kids 3-D's opening night of $12.1 million. Instead, it earned $4 million. Yes, Spy Kids 3-D actually earned $33.4 million in its opening weekend and $111.7 million total. Perhaps we should apply the reboot rules here, as it's actually different spy kids, since it's been so long since the last movie, the original spy kids are no longer, you know, kids. Still, while pretty much a disappointment, it's a [bp:450_]Robert Rodriguez[/bp] film so it was probably cheap to make. Give it about $12 million for the weekend.

[tm:3555_]Conan the Barbarian[/tm]

Considered the only new release with a fighting chance to challenge The Help, The Conan the Barbarian remake only managed $3.7 million on Friday. This is what happens when you aim a film at audiences who when they hear the name Conan, think the late night talk show host, not iconic Arnold Schwartzenegger role. It's likely to finish the weekend with a mere $10.3 million.

[tm:5234_]Fright Night[/tm]

Another remake, this one of a cult horror film from the '80s, is also met with a collective shrug, earning only $3.1 million on Friday. And that number is actually ahead of [tm:5227_]Final Destination 5[/tm]'s second Friday (which was about $2.4 million). Fright Night's best hope is that it finds a cult following on DVD, but this weekend it's only going to earn $8.4 million.

[tm:5235_]One Day[/tm]

In only 1,719 theaters (as opposed to the other three releases, all in over 3,000), One Day places ninth on Friday with $1.9 million. That's probably not the start the film was hoping for, but at least it's in the top ten. Maybe there was just outrage over [bp:901_]Anne Hathaway[/bp] playing a British woman. Anyway, One Day should stay in the lower rungs of the top ten with a weekend of $5.7 million.