Weekend Wrap-Up
Apes Rise Again; The Help Comes Out of Nowhere
By John Hamann
August 14, 2011
BoxOfficeProphets.com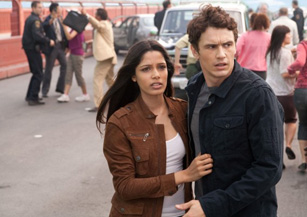 ---
Ahhh, mid-August, the sun is shining, and no brainer entertainment is likely leading the box office. If that's the case, why is the 83% fresh Rise of the Planet of the Apes battling with The Help, a period piece about race relations in the south, for number one and number two at the box office? This weekend is supposed to be about films like The Expendables, Rush Hour or Superbad, not about thinking! Final Destination 5 has been relegated to a top five spot, and 30 Minutes or Less and the Glee Movie are in the cheap seats! Where were you moviegoers in July?

Our number one film for the second straight weekend is Rise of the Planet of the Apes, but due to some stronger than expected competition and a busy weekend at the movies in general, Rise doesn't hold spectacularly. The James Franco monkey movie earned $27.5 million in its second weekend of release and dropped a hefty 50%.

Despite the drop, Fox has back to back weekend wins with this product, so that means one thing: Franchise. The writers of this one spoke of a three film trilogy of Ape movies this week, and with this second weekend performance, it looks like they will get it. Rise of the Planet of the Apes also had strong daily grosses this past week, earning well over $20 million, likely on the back of the A- Cinemascore it received. It won't repeat for three consecutive weekends so Tropic Thunder or Signs this is not. What it will be is wildly profitable for Fox, as this one cost $93 million, and it crossed the $100 million mark domestically on Sunday, only its tenth day. It now sits with $104.9 million after only two weekends. A $160 million domestic total is completely possible here, and it has pulled in almost $50 million overseas already as well.

Finishing second is The Help, and in my mind this quickly bests some of those R rated comedies as the surprise of the summer (except Bridesmaids, which has earned a quarter-billion worldwide). Starring Emma Stone and Viola Davis, The Help is based on a popular novel that came out in 2009, and quietly sold five million books. The book obviously had an impact. The Help finished second at the box office with a weekend take of $25.5 million, pulling that in from only 2,534 venues. This gives it an awesome venue average of $10,073, and room to expand in coming weekends. The Help opened Wednesday and earned $5.5 million on its opening day. It had a total of $10 million prior to Friday, and after five days, it has earned $35.4 million. The Help cost Disney only $25 million to make, and will make three times that amount at the very least.

Two things drove The Help to its success – women and positive reviews. Clearly African American women would have been the big driver for this film's success, but at these heights, it must have crossed over into a wider demographic. We've recently seen book readers turn Water For Elephants into a small hit with a $16.2 million opening and a $58.7 million domestic total, despite not being a very good movie. Eat Pray Love was the same – not very good – but opened to $23 million and finished with $80 million domestic. The difference with The Help is that its a good movie – not only with critics but also with audiences. It earned a rare A+ Cinemascore this weekend from audiences, and a 73% fresh rating at RottenTomatoes. The review rating may be key. It's a drama that isn't approaching 100%, but is more audience friendly, more accessible. We could be seeing something serious in terms of holds with The Help in the next few weekends, but these things can be very tough to predict.

Summertime drama usually doesn't work, or even happen in the first place. As readers of this column know, usually the only thing folks are going to the movie theater for in the summer is the roller coaster, the ride. They don't care if a film is good. They just want to be entertained in an air conditioned space for a couple of hours. Look at this weekend's top ten. How many dramas are there? The closest is Crazy Stupid Love, and that's a comedy. We've had Midnight in Paris on the periphery all summer, but again, comedy. We've had The Tree of Life play art houses, but the closest it got to the top ten was number 11. The summer drama is rare, and having one work is even more rare. In the last ten years, the most successful summer drama is Seabiscuit, the horse movie that earned $120 million for Universal in 2003. It opened in late July to $20 million, and earned six times its opening weekend gross. The Notebook is another example – it opened to $13.5 million in late June of 2004, and also earned six times its opening amount, taking in $81 million domestically. The Help is a very rare film, as it is good and caring during a movie season that is only opposite. It might not be my typical Friday night out, but I just may support it because it is so rare. I hope you do too.

Finishing third is Final Destination 5, the horror series that loves killing people with the lights on (can we go back to talking about The Help?). FD5 (yes there are five of them now) did quite well this weekend, taking in $18.4 million from 3,155 venues. This one opens higher than the others with numbers in them, but behind what was supposed to be the final final destination, aptly called The Final Destination. That one earned $27.4 million over opening weekend, but was about as final as Jason Voorhees. Final Destination 5 was a somewhat surprising 55% fresh at RottenTomaotes, but then a hook through the head is usually just that. Warner Bros. spent around $40 million filming this one, and will likely make a fortune. That "final" Final Destination made over $65 million domestically, and $120 million overseas. I'm starting to think they REALLY like crap overseas.

Fourth goes to those damn Smurfs again, as they play the guest that won't leave. The Smurfs earned $13.5 million, off just 35% compared to last weekend. The Smurfs, which some say cost as much as $110 million (that's a lot of blue paint) has earned $101.5 million so far, and is already over $50 million overseas. If you see a Smurf, step on it, and maybe we will be spared a Smurfquel. At this point, that's the only way.

Fifth is Jesse Eisenberg's 30 Minutes or Less, and back when I didn't know that this wasn't very good, it looked funny. 30 Minutes earned a soft $13 million this weekend from 2,888 venues after poor word-of-mouth seemed to trickle out. The RottenTomatoes score was 45% fresh, and with this type of comedy, you are either Superbad or you're not. It's too bad, as the film is directed by Ruben Fleischer, who teamed up with Eisenberg (and The Help's Emma Stone, and Friends With Benefits' Woody Harrelson) for Zombieland, which I consider one of the better films of the last decade. 30 Minutes or Less was produced for $28 million, and might make that before its done. Chalk this one up as a disappointment.

Those crazy Cowboys and Aliens fall to sixth this weekend (remember the big tie between Smurfs and this one?), as it pulls a Tron Legacy. Cowboys and Aliens earned $7.6 million and dropped 52% compared to last weekend. The $163 million Jon Favreau flick is in huge trouble, as it has pulled in only $81.5 million domestically, and none overseas at this point.

Captain America moves from fifth last weekend to seventh, as the blockbuster moves from inspired to tired in only a few weekends. The First Avenger earned $7.1 million and dropped 45%. This one appears to be successful enough already, as it has taken in $156.9 million domestically, and over $100 million overseas, against a budget of $140 million.

Crazy, Stupid Love is eighth, as the Steve Carell flick struggles with traction, despite being a good movie. Crazy earned $6.9 million and dropped 42%, but the $40 million Warner Bros. flick should work out financially. It has earned $55.4 million stateside, and has yet to open overseas.

Ninth goes to Harry Potter and Deathly Hallows Part 2, as it finally gets ahead of Transformers: Pink Floyd Stole My Title to become the biggest domestic title of the summer. It earned $6.9 million and fell 45%, but now has a North American cume of $357 million (Transformers is now a few million behind). The final Potter is now the 17th biggest domestic title of all time.

Wrapping up tenth place is the Ryan Reynolds/Jason Bateman disappointment The Change-Up, which is barely hangs in with a weekend total of $6.2 million. That's a decline of 54% from last week, and means that this film is not making any of the suits at Universal jump for joy. A tired premise and bad reviews were enough to sink it. So far, the R-rated comedy has a domestic total of $25.8 million.

The Glee Concert Movie is 11th, which spares me having to type Gleek more than five times. Thank you, North America. The Glee Concert Movie/Cash Grab earned $5.7 million from 2,040 3D venues. The best news I've heard about this one is that it's only out for two weeks. Ignore it while you can.

Overall this weekend, the top 12 at the box office is well ahead of where it was in 2010. Last year, with The Expendables on top, the top 12 films brought in $132 million. This year, with The Help almost on top, the top 12 earned $144.6 million. Considering the crop of films released this weekend, that should be considered a huge and impressive victory. Next weekend, we get four more titles. Openers include Fright Night, Conan The Barbarian, Spy Kids: Infinity, and One Day. It should be an interesting weekend.