Weekend Wrap-Up
Apes Smite Smurfs to Top Box Office
By John Hamann
August 7, 2011
BoxOfficeProphets.com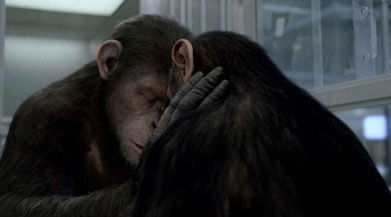 ---
Ten years after Tim Burton and Mark Wahlberg almost destroyed the Planet of the Apes franchise, those damn dirty apes are back, looking to reboot a series that was born in the late 1960s. In last weekend's wrap column, I was not high on this reboot – the trailer had me questioning just how the heck these apes managed to take over the world – and had me wondering how James Franco continues to get work. Regardless, as reviews started to roll out, my perception on this one changed. I think the same happened for audiences, as Rise of the Planet of the Apes broke out this weekend with a very strong and surprising $54 million opening.

When I first started writing this column ten years ago, August box office paled in comparison to the May/June/July extravaganza that was the summer movie going season. When The Sixth Sense opened in August of 1999, everything changed, as Hollywood realized that big money could be made in the eighth month when The Sixth Sense won every single August weekend in '99, and another in September. The following year, Hollow Man opened to $26.4 million - a film that had no right opening to that much. That same year, Clint Eastwood's Space Cowboys turned an $18 million debut into a $90 million domestic cume, and a cheerleader movie in the form of Bring It On opened to $17 million.

The writing was on the wall for future years. 2001 was the year box office really made contact. In the first weekend of August 2001, Rush Hour 2 opened to $67 million (with Burton's Apes and The Princess Diaries also finishing that frame with over $20 million). The following weekend, American Pie 2 opened to $45.1 million, and a new summer box office month was born. Since then, we've seen more films debut over $60 million (Signs and The Bourne Ultimatum), one over $50 million (GI Joe: Rise of the Cobra), and more than a handful over $30 million. This weekend, the Apes are back, which means anything goes at the box office.

Our number one film of the weekend is Rise of the Planet of the Apes, as Fox's reimagining of the origin of the popular series drew large numbers of fans this weekend, thrashing tracking expectations. Apes opened to a suprirsingly large $54 million, about $15 million more than expected. The James Franco starrer took in $1.3 million from Thursday night previews, and then about $18.5 million on Friday proper. The Friday gross was staggering, as I expected the Friday number to come in at about $10-12 million, and coast to a $35 million weekend. Not so. Rise debuted at 3,648 venues, and carried a venue average of $14,803. I had been curious about a weekend multiplier for this one. While this is a franchise (which could incur frontloading), it has been dormant for ten years. The Tim Burton Ape Mistake (why did you put Heston in it, Tim, why?) had an opening weekend multiplier of 2.7; this time out, up-and-coming director Rupert Wyatt took the helm, and the multiplier came in at 2.73.

Rise of the Planet of the Apes was made for $93 million, $7 million less than the Burton monstrosity cost in 2001. It was made by 20th Century Fox and Chernin Entertainment, and should be huge overseas as well. Burton's Apes earned a few million more overseas than it did in the US, and has some decent international names like Freida Pinto, David Hewlett, and Brian Cox involved. Reviews were stellar for Rise, which suprises me to no end. At Rotten Tomatoes, Rise is certified fresh at 80%, with 116 positive reviews out of a possible 145. Heavy August volume carries few blockbusters, so with these strong notices and an A- Cinemascore, Rise could see some decent legs going forward, and a new, strong franchise born.

For James Franco, Rise of the Planet of the Apes comes at a much needed time. Despite the Oscar nomination for 127 Hours (which tanked at the box office with only $18.3 million), Franco has always seemed to be on the periphery of the strong leading actors list. Known mostly for being Peter Parker's friend/nemesis in three Spider-Man flicks, Franco has never broken out on his own. The Pineapple Express was always a Seth Rogen vehicle, Milk is remembered as a Sean Penn starrer, Your Highness flopped with only $21 million, and the Oscar show he hosted was one of the worst ever (and not only because Inception lost to The King's Speech). He has a number of smaller films coming up, but in 2013 he will be out in theatres in Sam Raimi's Oz: The Great and Powerful, which certainly looks interesting.

Finishing second is The Smurfs, and if you are like me, you will be happy that The Smurfs got hacked down to regular size this weekend after a super-sized opening in the last frame. Following that strange duel with Cowboys and Aliens last weekend, where it was first a tie, and then a win for Cowboys, The Smurfs took in $21 million and dropped 40% this frame. The Smurfs won handily over the previous weekdays, taking in almost $20 million. With this weekend's take, I have The Smurfs finishing with about $120 million, if the film can improve on the weekend drops. The Smurfs cost Sony $110 million to make, so they will need a showing overseas as well to keep this one profitable at a healthy level. Give those damn Smurfs $76.2 million so far.

Third is Cowboys and Aliens, and unless overseas grosses are eventually huge, this one is in big trouble. The Daniel Craig/Harrison Ford starrer took in only $15.7 million this weekend, as it dropped 57% versus its $36.4 million opening in the last frame. That's hurtful not only for momentum, but is also likely the grade on word-of-mouth for this Universal product. Don't forget, it somehow cost $163 million to get this one to the big screen, a number it will never see from domestic cinemas. Cowboys and Aliens will be extremely lucky to earn $100 million stateside, so Universal will have to keep its fingers crossed for overseas success. The Jon Favreau letdown has taken in $67.4 million to date.

New release The Change-Up with Jason Bateman and The Green Lantern finishes fourth, pretty much on par with expectations. Even with the R rating, the tired concept of the body switch didn't work all that well, as The Change-Up earned $13.5 million. It debuted at 2,913 venues and had a venue average of $4,635. Made for $50 million, The Change Up is going to need legs of the six-million-dollar-man to break even. This one was 19% fresh at RottenTomatoes so will very likely disappear quickly. We will all be better off.

Captain America: The First Avenger finished fifth, but the daisy is wilting pretty quick for this one. After opening to $65 million, Captain America lost 60% of that audience last weekend, and earned only $13 million this weekend, which means it tumbled another 49%. It's too bad, as this one is 79% fresh at RT, and sounds like it's not a bad film whatsoever. The First Avenger cost Paramount $140 million to make, and has a stateside gross so far of $143.2 million. The good news for Paramount is that it has picked up another $80 million overseas.

Harry Potter and the Deathly Hallows Part II stays above the $10 million mark for another weekend, as the last chapter in the great adventure grossed $12.2 million. It dropped another 45%, but brings its domestic gross up to $342.8 million. That's enough to move it into the top 20 domestic films of all time, and will likely top out in the top 15.

Steve Carell's Crazy, Stupid Love is seventh, down only two spots from last weekend, but takes a hit regardless. Crazy, Stupid Love took in $12.1 million and was off 37%. Like Captain America, this is a very good movie that might be getting lost under the ton of product that is currently out there. The good news for Warner Bros. is that this one cost a sane $50 million to make, and has a gross after only two weekends of $42.2 million.

Friends with Benefits is eighth, as I think North Americans are getting a little tired of the R-rated comedy. Friends earned $4.7 million and is off 49%, similar to last weekend's drop of 50%. So for, the Mila Kunis/Justin Timberlake comedy has earned $48.5 million against a budget of only $35 million.

Horrible Bosses drops to ninth this weekend, as a successful run begins to wrap up. In its fifth weekend of release, the comedy earned $4.6 million and dropped 36%. It crossed the $100 million mark during the week, and now has a cume of $105.2 million..

Finally in tenth is Transformers: Dark of the Moon. In its sixth weekend of release, the Michael Bay sequel took in $3 million and dropped 50%. The $200 million film now has a running total of $344.1 million in the US, and has crossed the billion dollar mark internationally. Huzzah.

Overall this weekend, the box office enjoys having seven films earn more than $10 million, as that, along with the rise of the apes, tallies $159.4 million from the top 12. A year ago, The Other Guys was on top with $35 million, but could only lead the top 12 to $122.5 million. Next weekend, four new films open: The Glee 3D Concert Movie, Final Destination 5, The Help with Emma Stone, and 30 Minutes or Less, which re-teams Jesse Eisenberg with his Zombieland director, Ruben Fleisher.