Weekend Wrap-Up
SMURF! The Smurfing Smurfs tie Cowboys & Aliens
By John Hamann
July 31, 2011
BoxOfficeProphets.com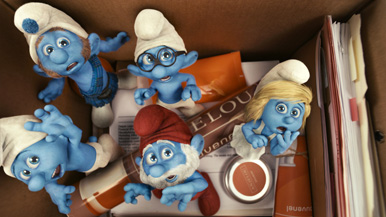 ---
With July in the rear-view mirror, the known knowns of the box office are behind us. The Harry Potters, the Transformers and the Pirates have come and gone, with box office supremacy in their pockets. We are now left with the known unknowns, the movies we think will rocket to the top, or drift in the ether. Films like Cowboys & Aliens and The Smurfs, movies we thought would finish on top or in the middle of the pack, don't. This column has often said that predicting box office is like predicting the weather – sometimes supposedly sunny days turn to rain, and if you are picking up on my note of sadness, you're right, as the Smurfs *tied* Cowboys & Aliens for the top spot.

As Reagen Sulewski said in his weekend forecast, it's not that we at BOP hate kids. We don't, and in fact, some of us actually have children. We just hate the large number of bad films made for kids. We are not the Grinch, we would just rather see some sort of quality entertainment made for this demographic, not offensive crap like Alvin and The Chipmunks (and its follow up), Yogi Bear, Hop, The Zookeeper, Hoodwinked Too!...do I have to continue? Kids are almost exploited in today's movie world, with only Pixar and Blue Sky Studios (Ice Age, Rio) holding out for quality (we will pretend that Cars 2 didn't happen).

Last year we were spoiled with films like Despicable Me, Toy Story 3, How to Train Your Dragon and Tangled. Hollywood proved that family fare could equal quality, and strong box office, but that just isn't happening this year. The Smurfs are on display this weekend, with Sony choosing Raja Gosnell to helm the production. If you know your movies and heard Gosnell was directing, you would stay away, as this man ruined Scooby Doo and ended the Home Alone franchise. One of the Smurf writers (it was done by committee) has been involved with screenplays for seven films. The average Rotten Tomato rating? 16.3%.

So yes, The Smurfs are tied for number one out of nowhere this weekend. The Smurfs (I already hate typing it) earned a much better than expected $36.2 million this weekend from 3,395 venues, and carried a strong venue average of $10,663. Tracking had the Smurfs pulling in $30 million at best, so an increase against tracking should be considered a very strong start, whether I like it or not (I don't). This goes further than simply Cowboys & Aliens performing below expectations. People sought out the Smurfs, despite an 18% fresh rating at Rotten Tomatoes. Critics actually avoided The Smurfs, as Rotten Tomatoes counted only 65 reviews. Only 12 of them were fresh, with the major theme in the positive reviews stating that it wasn't as bad as they expected it to be. Was it adults reflecting nostalgically on the cartoon from the past? Was it parents dropping the kids off at the theatre and letting them choose? Was it the 3D-ness of it all? Neil Patrick Harris? Katy Perry? I don't know. I just, don't, know...

Thankfully, The Smurfs didn't open to the level that Alvin and The Chipmunks did at Christmas in 2007 ($44.3 million), but that weekend was devoid of competition, as The Golden Compass was busy falling on its ass, and the aging Enchanted was picking up only $5 million that weekend. This weekend, the pie is smaller, with Potter, The Zookeeper, and even Captain America getting in the way. The Smurfs does well versus the talking animal pictures, staying ahead of films like Beverly Hills Chihuahua ($29.3 million), Bolt ($26 million) and Doctor Doolittle ($29 million). It opens on the same level as Hop ($37.5 million) and Rio ($39 million), but stays well away from any Pixar opening weekend, even Cars 2 ($66 million). Whatever happens with the rest of the run for The Smurfs, I am already dreading what is now a known known – a Smurfquel (and there goes my breakfast).

Tying for the top spot is Jon Favreau's Cowboys & Aliens (shouldn't it be versus?). Always a wild card at the box office, Cowboys under-performed, as the Daniel Craig/Harrison Ford action flick earned $36.2 million this weekend from 3,750 venues. It had a venue average of $9.653. The marketing for Cowboys was never really ripe, as it failed to give a clear indication of what we were actually going to see in this picture. Flying space ships that fired lasers made it look like it was going to be cowboy genocide, but I have a feeling that's not what happens. Critics ended up as confused as I am (go ahead Smurf fans, make your jokes), as they were split pretty much down the middle. Rotten Tomatoes counted 140 reviews for Cowboys, and of those, only 62 were positive, leaving the $130 million film with a fresh rating of only 44%, a long way away from the 94% fresh rating that Iron Man received. Cowboys and Aliens was expensive to make at $130 million, but I expect it to get to $100 million stateside, and surmise that it will pick up a similar amount overseas, especially with Harrison Ford and Daniel Craig on display. This won't be a Universal disaster, but unfortunately it will limit and threaten fresh thought and originality in the summer movie season, as the thoughtless Smurfs embody all that is wrong with filmmaking today.

Finishing third is Captain America, but even its gross is a bit of a shock. After getting started with a very strong $65 million last weekend, some thought the good Captain might hold up this weekend. Instead, the film plunges like every superhero movie seems to have done so far this summer. This weekend, Captain America took in $24.9 million, dropping a severe 62%. It's not the 70%+ drop that Harry Potter saw last weekend, or the 66% drop that the awful Green Lantern saw, but it has to be considered worse than expected. Captain America is not a sequel, but it saw a bigger drop than X-Men: First Class (56%) and Transformers: Dark of the Moon (52%). It got good reviews, so this is not a quality problem. The issue hearkens back to the "one and done" summer movie season, where the next big thing is always right there, this time the combo of those damn Smurfs and Cowboys and Aliens. The First Avenger does cross the $100 million mark in very quick time, as it hit the mark on Saturday, only its eighth day of release. The $140 million pic will have no problem recouping the budget stateside, and is only out to a handful of territories overseas so far. Captain America has put $116.8 million in the bank for Paramount, and will likely finish with about $175 million or so.

Fourth goes to Harry Potter and the Deathly Hallows Part 2, as Harry and friends try to recover from the embarrassment served up last weekend, which followed its coming out party as the biggest opener of all time the weekend before. This weekend, Potter proves the audience came out in the opening weekend, as the final film earns $21.9 million in its third weekend, dropping 54% from the previous frame. The pattern for Part 2 is actually not much different than that of Part 1, which opened to $125 million, before falling 61% and 65% in its follow up weekends. Hallows Part 2 has already crossed the $300 million million mark stateside (it did that on Friday, its 15th day – The Dark Knight did it in 10 days, Avatar also took 15 days), and is already in reach of the billion mark worldwide, and it's only been out for three weekends. Deathly Hallows Part 2 now has a domestic cume of $318.5 million.

Fifth goes to the last of our new films, Crazy, Stupid, Love with Steve Carell, and let me start this by giving you a challenge. When was the last time a romantic comedy for adults came out that wasn't R rated – and I don't count Larry Crowne because no one knows what the hell that actually was. The closest thing we have is Midnight in Paris, but this is Steve Carell, not Woody Allen, so we know Crazy, Stupid Love will likely be more laugh out loud funny. Regardless, considering that this one was in the dark compared to the mini blue man group (I can't even say it anymore) and Cowboys, the fact that it earned $19.3 million should be considered a large achievement. It earned that amount by opening to 3,020 venues, and providing a quality film, as Crazy, Stupid Love is 73% fresh at RottenTomatoes. It is a successful new idea that will be profitable, as this one cost only $40 million to make. This is actually on the low side of recent Carell openers (Dinner for Schmucks opened to $23 million, Date Night $25 million); however, it may be another leggy film for adults, much like Midnight In Paris. I will keep my fingers crossed.

Sixth is Friends with Benefits, as the Justin Timberlake/Mila Kunis starrer seeks momentum after an $18.5 million opening weekend. It didn't get it, as FWB earned $9.3 million, and dropped 50%, much higher than the usual R-rated comedies we have seen this summer. Still, Friends will end up as a win for the always thrifty Screen Gems, as this one cost $35 million to make, and will likely turn in $60 million stateside. Its current total is $38.2 million.

Seventh is Horrible Bosses, another in the long line of R-rated comedies. Bosses took in $7.1 million this weekend, and dropped 40%. It will cross the $100 million mark next weekend, as it sits with a total so far of $96.2 million.

Eighth is Transformers 3, now in its fifth weekend. Dark of the Moon earned $6 million this weekend, and fell 50%. With a domestic take so far of $337.9 million, it will likely lose out to Potter for box office king of the year, but it is still approaching the billion dollar mark worldwide, as it has earned about $950 million around the globe.

Ninth and tenth are both disappointing films aimed at the younger set. Ninth is Zookeeper, which took in $4.2 million this weekend. The $80 million Sony flick has earned a disappointing $68.7 million stateside, but overseas grosses will keep the Kevin James train rolling. Tenth is Cars 2, which took in $2.3 million this weekend to take its domestic total to $182.1 million. Pixar spent $200 million on this one, and will also get bailed out by overseas grosses.

Overall, the top 12 films could not keep up with the blistering pace set last weekend by Captain America when their total came in at $181 million. The top 12 did manage to stay very strong though this weekend, as the roster pulled in $170.4 million – yards ahead of the $136 million pulled in last year, when Inception spent its third glorious weekend at number one (it really was the best picture of last year; there's no denying it). Next weekend brings Rise of the Planet of the Apes, which for some reason I really want to fail (isn't it better if we don't see the monkeys take over the world, and leave that to our imaginations? Isn't this the biggest plot hole in the other films?), as well as The Change-Up, seemingly the 4,000th R-rated comedy to come out this summer.