Weekend Forecast for July 29-31, 2011
By Reagen Sulewski
July 28, 2011
BoxOfficeProphets.com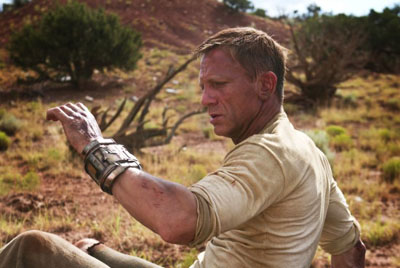 ---
After swinging through the sweet spot of the summer movie season, the last weekend of July finally starts to offer up a bit of variety in one release weekend. OK, in one case the choice is akin to deciding whether to poke your eye with a stick or not, but that's still technically a choice.

One of the frequent complaints leading into the summer was that there were far too many sequels and things we'd seen before, and not enough original ideas. This week, with Cowboys & Aliens, Hollywood calls our bluff and says, OK, how do you like this, then?

Technically, this qualifies as yet another comic book movie, but if there's even one in 20 people in the audience this weekend who've read it, I'll be shocked. Shifting the typical date for contact between aliens and humans back about 80 years (and really, does this make any less sense than aliens showing up in the 20th or 21st centuries?) it posits a battle between cowboys of the old west and invaders from space who are abducting villagers for some nefarious purpose. This battle seems like it'd go as well as "children vs. ants" except for one thing – a mysterious amnesiac stranger with what seems like a piece of ridiculously powerful alien technology on his arm.

Daniel Craig stars as the stranger, with Olivia Wilde and Harrison Ford (doing his best Walter Huston impression) in supporting roles, though the most significant factor in the film's talent, and a big part of the reason it's such a high profile release, is director Jon Favreau. After a barely notable character-actor career (Hey, it's Gutter! And Rudy's friend! And Mike from Swingers!), Favreau moved behind the camera and made his biggest impact with the Iron Man films, proving himself to be a top notch action director. That talent appears to be on display here, as the action sequences such as we've seen in the trailers so far look thrilling. Character and plot wise … well, who knows right now. But, alien ships chasing horses! Who's with me?

If there's one lesson we've learned this summer, it's that for all the complaints about how people want something new, what they really spend their money on is something that they already know about. Witness the depressing and predictable success of all the Transformers movies. It'll be some time before we get a $100 million opening that's not a sequel. In the meantime, the most relevant comparison might be something like Hancock, which tried to tell an original sci-fi story in a big budget context, and opened to $68 million in July of 2008. That also had Will Smith, and while Craig has his fame as James Bond, his success outside that realm is essentially nil. I wouldn't count of Ford selling a lot of tickets either, as he's about ten years past relevance. Wilde has Tron under her belt from last fall, but let's not pretend that had anything to do with her, shall we? So we're left with an eye-catching premise, good, but not great trailers and a solid directorial pedigree. What's that worth? In comparison with other films like this, I'd say about a $47 million opening weekend.

The nicest thing I can say for the adaptation of The Smurfs is that I can sort of see why you'd want to make a movie about them – turning beloved children's TV shows into big screen money machines is very lucrative right now, with the execrable Alvin and the Chipmunks being the gold standard, as it were, of late. What I wonder, though, is why these films have to be so inevitably awful and devoid of any appeal to someone with a functioning brain. "But Reagen!" you say. "These films are for kids!" This is true. And my answer to you is, why do you hate kids? They don't deserve crap. The Smurfs didn't need fart jokes or inexplicable Scottish accents to be entertaining each week.

Since studios can never be counted on to trust the premise of the properties they buy, the film transports the Smurfs into New York City after being chased by Gargamel (played by a hopefully-embarrassed Hank Azaria) where they land in the care of Neil Patrick Harris and Jayma Mays. There, the jokes consist of them interacting with big people things and then pratfalling. I wish I were exaggerating, but that's basically every joke the trailer shows us. It's not even bad jokes, they don't even register as jokes. Sadly, nostalgia will lead people to give this film a try (see: Garfield), although here's my question – do kids even know who The Smurfs are anymore? Anyone who grew up watching the cartoon has to be horrified at this result, and anyone who didn't can only be baffled by this.

Sadly, this film is destined to be a hit for the same reason the director's last film, Beverly Hills Chihuahua, was a hit – kids like tiny talking things (as an aside, look up Gosnell's directorial CV sometime – it is a horror show of irredeemable garbage). Hopefully it can contained to around $25 million this weekend.

After a long run without them, two straight weeks have seen a romantic-comedy entry. Crazy, Stupid, Love is this week's film in the genre, an ensemble film centering around Steve Carrell and his failing marriage to Julianne Moore. After meeting a pick-up artist played by Ryan Gosling, Carrell is thrust back into the wild world of dating, specifically at Marisa Tomei's hot-to-trot character. Meanwhile Gosling finds his own resolve to be the love 'em and leave 'em type withering in the face of Emma Stone.

While on the surface this sounds a lot like a middle-aged version of Hitch, it's a bit more nuanced and less broad take on the concept, brought to us by the team behind I Love You, Phillip Morris. Reviews for the film are the best of the week's trio of new films, and it's exactly the kind of film that benefits from those. As well, the trailers are genuinely funny without feeling forced, and it feels like a film that wouldn't need to be spoken about in sotto voice lest one be embarrassed about purchasing a ticket for it. Carrell is quickly becoming a legitimate and consistent leading man, and Gosling seems poised for a breakout year. An opening weekend of $22 million doesn't seem out of line here.

While Cowboys & Aliens is the odds-on favourite for the weekend's top spot, it doesn't have a clear run at that, thanks to Captain America's surprising strength last weekend. With $65 million, it pulled off a mild upset win in the box office charts, thanks in part to a solid campaign and an iconic character. Though it's still below the curve for past years' comic book franchises, so is everything else this year. Word of mouth ranges from ecstatic to middling so this might have a chance at a late summer run for legs, and I'd look for a $40 million second weekend.

That win came at the expense of Harry Potter's finale, which fell an astounding 72 per cent from its record breaking opening weekend. While this is in large part a reflection of what a good job Warner Bros. did in bringing audiences out to the theater on the first weekend, it's a bit of a disappointment to those who had hoped that the significant jump in the opening weekend represented a paradigm shift in the series' earnings. It still might – it'll become the highest grossing film in the series in the middle of next week at the latest – but just not to the degree that some might have hoped. I expect the film to pull out of the nose dive a bit, but we're still going to see around $21 million this weekend.

Friends With Benefits brought in a respectable and predictable $18 million in its opening weekend, building a bedrock for the potential A-list careers of Mila Kunis and Justin Timberlake. You are hereby warned. While it faces some direct competition in Crazy, Stupid, Love this weekend, it's going after a much younger audience and shouldn't be impacted all that much. Give it $11 million this weekend.

Following after that, we have Horrible Bosses, which should pass Transformers in the standings with around $8 million to Transformers' $7 million and Zookeeper, which will bring in around $5 million.