Weekend Wrap-Up
By Reagen Sulewski
July 24, 2011
BoxOfficeProphets.com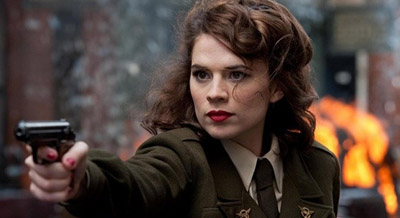 ---
Prior to the weekend, expectations were set that Captain America would run a close second to the world-beating Harry Potter franchise in its last installment. The lesson: never bet against Cap.

After what had seemed like flagging box office for comic book films this summer and an overexposure to the genre in general, expectations for Captain America: The First Avenger had been muted. Perhaps that was a bit of an overreaction, as it managed the third opening weekend win for a Marvel franchise film this summer, and the fourth for comic-inspired films. The Joe Johnston-helmed film opened to an estimated $65.8 million at 3,715 venues, for an approximately $17,700 per venue average, the strongest of all four major comic movies this summer.

This came after a $25.6 million opening day (including midnight sneaks), giving it a 2.58 weekend internal multiplier, on the lower end of acceptable, but roughly in line with other tentpole films from this summer. Although actuals will tell the final story, this figure makes it the highest opening of the four comic book films this summer, edging out its studio and sub-franchise mate Thor by a suspiciously small $100,000. When it ends up falling a little short of Thor when the estimates fall away, you won't be seeing my shocked face.

However, that's still a solid result for a film that was expected to be a bit of an also-ran coming so late in the summer and with a character that hasn't always been foremost in the minds of movie audiences. With a budget of $140 million, which is middle of the road for summer tentpoles these days, it's well positioned to turn a solid profit, though international box office may be more limited thanks to the America-centric nature of the film. There's little data to go on this weekend for that, though, as Italy and Poland were the only two international markets to get the film this weekend. It's also worthwhile to remember that the film serves a dual purpose, both in making money on its own, and in selling next summer's Avengers film, which collects four franchises' worth of heroes and some flotsam and jetsam into a mega-franchise.

Even with this slightly rosy picture, it still does represent a bit of a fatigue issue with comic book films. It was only last year that Iron Man, which is also being brought under the Avengers wing, opened to nearly double this amount. You can bring out the "well, that was a sequel" argument, but which then doesn't explain why the first Iron Man movie cracked $100 million and new comic book movies are struggling to crack 60% of that mark. It's far too early to push the panic button for studios, but as they run out of A-list properties and/or increasingly need to resort to the reboot/spin-off model, there's not going to be the automatic success that they've depended on for the past ten years or so.

I don't want to get too pessimistic here, as reviews were generally positive and word-of-mouth even more so, so Captain America has a good chance of ruling the charts for a couple of weekends, but five years ago this might have been an easy $300 million film. Now? Well, $200 million seems possible.

The surprise second-place (in that it wasn't first) finisher was Harry Potter and the Deathly Hallows Part II, which fell like a horror movie, losing 71.6% of its opening weekend business to end up with just $48.1 million in its second weekend. It's the harshest judgment in the history of the franchise, at least in terms of second-weekend grosses. To put this in perspective, this is lower than the amount that Part I earned in its second weekend, that after a $45 million smaller start.

After claiming every meaningful opening weekend record in its debut, there was some thought that the game had changed, with new audiences opened up to the film for its finale. In the end, they've been more or less proven not to be more numerous, simply more fervent.

It would also be a mistake of epic proportions to take this as a disaster for the film – it's already passed two of the films in the series in US gross in just ten days and still seems on pace to become the first in the series to crack the $1 billion mark internationally. It's just that hopes of a larger breakthrough seem to be dashed at this point.

The four previous Potter films have all earned somewhere between $75 and 90 million from their second weekends on, and given Part II's similar second weekend to Part I, that metric seems likely to hold here. With $274 million already in the bank, that gives us a $350 to 365 million range for its final domestic total, which would put it well above the pack in comparison to other Potter films – Philospher/Sorcerer's Stone's $317 million shouldn't be any kind of barrier here.

Apparently no matter who you put in a romantic-comedy about casual sex, it's going to make exactly the same on opening weekend. Friends With Benefits nearly duplicated No Strings Attached's $19.7 million opening weekend with $18.5 million of its own, leaving Natalie Portman and Ashton Kutcher to have the (slight) bragging rights for now.

With a relative dearth of romantic comedies to compare it against of late other than its look-alike, it's difficult to determine just how well this compares within the genre. But against what I'm assuming is a tiny budget (relatively speaking), there's little to count against it as at least a moderate success and a potential breakthough lead role for both Justin Timberlake and Mila Kunis. With solid but unspectacular reviews and word-of-mouth, I'd look to No Strings Attached's $70 million finish as a target for the slightly slower starting Friends With Benefits.

Fourth place belongs to the suddenly stronger-looking Transformers: Dark of the Moon, which added $12 million to its total this weekend, pushing its domestic gross up to $325.8 million. After Potter's $170 million opening weekend, many thought Transformers was toast as a potential summer season winner, but we're at least back into the horse race. The estimate seems a shade generous based on its second and third weekends, but falls in line with past Sunday takes so it may hold at that figure. In any case, its probable $350 to $360 million finish should be viewed as a potential champ for the summer at this point.

Fifth spot goes to Horrible Bosses, which is showing a lot of strength in this summer of the R-rated comedy. Dropping just a third and nearly passing Transformers, it's padded its total by $11.7 million to $82.4 million after three weeks. This is only $3 million short of the summer's breakout comedy, Bridesmaids, at the same point, with a comparable opening weekend. That's a bit of a misleading figure, since weekend dropoffs haven't been as strong for the Warner Bros. film, and much of the gap that should exist has been made up by stronger July weekdays. As well, much of Bridesmaids strength came in weeks five, six, seven and beyond, as it's refused to give up the ghost. Still, we're looking to at around $125 million for Horrible Bosses, which is a great result for this update of the 9 to 5 concept.

Zookeeper is pretty much the opposite of an R-rated comedy, but it's still showing some strength in the box office charts, coming in at sixth for $8.7 million and a $59.2 million running total. It's already passed this winter's The Dilemma, though that's no small feat, and it should end up well behind Kevin James' more successful and notorious films, like Grown Ups and Paul Blart: Mall Cop. I can only assume a return to a raunchier James is in order for his next projects, lest he lose all his adult audience.

Seventh place goes to Cars 2 and its $5.7 million, which after its disastrous second weekend, has shaped up more like how we expect a Pixar film to perform. Being the first Pixar film to receive negative overall reviews has definitely hurt the film and the studio, as it's going to struggle to break the $200 million mark, the first showing that low since 1998's A Bug's Life.

Eighth spot goes to another Disney production, Winnie the Pooh, which brought in $5.1 million and sits at just $17.5 million total. It's a film with modest expectations in theaters, however, aiming towards the ancillary markets, a move that's possible given its $30 million budget.

Bad Teacher inches towards the $100 million plateau with its ninth place finish and $2.6 million. Expect Sony to pull out a few stops to get it there, as it's a marginal thing at this point, and no one stops a film within a couple million of that mark.

Meanwhile, tenth place sees Woody Allen's Midnight in Paris yet again, even seeing a slight uptick to $1.9 million on just 621 screens. With nearly $50 million in its coffers, this is proving to be one of the stealth films of the summer and bar far the biggest success Allen has had in years, and even overshadowing its star, Owen Wilson's other films this year.