Weekend Wrap-Up
Potter Obliterates Dark Knight Record
By John Hamann
July 17, 2011
BoxOfficeProphets.com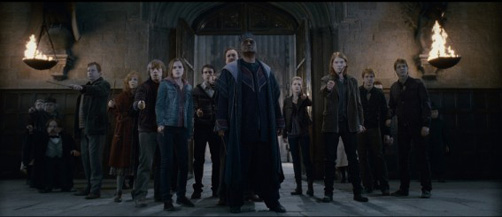 ---
The Dark Knight be gone. Harry Potter's magical mystery tour opened for the last time this weekend, and muggles showed up in record numbers to take it in. When I say record numbers, I mean it – The Dark Knight's $158.1 million opening weekend record is no more. Neither is Twilight: New Moon's single day record of $72.7 million. Like Lord of the Rings, the Harry Potter franchise has its biggest weekend with the final chapter, bringing to a close the most lucrative film franchise is the history of movies. Harry, box office nerds will miss you.

As most of you know by now, Harry Potter and The Deathly Hallows Part 2 turned in the biggest late night/midnight screening return ever, as it earned $43.5 million in the late hours of Thursday. Alone, this is a massive accomplishment, as Harry Potter is supposed to skew younger than the Twilight series, yet it took down New Moon's midnight record. We knew that advance ticket sales for this Potter were huge, and that fact led to the biggest single day take in box office history, as combined with those ridiculous midnight numbers, The Deathly Hallows Part 2 took in $48.6 million over its regular Friday, but combined with the midnight sales, that single day became an astounding $92.1 million. That absolutely shattered the single day record held by Twilight: New Moon at $72.7 million, busting it by 27%. Think about that. When New Moon became the biggest single day earner, it did it by only 6%, as it beat Twilight: Eclipse by only $5 million. Potter bested New Moon by almost $20 million over one day. That, my friends, is freakishly impressive.

Potter's opening day for The Deathly Hallows Part 2 beat The Deathly Hallows Part 1 by $31 million. I've been writing this column a long time, and this reminds me of the weekend when Spider-Man opened to $114.8 million. This is the day I've been waiting for, and somehow it snuck up on me. I didn't think this Potter would be this big.

After that completely impressive midnight and first day showing, the question was all about momentum. Could The Deathly Hallows Part 2 manage to continue the torrid pace throughout the weekend? Looking at Part 1 might shed some clues on a weekend multiplier if we break its gross apart. Part 1 had midnight showings that amounted to $24.1 million, a first day of $61.7 million, and a weekend gross of $125 million. A proper first day is calculated by taking that $61.7 million, and subtracting the midnight showings at $24.1 million, giving us a "true" Friday of $37.6 million. To get the Part 1 multiplier, we subtract the midnight amount from the total ($125 million - $24.1 million) giving us $100.9 million. Divide the $37.6 million true Friday figure into adjusted weekend total, and we get a weekend multiplier of 2.68.

It could be argued that the multiplier for the Deathly Hallows Part 2 will be lower due to the law of fanboy box office, as mad fans soak the film up during the earlier portion of the weekend, thus affecting the multiplier, however we will use a 2.68 and see how it works out. Deathly Hallows Part 2 took in $92.1 overall on Friday, but we subtract the midnight showings at $43.5 million, and add the multiplier. Our formula now looks like this:

$92.1 million -$43.5 million = $48.6 million * 2.68 = $130.25 million + $43.5 million = $173.75 million

The Saturday figure for Deathly Hallows Part 2 came in at $42.9 million, and the Sunday at $33.6 million, giving the final chapter of Rowling's masterwork a massive weekend total of $168.6 million. The final weekend multiplier came in at 2.56, lower than the last Harry Potter film had. It had a huge venue average of $38,526 from 4,375 venues. Part 1 opened at 4,125 venues and carried a venue average of $30,307. The Deathly Hallows Part 2 joined The Dark Knight, Pirates of the Caribbean: Dead Man's Chest, Spider-Man 3 and Twilight: New Moon as the only films to earn $100 million in two days. The Dark Knight and Transformers: Revenge of the Fallen are the only films to earn $200 million in five days - Deathly Hallows Part 2 could do it in four days, but it will be close.

Not only is Harry Potter and the Deathly Hallows Part 2 a ridiculously successful movie, it is also a very good product. Up until this film, Harry Potter movies had averaged a fresh rating at Rotten Tomatoes of 83%. Order of the Phoenix at 78% and surprisingly Deathly Hallows Part 1 at 79% fresh had brought the average for the series down, but with a 97% fresh rating for this outing, director David Yates provides a film that many will go back to over and over again. Only six reviewers at Rotten Tomatoes found something not to like (including my favourite sour puss, Armond White, who didn't like Bridesmaids, Thor, or Midnight in Paris either) but 214 did, and those that did like Part 2, really liked it. The common theme amongst reviewers is that this is a positive end to an always good series, ending on a high note. (Reviews were like love letters, really, much like this column.)

Is the huge uptick here only because Deathly Hallows Part 2 was the only Potter film released in 3D? It would have helped, however there is certainly more to it than that. Potter has been successful for so long that children who grew up reading the books are now adults who have probably introduced younger siblings and other friends to the series, not to mention that fact that it has strong adult appeal as well. Usually, a film franchise loses fans as the series plugs along. Harry Potter is the opposite, and provides what may be the best box office story ever. Thank you, Harry.

The rest of the top ten has to deal with riptide caused by Harry Potter, and regardless of target demographic, all films were affected this weekend. Transformers: Dark of the Moon is second, and it earns $21.3 million, down a woeful 55% from last weekend. Despite the solid audience reaction and what is really a rebound from Revenge of the Fallen, Dark of the Moon still takes big weekend plunges as the target audience turns to Harry Potter. Regardless, Dark of the Moon has now earned $302.8 million, getting to $300 million on its 19th day, five days longer than it took Revenge of the Fallen to meet that mark. Dark of the Moon is still trekking toward that billion dollar worldwide mark, and should meet it by the end of the run.

Third is Horrible Bosses, which should be a very leggy comedy for the folks at Warner Bros. It had a solid debut weekend, strong reviews and good Cinemascores – and is also following a long line of R-rated comedies that have seen low second weekend drops. After debuting to $28.3 million last weekend, Bosses turned in a score of only $17.6 million this weekend, as it falls 38%. The Potter Squeeze has pulled Horrible Bosses out of the big theatres, and likely moved it to smaller venues. Potter may have killed any momentum it had, as next weekend, another R-rated comedy shows up, this time, Friends with Benefits with Justin Timberlake and an emerging Mila Kunis. Nonetheless, Bosses is going to be another huge success for an R-rated comedy, as this one had a production budget of $35 million and has now earned $60 million. Different scheduling might have made it bigger.

Fourth is Zookeeper, Sony's $80 million gamble on Kevin James and talking animals. Sony would have been looking for a leggy family movie, but parking it the weekend before Harry Potter may not have been the best move. Zookeeper earned $12.3 million in its second weekend and dropped 39%. While not disastrous, this is another film suffering more than it had to due to its placement on the schedule. That $80 million budget is now in jeopardy, as the Happy Madison production has now pulled in $42.4 million and looks to top out around $85 million.

Fifth goes to Cars 2, as it gets creamed by Potter, and only continues the lore of the worst Pixar release ever. Cars 2 earned $8.3 million in its fourth weekend and dove 44%. Following its soft $66 million opening, Cars 2 has dropped 60%, 42% (but that was a long weekend), and now 44% - basically the opposite of the usual Pixar release. Cars 2 has now earned $165.3 million on the domestic front, and could be the first Pixar film not to reach $200 million since A Bug's Life earned $163 million in 1998. Talk about breaking a streak. Luckily, the $200 million film will be saved by overseas grosses, as it has already passed the $125 million mark internationally.

Newcomer Winnie the Pooh shows up for the kids that might be a little too young for Harry Potter. The old-school, hand-drawn animation actually worked okay, taking in $8 million over its first weekend. It debuted at 2,405 venues and had a weekend average of $3,326. This is much better than the last Pooh film, Pooh's Heffalump Movie, which opened to $5.8 million in February of 2005. Critics said that this is a better film than the Heffalump, and it performed better. I believe Disney did their film a service by opening it against Potter, one that took a lot of cojones. Disney made Winnie the Pooh for $30 million, and could make that much domestically, but Pooh is a worldwide star, as Heffalump almost doubled the domestic take overseas. Look for Pooh to be a quiet winner at the box office.

Bad Teacher falls to seventh this weekend, and is another in a long line of films with bigger drops this weekend than last. The very successful Bad Teacher earned $5.2 million in its fourth weekend, and dropped 42%. That's really where the bad news ends for this one, as it cost $20 million to make, and has a running total so far of $88.5 million.

Larry Crowne holds onto a top ten spot as it pulls in $2.6 million this weekend. It dropped a woeful 57% - despite being potential counter-programming against Potter. The $30 million Hanks/Roberts film has now earned $31.6 million.

Ninth is Super 8. It earned $1.9 million and fell 60%. The $50 million Spielberg/Abrams production has now earned $122.2 million domestic, and another $50 million overseas. While Super 8 may not be the usual Spielbergian $250 million earner, this one should be considered a huge success, as it had many things working against it.

Finally in tenth is Midnight in Paris, Woody Allen's critically and financially successful movie that transports viewers through a fantasy of France. The Owen Wilson starrer earned $1.9 million and falls only 28%. So far, this film has earned $41.8 million and is easily the best box office performer of Allen's long and storied career.

Overall, thanks to the one and only Harry Potter, the box office finally sees a big bounce compared to last year. A year ago, the year's best picture, Inception, was on top with $62 million, and the top 12 films earned $171.4 million, or, a similar amount to what Potter did by itself this weekend. That means that this year's top 12 brought in an amazing $253.7 million. Next weekend, Captain America will try to best the second weekend of Deathly Hallows, and Friends with Benefits will try and squeeze out some success.