Friday Box Office Analysis
By Tim Briody
July 16, 2011
BoxOfficeProphets.com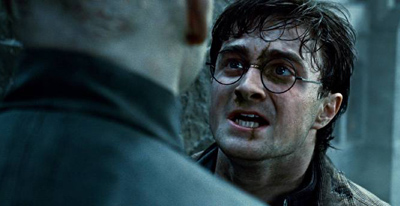 ---
Your move, Nolan.

Harry Potter and the Deathly Hallows, Part 2

$92.1 million on Friday. The eighth and final entry in the Harry Potter franchise's opening day would place fourth among opening weekends in the series. That's...impressive.

The single day record of New Moon? Gone. The midnight showings record of Eclipse? Gone. With Twilight out of the record books (for now), The Dark Knight's weekend record is now on notice, and that it too shall fall seems to be a foregone conclusion.

Broken down, Deathly Hallows Part 2's Friday had $43.5 million attributed to midnight showings, which means the Friday take proper is $48.6 million. While this screams insane pent-up demand and then somewhat of a letdown once the hardcore were out of the way, the Harry Potter films that opened in summer are among the lowest opening weekends (mostly thanks to Wednesday releases for Order of the Phoenix and Half-Blood Prince), but had insane weekdays as they marched to around $300 million each.

Let's also look at the current (for a couple more hours) record holder in the franchise, which is of course, Deathly Hallows Part 1. Last November, it opened to $61.2 million with $24 million in midnight showings, and finished the weekend with $125 million. That's a 2.02 multiplier before removing the midnight showings from that figure, and a 2.68 after.

For Deathly Hallows Part 2 to not take down The Dark Knight's $158.4 million, it would need a record setting 1.72 multiplier (or 2.3 with the midnight figure removed), so we will definitely have a new champion on our hands. At this point, the only question remaining is where the bar will be set for The Dark Knight Rises. With such an unprecedented figure on Friday and reports as I write this that even late morning/early afternoon Saturday showings were packed, it's truly hard to guess where it will end up. As I mentioned, the summer opening weekends were all a bit lower (but made up for it with phenomenal weekdays, check out how much it makes over Monday to Thursday next week), but this is truly the biggest film event in many, many years as the finale of the franchise (and overwhelmingly positive response to the conclusion) will bring out almost anyone who had even a casual interest in the books and movies. After all is done, Harry Potter and the Deathly Hallows Part 2 goes out with a bang with $170 million for the weekend.

Winnie the Pooh

Oh, come on, quit pretending like you care about anything else this weekend. Fine. Sacrificial lamb Winnie the Pooh earns $2.9 million on Friday, placing fifth. Call it $9 million for the weekend and for it to do gangbusters on DVD.

Notable Holdovers

[tm:2270_]Horrible Bosses[/tm] and [tm:4963_]The Zookeeper[/tm] manage to not embarrass themselves completely in the second weekend, seeing Friday to Friday declines of 45% and 47% respectively. Neither is leggy, but neither film tanked, either. Give Horrible Bosses a second weekend of $16.8 million and Zookeeper $11.6 million.