Weekend Forecast for July 15-17, 2011
By Reagen Sulewski
July 15, 2011
BoxOfficeProphets.com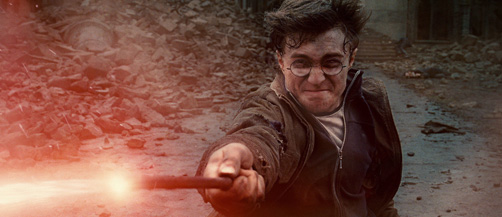 ---
The phrase "end of an era" is thrown around often, but it truly applies this weekend as one of the greatest movie franchises in the history of box office begins its final run.

Harry Potter and the Deathly Hallows Part 2 wraps up an eight-movie, nine-and-a-half year epic collection of films, each an adaptation of one of the J.K. Rowling Harry Potter books (until this last one, which has been split in two). The series has collected (adjusted for inflation) close to $7.7 billion between the seven films (approximately equal to the annual GDP of The Bahamas), with the lowest of all earning a "mere" $795 million worldwide. With the closing of the series, the hype for this last film has reached a fever pitch and all applicable records are in play.

In large part, this is because with what many called a disappointing Part 1 getting all of the setup out of the way, Part 2 is pretty much all action and getting to the fireworks factory. The epic showdown between Harry Potter and Voldemort is what we've been building up to for close to a decade, and it's more or less impossible to conceive of any Potter fans not bellying up to the bar for one final drink, or for those that may have checked out at some point during the film series to not find their way back for the conclusion.

As a non-fan of the series (go on, be shocked, get it out of your system … OK, we're back), I won't pretend to tell Potterheads what they like about the films, other than to note that they've clearly captured the spirit of the ridiculously popular books and given fans the combination of fantasy, storytelling, comedy and coming-of-age drama that captured their attention in the written word.

In retrospect, and viewing the popularity of the books, it's easy to say that this was inevitable. That's a point of view that ignores the extreme difficulties involved in bringing an eight-film series to market, especially this one, which has had to rely on child actors for so much of its run. It's also survived the death of a lead actor, multiple director changes and perhaps most of all, starting out without knowing quite how it was going to end. It wouldn't have been the first franchise to fall under any or all of these weights, and getting to this point was never a sure thing. The number of franchises that can count eight successful films under their belt are vanishingly small.

So let's talk numbers. The now de rigueur midnight screenings are all but assured to be the most lucrative in history and in all probability will jump into the top 20 days in box office history just on their own, surpassing $40 million. Will that exhaust some of the pent up demand for the weekend – in all probability, yes, but there seems to be about as much demand as there are screenings for the film this weekend, and there's a great many youngsters in its core audience who simply aren't made for midnight screenings. With numbers these high, it's bit like throwing darts to get an opening weekend – so many factors that are out of anyone's control can go into making a box office weekend what it is, and their effect is magnified at these levels. The Dark Knight Returns' $158.4 million seems almost certain to go down in flames, whether by a little or a lot, although I'm not quite ready to predict a leap of substantial magnitude. Opening at 4,375 venues, Potter should start with $164 million.

Surprisingly enough, there are other films out this weekend, and even one in direct "competition." When you're counter-programming, there's two schools of thought – go in a complete 180 in style and genre, or butt heads and hope for spillover from sellouts. The latter strategy is undoubtedly what Disney is hoping for with Winnie the Pooh, though it's difficult to imagine any Potter fan settling for Winnie the Pooh after being hyped to see Potter. That disappointment would be magnified by the fact that we'd be talking about the youngest of the Potter fans who'd be asked to accept this.

But perhaps I'm speaking too much of the film in how it relates to Harry Potter. It is a beloved franchise of its own, though not one that's been a powerhouse outside of direct to DVD features for many years. It's been six years since a Pooh movie graced the big screen, and then that was just a $6 million dollar opening weekend. What's notable here is that Disney has not attempted to do anything fancy with Winnie the Pooh here – simply making a straightforward, simple, cel animated story. It's a noble move that could theoretically cost them money in the short term – a jazzed up Winnie the Pooh might connect with a new generation – but protects the value of the brand in the long term. This weekend, they'll see just a $9 million debut, but then, it was never going to be a blockbuster anyway.

The returning films from last weekend are a bit of an afterthought in the wake of the Potterquake, but let's take a look at them anyway. Transformers 3 will cater to those uninterested in Potter and also interested in experiencing an epileptic seizure. Odds are strong that even with Potter dominating the landscape, this film will cross the $300 million milestone this weekend, but it's not looking strong as far as it matching the $402 million from Transformers 2. Look for about $23 million this weekend.

The surprise of last weekend was Horrible Bosses, which opened to $28 million on the strength of nothing much more than Jason Bateman and what amounted to not much more than cameos by Kevin Spacey and Jennifer Aniston. A number of comedies have shown legs this year, and while this hasn't been as enthusiastically received as all of them, there's a solid chance it can have an extended run. Give it about $17 million this weekend.

Zookeeper seems to be right in the line of fire this weekend from the number of family films in the market, but again I have to wonder who it is exactly that's making the decision between Harry Potter and Zookeeper. That said, while Kevin James did take people by surprise with Paul Blart, that's gone now, and he's a known quantity. Any goodwill should have shown up in the opening weekend. I'd anticipate just $11 million this frame.