Weekend Wrap-Up
Horrible Bosses, Zookeeper; Mystery Meat of a Tentpole Sandwich
By John Hamann
July 10, 2011
BoxOfficeProphets.com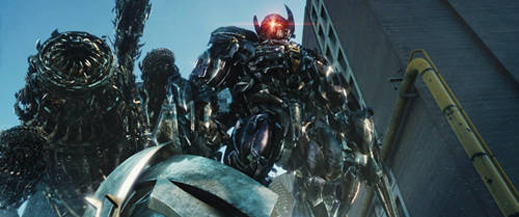 ---
It's an interesting weekend at the box office – Horrible Bosses and Zookeeper both performed admirably - but were sandwiched between the opening weekends of venue hog Transformers: Dark of the Moon and the final installment of Harry Potter. The downside for the openers is the reduced size of the weekend box office pie; however, the reward is higher traffic to the movie theater, where movie marketing works best.

The number one movie of the weekend was never really in doubt, as Transformers: Dark of the Moon repeats at number one after a red hot 12 days. This weekend, the Michael Bay film earned $47 million from 4,107 venues. It dropped 52% compared to its previous Friday-to-Sunday gross last weekend of $97.9 million. It took only eight days for Transformers: Dark of the Moon to hit 200 million, a tie for second fastest of all time. Now the race is on for $300 million, with Revenge of the Fallen having a serious head start.

That 52% drop is the key statistic this weekend. Is it bad or good? The first example to look at, of course, is Transformers: Revenge of the Fallen, but comparing it to that film calls for a serious asterisk. Revenge of the Fallen opened the weekend before July 4th in 2009, and over that Independence Day Weekend, the 4th fell on a Saturday. That's essential here, because unlike Christmas Day, July 4th itself is not a strong movie day. On July 4, 2009, Transformers: Revenge of the Fallen fell 41% versus its previous day gross, whereas on the next Saturday, July 11, 2009, Transformers 2 increased its take from the Friday gross by 24%. Revenge of the Fallen ended up falling 61% over its second weekend in 2009 - but would likely have improved by as much as 8% - had July 4th not fallen on Saturday. Why do I make a big deal out of this? Because the Transformers franchise is undeniably leggy, despite serious quality issues with the second film. Revenge of the Fallen is generally hated; however, it fell more than 50% only twice – that second weekend that needs an asterisk – and its 12th weekend when it followed Labor Day (where it increased its take by 40%) and fell 54% from $803,000 to $370,000. The first Transformers never saw a drop above 50% - the closest it came was 48% in weekend five.

As for performance, Transformers: Dark of the Moon continues to chase the performance of Revenge of the Fallen. The overall total has now reached $261 million versus Fallen's $293.3 million and the original's $224 million following their respective weekends. The worldwide figure here is equally amazing – Dark of the Moon has already cleared $300 million overseas.

Finishing second is Horrible Bosses, the latest in the R rated comedy craze, starring Jennifer Aniston, Colin Farrell, Jamie Foxx, and Kevin Spacey. With a concept everyone can relate to, solid reviews, a sizzling marketing campaign and a solid release date, Horrible Bosses earned a very solid $28.1 million from 3,040 venues. From Warner Bros./New Line, the Seth Gordon (King of Kong) film cost only $37 million to make, so will join the summer 2011 list of highly successful R-rated comedies. Like Bridesmaids, Horrible Bosses is quality film-making, so its legs could be decent following a strong opening frame. At RottenTomatoes, the film is 74% fresh, with 91 positive out of 123 reviews. This one isn't on the same level as Office Space, but at least it's funny.

These R-rated comedies are sizzling this summer. Bridesmaids opened to a similar $26.2 million nine weekends ago, and has amassed $160 million. Bad Teacher opened to $31.6 million three weekends ago and had a strong weekend this frame despite the opening of Horrible Bosses, and of course Hangover II has mopped up over a half billion worldwide since opening seven weekends ago. These raunchy comedies have become the quick go-to for movie ROI. Bridesmaids cost on $37.5 million to make, and Bad Teacher cost only $20 million. Both of these films are or are going to be $100 million plus earners, with Bridesmaids carrying an opening-to-total multiplier of what will likely be 6.3 – higher than the original Hangover's 6.2. Obviously, these movies are playing as excellent counter-programming versus the effects-laden Hollywood fare, and Horrible Bosses should be no exception, as it goes up against the final Harry Potter next weekend.

Third is Zookeeper, a film I am sorry that parents are getting dragged to this weekend. Kevin James - who I want to like – looks uncomfortable in the marketing, but families didn't mind. America's everyman drew $21 million to the comedy this weekend. I say getting this one over the $20 million mark should be considered a success, and restrict the losses for Sony and MGM. It is a painful 15% fresh at RottenTomatoes, with only ten positive reviews out of a possible 66. It's Garfield all over again – same Tomatometer, same opening weekend gross, and likely a similar domestic gross at $75 million. Considering Zookeeper cost $80 million to make, Sony and MGM will make out just fine once overseas grosses are counted.

In holdover world, Cars 2 is fourth, as it stabilizes a bit before continuing downward against Potter next weekend. The Pixar sequel earned $15.2 million in its third weekend, off 42% compared to last weekend when it dropped 60% against Dark of the Moon. Following last weekend, Cars and its sequel were neck and neck with $117 million following two weekends of business. The sequel now lags after three weekends, as the original had earned $156.7 million, and the sequel has pulled in $148.8 million.

Fifth goes to Bad Teacher, and as mentioned above, the Cameron Diaz film had a decent third weekend. The Sony release earned $9 million in its third frame, off 38%, which improves on the 54% drop the comedy had last weekend. There has never been bad news for this release, as its $20 million budget was easily carried in its first two days of release. Bad Teacher still has a shot at $100 million, as it currently has a total of $78.8 million.

Sixth is Larry Crowne, which seems to have run out of senior citizens to entertain. Larry Crowne earned only $6.3 million, as the Tom Hanks/Julia Roberts dramedy dropped a searing 52%. If there's good news here, its the fact that Larry Crowne cost Hanks only $30 million to make, so it won't be a complete disaster. Give it $26.5 million at the domestic box office so far, with a $35-$40 million finish expected.

Super 8 is seventh this weekend. The JJ Abrams flick took in $4.8 million in its fifth weekend, and dropped 39%. Call it another hit for Spielberg and Abrams, as this one cost $50 million and has already returned $118.1 million at the domestic box office alone.

Monte Carlo is eighth, and has a fair hold considering the target market. The movie with Justin Bieber's girlfriend (I don't know who she is, don't care, and won't look it up) earned $3.1 million in its second weekend and dropped 49%. The $20 million Fox release has now earned $16.1 million. Huzzah.

Ninth is The Green Lantern, and tenth is Mr. Popper's Penguins, two examples of quality film-making for the blind and deaf. Green Lantern earned $3.1 million and dropped 52%, while Penguins earned $2.9 million and dropped 48%. Green Lantern is losing the earnings vs. budget battle, as it has accumulated $109.7 million domestically against a budget of at least $200 million (plus marketing). It has also taken in only $33 million so far overseas. Penguins is not quite a disaster, but it's close. The film has earned $57.7 million domestically against a $55 million production budget.

Overall, the box office this weekend wasn't close to the awesome results put up last year. A year ago, Despicable Me was on top with $56.4 million, followed by Twilight: Eclipse at $31.7 million, Predators at $24.7 million and Toy Story 3 at $21 million. Six titles earned more than $10 million and the top twelve combined for $184 million. This weekend, the top 12 drew only $150.8 million. Next weekend brings Pottermania, and this one is going to be huge.