Weekend Wrap-Up
Transformers 3 Box Office: Less That Meets the Eye
By John Hamann
July 3, 2011
BoxOfficeProphets.com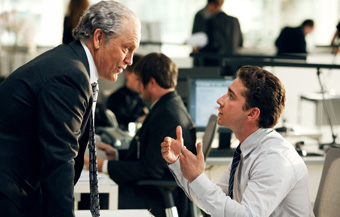 ---
Michael Bay laid another golden turd this weekend – his zillionth – as the effects maestro finds a way again to turn a not very good film into a financial triumph. If you are like me, and would like to see one of these films fail, stop reading now. Bay has put together another financial winner with Transformers: Dark of the Moon (or Fear The Pink Floyd Lawsuit); however, the good news is that this one isn't a big as the last, so maybe people are leaving this one to the 13-year-olds. Other openers included Larry Crowne with Tom Hanks and Julia Roberts, and Monte Carlo with Selena Gomez. You know it might be a good weekend to skip going to a movie when Monte Carlo is the review-winner of the weekend.

It is honestly quite painful for me to celebrate another Transformers victory. After the first two films have earned $1.6 billion worldwide, the idea that these films are "dumbing down America" is no longer apt, as the Michael Bay sickness has spread around the globe. Transformers: Dark of the Moon did it again this weekend, earning $162.1 million since opening on Wednesday (or Tuesday night). It started with $5.5 million in midnight 3D sneaks, and then added $37.7 million on Wednesday for a 24-hour first day total of $43.2 million. It was at this point we knew that Michael Bay was going to deliver another solid hit for Paramount with the Transformers franchise, but we also knew the honeymoon was over, as the crossover audience for the second film had been reduced to fanboys and effects-driven audiences. Transformers 2 earned $62 million over its first 24 hour cycle, which means the third film did about 30% less than the second over opening day. The question now is whether the trend would continue.

The Thursday gross for Transformers: Dark of the Moon kept that trend alive versus Revenge of the Fallen. The second Transformers movie earned $29.1 million on Thursday, where the third film earned a much smaller $21.5 million – the 30% separation was shrinking, but the drop off is noticeable. The score for Wednesdays and Thursdays combined now sat at $91.1 million for Revenge of the Fallen, and $64.7 million for Dark of the Moon. The Thursday take for Dark of the Moon was only $2 million ahead of the first Transformers film.

With two days of data in on Dark of the Moon, the Friday gross was a little more predictable. A 30% gain from Thursday was likely in the cards, and it played out in the numbers, as Transformers 3 took in Friday gross of $32.9 million. That's only about $4 million less than Transformers: Revenge of the Fallen's $36.7 million Friday, so you can see the third film was really starting to catch up to the second. Why? Those fanboys that came out on Wednesday and Thursday night provided an A Cinemascore for Dark of the Moon, a fact that was picked up by the press on Thursday night. Cinemascores for these types of films are useless (Revenge of the Fallen had a B+, and if you've seen it...), as fans of the franchise are used to this garbage – enough to keep coming back for more. However, word of mouth within the fanbase was obviously pretty good, which may have attracted more audiences on Friday. Cumulative grosses through Friday stood at $97.6 million for Dark of the Moon, and $127.6 million for Revenge of the Fallen.

Saturday and Sunday were powerful days for Dark of the Moon, and the five-day gross for the effects-filled feature finished at $162.1 million, or $37.9 million less than the $200 million captured by Revenge of the Fallen. Considering how far away the third film was from the second after opening day, this catch up has to be considered a big win for Paramount. Michael Bay has delivered another summertime brain dead film, but this one is obviously a little better than the second film (but then I could hook up a camera to my dog's collar and the end product would be Oscar worthy versus Revenge of the Fallen). Dark of the Moon was 38% fresh with 74 positive reviews out of 196; Revenge of the Fallen was 20% fresh with 47 positive out of a possible 234 reviews.

While it is a huge box office haul, we also have to remember that Dark of the Moon is the first Transformers film shot in 3D, so there would be the price increase on many of the tickets sold. Finally, let me mention briefly who the movie was really made for – overseas moviegoers. Following the world premiere (in Moscow of all places), Transformers: Dark of the Moon, earned an amazing $372 million over five days, the third best ever (behind only Harry Potter and the Half-Blood Prince and Spider-Man 3). Like the last Pirates of the Caribbean, this piece of the Transformers franchise is going to likely be a worldwide billion dollar earner for the studio.

Cars 2 finishes second this weekend, and the news is surprisingly bad for the Pixar feature. After opening to a solid $66.1 million last weekend, Cars 2 gets lambasted by the younger-skewing Transformers this weekend. The Pixar sequel earned $25.1 million and was off a dramatic 62% compared to the last frame. The original Cars managed to hold onto top spot in its second frame in June of 2006, earning $33 million and dropping only 44% - despite a $60.1 million debut. Cars 2 would have lost a bucketload of 3D screens this weekend to Transformers, but this drop is bigger than that one excuse. Pixar consistently delivers quality – but failed to do that with Cars 2, and the 35% fresh rating at RottenTomatoes drives that point home. Yes, the Cinemascore was an A-, but between that and the Transformers score, I think you can see how that process fails. After starting ahead of the original last weekend, Cars 2 has fallen to the back of the pack this weekend – Friday's box office was $7.9 million for the sequel, where the original earned $9.2 million over its second weekend.

Like the latest Pirates of the Caribbean film, Cars 2 stunk of "cash in" from the beginning and is really the first time I've felt the Disney influence on a Pixar film. The Cars merchandise is renowned for its saleability, and I think the theory was that any Cars film would be big business for Disney and Pixar. Unfortunately, it will be big business for the studio, but definitely not the billion dollar winner that Toy Story 3 was or even the half-billion winner that WALL-E was. With this drop, I doubt that Cars 2 will beat what its predecessor earned ($244 million); however, international grosses will help make this profitable versus its bloated $200 million production cost. So far, Cars 2 has earned $116 million.

Bad Teacher is third, as the star studded Larry Crowne can't even make the top three. The Cameron Diaz comedy was instantly profitable after its first three days last weekend ($31 million gross versus $19 million production cost), so a big drop this weekend wouldn't be the worst thing in the world. A big drop is what it got, as Bad Teacher is definitely no Bridesmaids. Bad Teacher earned $14.1 million in its second weekend, and was off 55% from its very successful debut. The Sony film is performing excellently for an adult comedy regardless, as it has already pulled in $59.5 million.

Fourth is Larry Crowne, the dramedy with Tom Hanks and Julia Roberts. The complete opposite of the Transformers film, Larry Crowne was going to live or die based on reviews, and die it does. Larry Crowne earned only $13 million from 2,972 venues, and earned a venue average of $4,375. This film reminds me of Hanks outings like The Ladykillers and Charlie Wilson's War, two of his softer opening films that didn't have an impact like a Forrest Gump or even The Da Vinci Code. Like those films, reviews were blah and the promotion constant, to the point where I already feel like I've seen the movie (and from what I hear the promotion was better than the film itself). This film didn't carry a lot of risk for the actor (and director in this case) as Hanks funded this one pretty much on his own (via his production company, Playtone – Universal is doing a fee-based distribution) at a cost of about $30 million. Ladykillers managed $40 million domestic after a $12 million opening, so all is not lost here, as Crowne could continue to play as counter-programming against the Zookeeper next weekend and the last Harry Potter over the following weekend.

Finishing fifth is Monte Carlo, a film I will admit to knowing very little about. Monte Carlo stars Selena Gomez (Wizards of Waverly Place) and Leighton Meester (Gossip Girl) and earned $7.6 million from 2,472 venues. From Fox, this is a $20 million picture, so this is a solid start for a low budget film. Funnily enough, it was the best reviewed picture of the weekend, coming in at 41% fresh at Rotten Tomatoes.

Super 8 finishes sixth with $7.5 million. The Spielberg/Abrams production fell 38%, an improvement over its 44% decline last weekend. The $50 million feature has turned into a fair sized hit for Paramount, as it has earned $108 million domestically and another $40 million overseas – so far.

Green Lantern is seventh as the bottom is falling out of this proposed franchise. After dropping 66% last weekend, the Ryan Reynolds film does it again, grossing only $6.3 million and falling 65%. Don't forget this is a $200 million film that will likely finish with $125 million in the domestic coffers (its current domestic total is $102 million). Overseas, it has earned only $30 million, but is really just getting started.

Mr. Poppers Penguins, Bridesmaids and Midnight in Paris fill out the bottom spots of the top ten. Jim Carrey and his Penguins earned $5.1 million this weekend and dropped 50%; Kristen Wiig's Bridesmaids falls 33% and picks up another $3.5 million; and Midnight in Paris continues to be Woody Allen's biggest earner as it takes in $3.4 million and drops only 18%. Penguins has a domestic cume of $50.1 million; Bridesmaids $152.9 million (now Judd Apatow's biggest after Knocked Up), and Midnight in Paris has earned $33.6 million against a $30 million budget.

Overall this weekend, the box office is ahead last year, as Transformers: Dark of the Moon led the top 12 films to $180.5 million. A year ago, the fourth was on a Sunday, which limited box office to some degree. Next weekend two original films (!) open. Zookeeper with Kevin James tries to bring the Paul Blart magic to what looks like a Ben Stiller movie, while we also have Horrible Bosses, the comedy with a cast that includes Jennifer Aniston, Colin Farrell, Jason Bateman and Jamie Foxx.