Weekend Forecast for July 1-3, 2011
By Reagen Sulewski
July 1, 2011
BoxOfficeProphets.com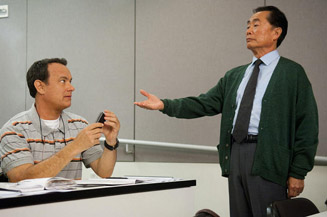 ---
With Transformers: The Second Best Pink Floyd Album busy stomping all over July 4th weekend, it could be easy to forget that there are more films than that opening up. You're still not going to go see them, but now you know they exist, and they've got recognizable stars and everything!

Ten years ago, the pairing in Larry Crowne would have sent people into a frenzy. Tom Hanks (directing himself) and Julia Roberts star in the film, about a middle-aged manager who's let go from his job because he doesn't have a degree, and heads to community college to retrain, for something, anything. College is a pretty good place to hide out and lick your wounds, and while there, he groups up with a gang of scooter-riding misfits, led by Gugu Mbatha-Raw, which I swear to you is a real name. Roberts teaches one of Hanks' courses, and becomes an object of affection for him, as she attempts to resolve her apathy towards her teaching and her husband.

We're in straight-up eager-to-please mode with this film, but it's eager to please only a small portion of the movie-going public – the over-40s out there who still find email and Facebook intimidating. Co-written by My Big Fat Greek Wedding's Nia Vardalos, it practically wears its middle-brow nature on its sleeve, but without any sense of urgency or surprise. If there's anyone out there who can't predict the entire run of the film from the trailer, I have to ask that person if they've seen more than five movies.

Thus, the appeal of this film is based almost entirely on your opinion of Hanks and Roberts. While this isn't the first time they've appeared together on film, the last time they did, Charlie Wilson's War, doesn't exactly inspire confidence for blockbusterdom. Admittedly a film about Cold War policy isn't exactly the greatest draw ever, but you'd think star power would count for something. The gentle love story aspect of Larry Crowne should be an easier sell, but Hanks' successes lately have come from animated films and Dan Brown adaptations, while Roberts has fallen below Sandra Bullock and Anne Hathaway in the hierarchy of female leads. Eat, Pray, Love was a modest hit for her, but Duplicity was a puzzling flop, when all the pieces were there to make it a success. The reality these days seems to be that star power really only works when a star is perfectly matched to material. Larry Crowne doesn't seem to suit either star perfectly, being a bit too sad sack, and a bit too bitchy to be optimal. Opening at 2,972 venues, this should have an opening weekend of around $17 million.

After a string of films that accidentally only appealed to preteens, we have a film that comes by that demographic honestly. Monte Carlo stars Disney tartlet Selena Gomez in a Prince and the Pauper style dual role as both an American high school girl traveling in Europe and a spoiled British heiress notorious for her paparazzi-worthy behavior. From there it's your standard "OMG, Dreamboat!" romantic coming-of-age film, perhaps with some traveling pants.

These films are inherently self-limiting, and seem to be irrelevant to the actual star in them. Gomez is as good as any other, and no better than them, with her only other major role, Ramona and Beezus, being largely irrelevant in the box office charts. Monte Carlo looks to be another entry in that genre, earning about $8 million opening weekend and disappearing shortly thereafter.

Meanwhile, these are but blips compared to Transformers: Brick in the Wall, which opened to $37.3 million on Wednesday, including the de rigueur $8 million from midnight sneaks. While this is is only about two-thirds of the opening day of the second film in this series, Transformers: This Movie Blows, it also didn't open with the same calendar configuration and each one of those behaves differently for the July 4th weekend. The last time we had one like this, it was War of the Worlds' time to own it, as it started with $21 million on Wednesday and $112 million through July 4th. That same ratio would give us a $199 million seven-day total for Transformers, or more or less what people have been predicting for this. Things could break about $10 million in either direction, but much more than that would be a surprise. Over three days, Transformers: Wish I Weren't Here should bring in about $105 million.

Last week's tale of machinery rum amok, Cars 2, opened to a Pixar-standard (leaving out the anomalous Toy Story 3) $66 million despite the worst reviews in the company's history. The difference of that last fact to the film's word-of-mouth is likely to be… nil, as people knew the score going in – they were there to make their kids happy and get a preview of what toys they needed to buy. Look for a second weekend of $39 million.

The real surprise was Bad Teacher's $31 million opening, which defied its bad reviews, and the fact that black comedies rarely see strong opening weekends. Few who saw the film felt it lived up to its outstanding trailer and ads, which will probably keep it from following in the footsteps of this year's other raunchy female comedy, Bridesmaids. I'd look for something close to a $16 million second weekend.

Green Lantern cratered in its second frame, dropping over two-thirds of its first weekend total, and will only just cross the $100 million plateau this weekend, either Saturday or Sunday. Note to Warner Bros.: make your superhero movies not suck, please. For its third weekend, this should drop to around $8 million.

That just ahead of where Super 8 should wind up, as it too cruises over the $100 million mark, though with a much lower set of expectations placed upon it, thanks to its much smaller budget. It'll earn about $7 million this week, on track to around $125 million. The last relevant film to the box office charts is Mr. Popper's Penguins, which has driven some very large spikes into Jim Carrey's career as an unbeatable comedy machine. It'll earn about $6 million this weekend, on the way to around $70 million total.