Weekend Wrap-Up
Cars 2 races to the top spot
By Kim Hollis
June 26, 2011
BoxOfficeProphets.com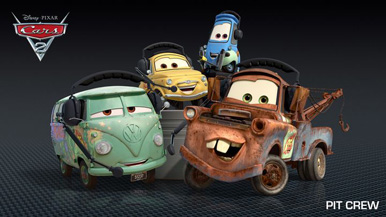 ---
This was bound to be an exciting weekend at the box office, with Pixar and Disney releasing their Cars sequel and Cameron Diaz looking as though she was back in hilarious comic form in Bad Teacher. With the Cars franchise already worth billions of dollars in box office receipts and merchandising, would it defy expectations that had it finishing only in the $55 million range?

Indeed, Cars 2 did exceed all tracking numbers as it had a debut weekend of $68 million. This is an increase over what the original Cars earned in its opening ($60.1 million), and shows that the audience for the franchise has expanded as ever more children have grown to love Lightning McQueen, Mater and their friends. Cars 2 also compares favorably to the majority of other Pixar debuts. If we disregard the Toy Story 3 juggernaut (it had a gaudy opening weekend of $110.3 million), the opening weekend for Cars is right in line with Pixar flicks such as Up ($68.1 million), WALL-E ($63.1 million), The Incredibles ($70.5 million), Finding Nemo ($70.3 million), and Monsters, Inc. ($62.6 million). Yes, we should account some for inflation and increased ticket prices due to 3-D, but what is clear is that Pixar has shown remarkable consistency over the years, establishing themselves as a trusted brand for families. That trust has earned them a certain level of box office returns as a result.

With all that said, the Cars franchise is a bit of a different beast than the other movies in Pixar's catalog. It's generally agreed that Cars is the worst of their feature films, which is proven out by its Rotten Tomatoes rankings. It comes in at 74%, far worse than the other Pixar release that is considered "lesser" than the others – A Bug's Life (which is 91% fresh at Rotten Tomatoes). With Cars 2, the studio seems to have accepted that these characters are truly intended for children, and tailored the story to that effect. The result is that so far, critics are railing against the sequel. Out of 141 reviews collected at Rotten Tomatoes, only 47 are positive, meaning that the film currently has a Rotten rating of 33%, by far the worst we've ever seen from the studio. Most of the reviewers seem perturbed by the fact that Cars 2 is not up to Pixar's usual standards rather than calling it a "bad" movie in and of itself. It's easy to understand why that disappointment might settle in given the output of the studio, but when you hear kids and their parents talking about the movie, it sounds like they (mostly) got exactly what they were looking for. I can certainly say that my theater was full of laughing, happy kids.

Besides which, we all know that the real money for Cars 2 is going to come from the merchandising associated with it. The original film resulted in billions of dollars worth of toy sales, and Cars 2 is going to be no different. Yes, the movie is going to make decent coin at the box office, but that's not even the point as far as Disney and Pixar are concerned. This movie is all about making enough cash that they can continue to make movies about rats who love to cook, or old men with balloons, or robots who clean up the trash.

Bad Teacher takes second place, earning a very solid $31 million in its debut weekend. The Cameron Diaz/Justin Timberlake/Jason Segel film is already well ahead of its $19 million budget, which is great news for Sony since the word-of-mouth may be middling. Of 133 reviews counted at Rotten Tomatoes, 61 were positive, giving the film a Rotten rating of 46%. Still, the prospect of Cameron Diaz acting like her bawdy ol' self may be enticing enough to give this movie some legs, particularly since it will be the freshest, newest comedy choice during the Fourth of July weekend.

For Diaz, the result for Bad Teacher lags a bit behind her earlier film this year, Green Hornet, but she wasn't really the star of that film. It's definitely a step up from Knight and Day, which disappointed last summer when it opened to only $20.1 million. As for comparisons to her comedy flicks (not counting the animated Shrek series), Bad Teacher is well ahead of What Happens in Vegas ($20.1 million debut), In Her Shoes ($10 million opening) and The Sweetest Thing ($9.4 million in its first weekend). Bad Teacher gives a nice bump to her recent resume, not to mention bolstering Segel and Timberlake's.

Our third place film of the weekend is Green Lantern, which takes a heady drop from its opening weekend performance to earn $18.4 million. This number is unsurprising given the shabby word-of-mouth and kid competition from Cars 2. The problem with making your superhero film accessible primarily to children is that you can't hope to compete when a known commodity such as a Pixar film enters the market. Green Lantern's decline from last weekend is 65%, which means that it is really going to be struggling to be a profitable property for Warner Bros. Its production budget was $200 million, and the studio spent a lot on top of that for marketing. Even with overseas revenues, Green Lantern will be a financial disappointment even if it probably is performing about as well as could be hoped. Its domestic total so far is $89.3 million, and its worldwide number is around $110 million.

Super 8 falls two spots to fourth place as its decline becomes a little bit more precipitous. The J.J. Abrams-directed film earned $12.1 million and fell 44% from the previous box office frame. So far, the kid-friendly flick has earned $95.2 million, quite a bit more than its $50 million production budget, and that's before overseas revenues are added in. Super 8 should get past the $100 million mark this week.

Fifth place goes to the Jim Carrey kid flick Mr. Popper's Penguins, which falters in the face of those beloved Cars. Mr. Popper's Penguins took in $10.3 million this frame, a drop of 44%. So far, the 20th Century Fox production has earned $39.4 million, not a horrible number compared to its $55 million production budget, though the film is pretty clearly going to have to make most of its money on home video, a place where it should truly flourish both in sales and rentals.

X-Men First Class earned $6.6 million and fell 45% from the previous frame. The Marvel/20th Century Fox product sits in sixth place in its fourth weekend, and has a cumulative total of $132.8 million. X-Men: First Class's overseas total is approaching $170 million, so it does appear safe to say that the studio could be comfortable taking this set of characters and giving them a sequel, not a bad idea when you consider that the brand was damaged by the poor quality of X-Men: The Last Stand and X-Men Origins: Wolverine.

Seventh place goes to The Hangover Part II, which earns another $5.9 million, a decline of 42% from the previous frame. The Hangover Part II, which opened huge but has seen steady drops since then, has a cumulative total of $243.9 million, a massive number for Warner Bros. Even better, it has taken in half a billion dollars worldwide, which shows that setting the film in Thailand has proven to be a savvy move for the studio (it has already earned significantly more internationally than its predecessor).

The feel-good movie story of the summer is next, as Bridesmaids continues to hold onto a top ten spot thanks to fantastic holds and word-of-mouth. The Kristen Wiig comedy took in another $5.4 million this weekend and fell a slight 24%. There really aren't enough superlatives to describe Bridesmaids' performance thus far. Its total of $146.7 million is well in excess of its $33 million budget, and it's going to be a huge ancillary earner on home video as well.

Captain Jack Sparrow hangs on a little while longer, as Pirates of the Caribbean: On Stranger Tides takes ninth place. It earned $4.7 million, a drop of 29% from last week, and has a running domestic total of $229.1 million. The bigger story for Pirates 4, though, is that it became the third-biggest overseas performer of all-time this week, behind only Titanic and Avatar. That overseas number was $742.9 million as of Friday, meaning that it should cross the billion dollar mark in worldwide receipts in the coming weeks.

Finally, we close out the top ten with Midnight in Paris, the Woody Allen success story that is receiving outstanding reviews in addition to some of the best box office results of the director's career. The Owen Wilson starrer took in $4.5 million for the weekend, and dropped a tiny 8%. The art house hit has a domestic cumulative total of $28.6 million, and almost an equal amount from overseas venues.

Compared to last year, the box office is up 10% thanks to the combined power of Cars 2 and Bad Teacher. In 2010, Toy Story 3 topped the charts in its second weekend, giving the top 12 $157 million. This year's top 12 sit at $172.3 million. For next weekend, a four-day holiday due to Independence Day, the new releases are Larry Crowne, with Tom Hanks and Julia Roberts, and Transformers: Dark of the Moon, which should earn a buck or two.