Friday Box Office Analysis
By Tim Briody
June 25, 2011
BoxOfficeProphets.com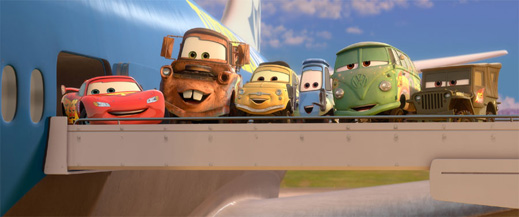 ---
[tm:4519_]Cars 2[/tm]

Pixar's unabashed cash grab, Cars 2, shocks nobody with an opening of $25.7 million. This is actually the second highest first day take for a Pixar movie, behind only last year's Toy Story 3, which pulled in a mammoth $41.1 million.

Opening in early June of 2006, Cars had a first Friday of $19.7 million, on its way to a $60.1 million weekend, a weekend multiplier of 3.04. Pixar films have always average to somewhat below average weekend multipliers, especially for something animated, as their general quality has resulted in a bit of fanboyish rush by families and even adults and contributed to such multipliers as Up's 3.17 in 2009, WALL-E's 2.72 in 2008 and Toy Story 3's 2.68.

Cars 2 is the worst reviewed Pixar release to date by a wide margin (34% at Rotten Tomatoes, compared to the previous worst, which was Cars at 74%), but that isn't going to matter to the target audience. The problem is that Toy Story 3 multiplier. The weekend will not be as kind to Cars 2 as you might think, though it'll still have an impressive looking weekend. A multiplier of 2.7 will give it $69.3 million for the weekend.

[tm:5188_]Bad Teacher[/tm]

The hard-R comedy starring [bp:29_]Cameron Diaz[/bp] and Justin Timberlake lands in second with $12.1 million. This is decent and a few million more than what [tm:5170_]Bridesmaids[/tm] opened to last month, though I don't think it will quite duplicate that film's 3.37 multiplier, mostly since its advertising was a lot better and Bridesmaids has benefited from incredible word-of-mouth. Still, Bad Teacher is in for a pretty darned solid weekend of $33.8 million, though those hoping for legs will probably be disappointed.

Notable Holdover

[tm:4064_]Green Lantern[/tm] plummets hard in its second Friday, falling 72.2% to $6 million from its $21.6 million opening day. This is completely unsurprising and everyone may now point and laugh. Let's call it a weekend of $17.3 million.