Weekend Wrap-Up
Green Lantern tries to light up the weekend
By John Hamann
June 19, 2011
BoxOfficeProphets.com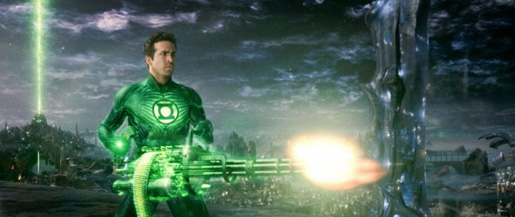 ---
It's one of those weekends where if you are a comic fanboy or a young child, you might get some joy out of the opening movies this weekend. If you're not, you are either seeing Bridesmaids again or staying home. Openers this weekend include the critically reviled Green Lantern, a risky, $200 million bet by Warner Bros., and Mr. Popper's Penguins, a poorly staged - and until recently - poorly marketed Jim Carrey vehicle that looks like it was made for five-year-olds. I find it sad that a year ago, we had Toy Story 3, with its 99% fresh rating and $110 million opening.

There is no Toy Story this weekend, just movies made to sell toys. Those toys that might look bright and shiny now, but in the morning, you wonder what you were thinking when you bought this crap. Warner Bros.' risky and expensive Green Lantern is our number one film, somehow grossing $52.7 million from 3,816 venues. Take the 3D price increase off that gross, and we are looking at a disappointment in the high-$40 millions, but be it where it is, Warner Bros. has to consider this a success, considering the lead up to release.

The Green Lantern cost Warner Bros. at least $200 million to make – a production only figure , with no marketing or distribution cost included. The studio carried the majority of the risk on this one, as they had no financial partner on the film. Risk was everywhere on the Green Lantern. They banked on Ryan Reynolds to carry the film, a young man that's never carried a film like this on his own, and was likely chosen due to a summer in 2009 where he co-starred in two plus size grossers – X-Men: Wolverine, and The Proposal, Sandra Bullock's follow up to The Blind Side. Combined, those films earned $700 million worldwide, but few would remember Reynolds in Wolverine; in fact, most just want to forget that one exists.

The marketing campaign for The Green Lantern started very poorly. Fan reaction to the original trailer was downright hostile, but the ads improved as more money shots were included. Even studio boss Jeff Rubinov sounded worried in the press, hoping Green Lantern would at least be a push against that massive budget, so that a sequel could improve on the investment. Rumors leaked that Warner Bros. brought in bucket-loads of visual effects people so that the film could be released on time, but the studio did a good job keeping things like this quiet, and seemed to have MTV as the film's champion throughout the last year.

Warner Bros. worked hard to keep Green Lantern afloat in terms of perceived quality, and I was actually surprised to see how negative the reviews were (congrats to Warner Bros. on that excellent manipulation). Sweaty palms were likely everywhere as reviews and crowd reaction began to unroll, to the point where I was shocked that there was no embargo on notices. The final result was a 24% fresh rating at RottenTomatoes, with only 37 positive reviews out of a possible 157. "Top Critics" listed at the site liked it even less, at 15%. Audiences also don't like it. The film received a B Cinemascore, and from what I've seen in the Cinemascore world, a B is like an F on your report card.

Despite the pain in terms of quality, the film is off to an okay start. Warner Bros. did do some things right with the property – I don't think Ryan Reynolds was a bad choice, just a risky one. This guy has a ton of charisma and solid screen presence. I thought a better move was bringing in Blake Lively as the earthbound girlfriend, and hiring Martin Campbell (Casino Royale) to direct. In the end, the marketing money seems to have been well-spent, but much will depend on international receipts as the film will certainly see a large drop-off in the weekends to come. Green Lantern likely end up as a push for the studio, but could give birth to a franchise, with hopefully better films upcoming.

It was close race for second between Mr. Popper's Penguins and Super 8 this weekend, as both were targets for the Father's Day crowd. Super 8 squeaked by on top, as the Steven Spielberg/J.J. Abrams production does show some decent legs after opening to an okay $35 million last weekend. This weekend, Super 8 earned a decent $21.3 million, dropping 40% compared to last weekend. Considering the fatct that two very big films opened this weekend, gobbling up more than 7,000 venues, Super 8 should be very pleased that it was able to stay ahead of one of those openers. Remember that the Paramount/Amblin production cost only $50 million to make, and is now pretty much guaranteed to be a $100 million earner (more like $125 million in my estimation, but it's still early). When talking about the risk that Green Lantern carried with its $300 million (at least) all-in price tag, you can see how that risk would have been reduced on a film like Super 8 with its much smaller production costs. I have no doubt that international audiences will have a very similar reaction as North American audiences, and there is no reason this one can't be a $300 million worldwide earner. Give Abrams and his Super 8 film $72.8 million at the domestic box office so far.

That leaves Jim Carrey and his penguins in third, as Mr. Popper didn't pop this weekend. Mr. Popper's Penguins earned $18.2 million for Fox this weekend from 3,3339 venues. It had a venue average of $5,451. Fox did a good job of controlling expectations and removing the flop word from my column this weekend. They released a comment mid-week about expectations of a $10-$15 million opening weekend, so that when it improves on those numbers, somehow it looks like a success. It's not. Popper cost Fox $65 million to make, and a guess at marketing costs – obviously desperate over the last week –comes in at around $100 million. With this opening, Popper will have to work very hard just to meet that production-only figure of $65 million, and will have to look overseas to prop up the gross. If there is good news, the Cinemascore for this one came in with an A – likely thanks to the Jim Carrey fanbase – or they may have asked six-year-olds. Cars 2 may steamroll this one next weekend.

For Jim Carrey, things just seem to get worse and worse. His last live-action $100 million earner is Fun With Dick and Jane, released in 2005. It only made that much due to a plush release date the weekend before Christmas. Popper is also his biggest live action opening weekend since 2004's Lemony Snicket ($30 million opening), but very close to Yes Man ($18.5 million opening). Gone are the days of Bruce Almighty ($68 million opening) or even The Truman Show ($31.5 million opening). Jim Carrey needs a quality film to make, and Mr. Popper's Penguins isn't that film. Only 84 critics chimed in at RottenTomatoes, and 43% found something to like. Let's hope he goes back to making mainstream films for adults, and they are funny.

Fourth spot this weekend is X-Men: First Class, and the 20th Century Fox production is in freefall. After opening to a decent but unexciting $55 million, First Class fell to $24 million last weekend, dropping 56%. I was expecting some levelling off this weekend, but Green Lantern has crunched the X-Men. This weekend, X-Men: First Class earned $11.5 million, and dropped 52%. The result for the 87% fresh film leaves me wondering about scheduling. Would X-Men: First Class have worked better had it been released over the first weekend in August against Rise of the Planet Apes (which looks insane)? Given what had gone on before First Class (X-Men: Last Stand and Wolverine) the studio needed this one to have some open space to work in for a proper reboot, and not go up against Green Lantern in weekend three. X-Men: First Class did cross the $100 million mark this week, and brought its domestic total up to $119.9 million, but with a $160 million budget it needed to do better. Once again, the theme of the summer is thank goodness for overseas revenue, as First Class has at least picked up $135 million from those markets.

The Hangover Part II is fifth, and has a weekend much like its last. The comedy sequel took in $9.6 million and dropped 45% - not bad for weekend four of a film that opened to $86 million. The $80 million film has now earned $232.7 million stateside, and another $220 million overseas. How's that for profit?

Kung Fu Panda 2 drops to sixth this weekend. The Jack Black voiced sequel earned $8.7 million in its fourth weekend and dropped 47%. After a frame last weekend where things were looking slightly up with a 30% dip, Panda got Poppered this weekend and plunged (I had to). Panda 2 has now taken in $143.3 million stateside and $225 million overseas, against a Panda-sized budget of $150 million.

Bridesmaids continues to show its box office legs as it falls from $10 million last weekend to $7.5 million this weekend. That gives the leggy comedy a 26% drop in its sixth weekend, and has seen drops of 20%, 21%, 27%, 16%, and now 26%. The female Hangover is having a truly remarkable run, as its domestic gross now sits at $136.8 million. It's going to top out with about $160 million against a $32 million budget and earn more than six times its opening weekend.

Pirates of the Caribbean: On Stranger Tides finishes eighth this weekend, as it is almost done. On Stranger Tides earned $6.2 million and dropped 43%. Its domestic gross – currently at $220.3 million - is not going to reach than of its production budget ($250 million), but that's not where the story is. On Stranger Tides has earned north of $700 million overseas, and is approaching the $1 billion mark worldwide.

Midnight in Paris finishes ninth, as Woody Allen's latest is becoming the most successful of his career. Midnight in Paris expanded to 1,038 venues this weekend (up from 944 last weekend) and sees the first drop of its platform five weekend run. Paris earned $5.2 million and dropped a small 10% compared to last weekend. It is now Woody's third biggest film in the last 10 years, and is already only a few million behind films like Match Point ($23.2 million domestic) and Vicky Christina Barcelona ($23.2 million domestic). Midnight in Paris has earned $21.8 million domestically, and another $18 million overseas.

Judy Moody and the Not So Bummer Summer is tenth this weekend. It earned $2.2 million and dropped 63%. The $20 million film has earned $11.2 million.

Overall this weekend, unless Green Lantern had opened to $100 million, the box office never had a chance versus last year. A year ago, we got to enjoy Toy Story 3 as it debuted on top with over $100 million, which led the top 12 to a powerful $191.5 million. This year, the top 12 produced $145.4 million worth of business, on par with the year before last. Next weekend bring Cars 2, a Pixar product I care little about, and Bad Teacher with Cameron Diaz.