Weekend Forecast for June 17-19, 2011
By Reagen Sulewski
June 17, 2011
BoxOfficeProphets.com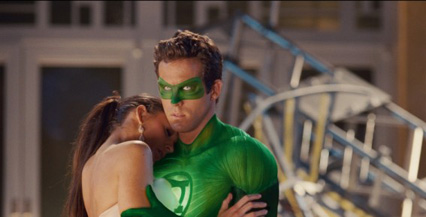 ---
What if they held a summer movie weekend and nobody came? We may just find out the answer to that question this weekend as the two main new offerings inspire mostly confusion, indifference and outright hostility.

The comic book summer continues with Green Lantern, DC Comics' lone entry in the 2011 season. Ryan Reynolds plays the title character, a fighter pilot chosen by an intergalactic corps of superheros who police the galaxy using a specially powered ring and I'm going to stop this sentence before it becomes the nerdiest thing I've ever written. As a member of this group of alien boy scouts, Reynolds (who is playing the Hal Jordan version of the character, which is apparently very, very important to some of you) is tasked to defeat an enemy that threatens to upset the balance of the universe using this ring, which can create anything the wearer can think of… but is defeated by the color yellow. So... yeah.

Green Lantern is one of DC's middle tier comics and probably sits in the same spot for them that Iron Man does with Marvel, and arguably serves the same character purposes – a cocky, arrogant character who struggles once given great power. Warner Bros. and DC are clearly hoping for similar results to Iron Man's stellar debut, which proved that you can take a relatively unknown comic character and make him palatable to mass audiences. Of course, the movie has to look good.

Because of the nature of the Green Lantern's powers, the movie is a CGI-fest and is rather obvious about it. Reynolds' costume is entirely CGI, which makes the casting of him to ogle at a bit counter-productive. As well, the sheer density of CGI used in the film gives it a cartoonish feel, and that's not even getting into how ridiculous the alien creatures look. Listen, just because something worked in four colors on newsprint doesn't mean that's going to translate to the big screen. All of this adds up into a campy, visually overwhelming mess that's drawing unflattering comparisons to the Fantastic Four movies and *ominous music* Batman & Robin. If there were any more warning signs surrounding this film, OSHA would have to get involved.

So how big a disaster are we talking financially, anyway? A really optimistic expectation might be The Incredible Hulk's $55 million, with lower bounds heading as low as you can imagine. Once bad buzz grabs onto a film pre-release, there's a snowball effect that you're just not going to stop. It's difficult to imagine the hard core nerds abandoning this franchise right off the bat, but there's little there to convince grownups who aren't already superfans that this film is for them. Despite a debut in over 3,800 venues, this should start with just $38 million.

But hey, at least you're not Jim Carrey, who has clearly given up with the release of his latest movie, Mr. Popper's Penguins. Based on a children's book from 1938, Carrey stars as the title character, a businessman who inherits a group of penguins, which proceed to cause havoc, as you would expect a group of Antarctic-dwelling aquatic birds to do. I'm pretty sure the script for this film just says "HIJINKS!" for 80 pages or so.

While the transition to family comedy has worked for a number of actors, at least in terms of box office, it's typically come at a cost to their credibility as leading men. Steve Martin and Eddie Murphy, I am looking in your direction. But again, this isn't foolproof. By the time of Cheaper by the Dozen 2 and Imagine That, the bloom had come off the rose for both these actors when it came to family films. In the case of Imagine That, it was enough to turn it into one of the biggest bombs of all time on a per screen basis. Carrey probably gets his shot with Penguins, as that's a solid enough hook for kids, but anyone over the age of 12 is wondering just what the hell happened to Carrey's mojo. Perhaps he's just come full circle from Ace Ventura. I'd look for a weekend of around $14 million here.

One of the more interesting things that will shake out this weekend is Super 8's second frame. Opening to just $35 million after a cryptic ad campaign, Paramount is literally banking on the idea that word-of-mouth will spread and carry it to bigger things. It's an extreme gamble, though one mitigated by the low budget of the film. Working against it is the fact that while good, the reviews aren't quite that great for it and we're not looking at any kind of runaway freight train of success here. A $22 million return this weekend should be in the works here.

Meanwhile, the verdict is in on X-Men: First Class, which while garnering some decent reviews still crashed in its second weekend, falling from $55 million to $24 million. While international gross is better, we're looking at a sub-$150 million performance domestically, which has to decrease the confidence Fox has in putting out a second film with this cast. Look for $13 million in its third weekend.

Kung Fu Panda 2 should eke past The Hangover Part II this weekend, though there's still about a $90 million gap between the two films. Add another $11 million to its tally, but it remains another example of a studio banking on goodwill to a franchise that just didn't turn up. The Hangover Part II did much better in this regard, though it'll drop to around $9 million, trending towards a $260 million or so final total.

Bridesmaids remains a ridiculously sticky film entering its sixth weekend and sneaking in its lowest percentage week to week drop, just 16%. At this rate, it's not crazy to start thinking about a $175 million final total for this female version of The Hangover. Give it $8 million this weekend, though.