Weekend Wrap-Up
X-Men Prequel Pounds Hangover 2
By John Hamann
June 5, 2011
BoxOfficeProphets.com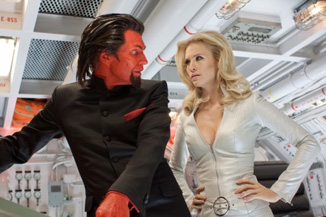 ---
After a white hot Memorial Day weekend, the box office served up another healthy summer blockbuster this weekend, this time in the form of X-Men: First Class, a prequel looking to breathe new life into a franchise that has stumbled – at least in terms of quality – as of late. Holdovers are another big story this weekend, as five films earned more than $10 million. The Hangover Part II took in a massive $103 million over four days last weekend, with Kung Fu Panda 2 taking down another $60 million. Would the return of the X-Men spell doom for the wedding party and the fat panda? Read on to find out.

Our number one movie of the weekend is X-Men: First Class, the prequel with effects eye candy and a bunch of attractive, up and coming stars. X-Men: First Class was at the top of the class, as it earned $56 million from 3,641 venues – far less than the 4,099 venues the last film in the series, X-Men Origins: Wolverine got in 2009. It had a venue average of $15,380. The very well reviewed comic book flick cost Fox $160 million make, so this is a fairly strong start to a very expensive film. However, like Wolverine, X-Men: First Class, it will likely make less stateside that it does worldwide. As we turn more and more to look at international box office sales, one has to think that overseas grosses will match what this one earns stateside, so if we double the domestic opening to a $112 million start against a $160 million budget, the result is is very, very good. Just ask Thor – that one cost $150 million to make, opened to $65 million, and has a worldwide gross of $420 million so far.

X-Men: First Class got off to a strong start at Thursday midnight screenings. Late night showings amounted to $3.4 million for Professor X and Magneto, and at that point some thought the prequel was going to eclipse $60 million, well beyond what tracking – and 20th Century Fox - was looking for. Despite not reaching the $60 million figure, tracking and expectations were still blown away, as some were looking for First Class to finish in the high-$40 millions instead of the mid-$50 millions. Whether First Class is a prequel or a reboot, it does take the franchise back to the beginning. The first X-Men movie opened to $54.5 million, although that was 11 years ago, back in July of 2000. That first X-Men had an opening day figure of $21.4 million, virtually identical to the First Class Friday figure of $21.2 million.

If the X-Men franchise has gone backwards in terms of grosses by 11 years, can First Class be considered a success? First, let's look at the past. We know the first X-Men film opened to $55 million; the second, X2: X-Men United, took in $86 million in 2003, and was followed by X-Men: The Last Stand, which grossed a massive $103 million over its first three days. The third film was the peak of this franchise, as the opening for X-Men Origins: Wolverine, went backward to what the second film earned, taking in $85 million over its opening weekend.

I find it kind of odd the way the franchise peaked with the third film, but in terms of quality it really hit a high point with the second film, X2. Looking at RottenTomatoes, the first film was very well received , garnering a 82% fresh rating at RottenTomatoes. The second received the best score at 88%, and then returns began to fall with X-Men: The Last Stand at 57%, and X-Men Origins: Wolverine, at 37%. Quality had left the X-Men franchise, especially with the brutal Wolverine, but Fox and Marvel assembled a better team, spent more money, and delivered a MUCH better product this time out with X-Men: First Class, and legs may become a factor again in the X-Men world.

20th Century Fox hired Matthew Vaughn, who, prior to First Class had directed only three films, but all of them had style and an impact on the audience. After getting Producer credits on Lock, Stock and Two Smoking Barrels as well as Snatch, his first directorial effort was Layer Cake, a British film starring the then unknown Daniel Craig, Tom Hardy and Sally Hawkins. Layer Cake earned only $2 million in the US, but did better overseas. It became a cult hit on DVD, and I suggest you seek it out if you haven't already. Vaughn then did Stardust, a $70 million effort that earned only $40 million in North America, but took in almost $100 million overseas. Then came Kick-Ass, one of the biggest love it or hate it films from the last 10 years. Regardless of whether you think Kick-Ass is a good film (or a responsible one) or not, it did show that Matthew Vaughn had a seriously large set of balls on him, considering what he put on the screen.

The X-Men franchise needed some new life, and they certainly got it with Vaughn. Critics love the new product, as X-Men: First Class received 150 positive reviews out of a possible 172, giving it a fresh rating of 87%. That's the best of the 2011 blockbusters so far – better than Thor's 77% and only a point less than Bridesmaids 88% rating. To start a new franchise under the "First Class" banner, the first one was going to have to be good and successful, and so far, it looks like X-Men: First Class has done both.

With X-Men: First Class, Fox was able to spend more of its large budget on the movie, instead of on the cast. X-Men films are going to have large casts due to the team nature of these films, and after the success of the first three films, paying Hugh Jackman, Patrick Stewart, Halle Berry, and Ian McKellan couldn't be cheap. They tried to lower those costs with the one-star Wolverine, but it cut into revenue. Audiences wanted multiple super-heroes, not just Hugh Jackman whining a lot. So, we bring in X-Men: First Class, with names like James McAvoy and Michael Fassbender leading the cast, along with Rose Byrne, January Jones and Jennifer Lawrence. These names aren't going to break the bank, at least until third film in the new franchise. Going this very financially effective route allowed Matthew Vaughn to have submarines flying through the sky in what was a very impressive trailer for the reboot. Marvel Studios is taking this summer by storm, as Thor is already a winner, First Class is winning, and they still have Captain America coming very soon.

Finishing second is The Hangover Part II, which was hugely successful last weekend over the very long Memorial Day frame. The comedy sequel had already earned $152 million by Thursday, only its eighth day of release. It was no secret that Hangover II was going to suffer in its second weekend. It had been way too successful over its first week not to see a very healthy drop. This weekend, The Hangover Part II earned $32.2 million, giving it a drop compared to last weekend of 62%. While that appears to be a very painful number, remember that the original Hangover had only one weekend when it earned that much – its first – and that the North American total for Part II now stands at $186.9 million, a number the first didn't see until its fifth weekend. So yes, the drop was bad, and yes, it's not as good of a movie as the first, but let's remember that The Hangover Part II was made for $80 million, has a running domestic total of $186.9, and has pulled in over $60 million in a handful of territories overseas. That $80 million investment from Warner Bros. is going to turn into at least a half-billion before all is said and done.

Third spot this weekend goes to the other Memorial Day sequel, Kung Fu Panda 2. I thought Po and company had gotten the "big theater squeeze" from Hangover 2, and might bounce back this weekend, but it's not the case. After taking in a disappointing $47.7 million over three days last weekend, the mighty panda was only able to drum up $24.3 million this weekend. That gives the Jack Black flick a drop of 49% and tells Paramount that it should have gotten its head out of its ass and not released this against The Hangover Part II. Kung Fu Panda 2 cost Paramount $70 million MORE to make than Hangover II, and the gross for Panda 2 pales in comparison. Not being "the" film over opening weekend has damned this one to box office mediocrity, despite having earned almost $200 million worldwide so far. Give it $100.4 million at the domestic box office so far, with $150-175 million looking like a domestic total (the first earned $215 million).

Fourth is Pirates of the Caribbean: Damn The Franchise, which at least had one healthy weekend. Pirates of the Caribbean: On Stranger Tides earned $18 million in its third weekend, and follows its Memorial Day Weekend plunge of 56% with a drop compared to last weekend of 55%. Really, though, this is a similar drop pattern as the last film, which dropped 61% and 52% over its second and third weekends. The difference here is the starting amount, as At World's End started with $114 million and dipped to $44 million in its second weekend. On Stranger Tides started with $90 million and dipped to $39 million. On Stranger Tides is cashing in overseas – it has already earned more than a half-billion, and has taken in $190.3 million on the domestic side. Financially, North America is becoming an after-thought when it comes to the summer blockbuster, and it's only a matter of time until the creative side feels the same.

Fifth is Bridesmaids, still the darling of the summer ball. After taking in $16.5 million over three days last weekend, the Judd Apatow-produced comedy had another weekend above the $10 million line, taking in $12.1 million. It dropped 27%, and adds that figure to the two 20% drops its seen in other weekends. The $32 million Bridesmaids has now earned $107.3 million – it crossed the $100 million mark on Saturday – and could still finish with as much as $150 million.

Way back in sixth is Thor, Marvel's first crack at the summer box office. Thor has cooled dramatically since opening to $65.7 million five weekends ago, but has amassed some very solid totals. Thor earned $4.2 million, dropping a large 56%, likely due to the debut of the X-Men prequel. The good news is that it has taken in $169 million domestically and over $250 million overseas, all against a budget of $150 million. It is a Marvel-ous summer.

Seventh is the film that started all of this blockbuster craziness a week or two early, Fast Five. The Vin Diesel flick took in $3.2 million and dropped 49%; however, it did cross the $200 million mark on Saturday, bringing its domestic total up to $202.1 million. Overseas, Fast Five has brought in over $350 million, making this one simply huge for Universal.

Woody Allen seems a little out of place amongst these monstrous films, but Midnight in Paris could be the director's best performing film since Hannah and Her Sisters in 1986. Midnight in Paris earned $2.9 million, which is an increase of 51% compared to last weekend. It is important to note that the film is out to approximately three times as many screens (147 compared 52 last weekend). Sony Classics will need to keep the momentum going on Paris, as it expands to 750 screens next weekend. So far, the small Owen Wilson film has earned $6.9 million.

Ninth and tenth go to the wedding comedies, Jumping the Broom and Something Borrowed. Jumping the Broom earned $865,000, dropped 53%, and has a cume of $35.9 million. Something Borrowed earned $835,000, dropped 55% and has a domestic total of $36.7 million. While they have remarkably similar results, the difference is in the budget, as Borrowed cost $35 million to make, where Broom cost only $7 million.

Overall this weekend, this year's top 12 reigns over last year's quite mightily. The top 12 films this weekend earned a powerful $156.4 million, where last year suffered, pulling in $122 million. Next weekend brings two films, Judy Moody and the Not Bummer Summer (not making it up) and the much anticipated Super 8 from J.J. Abrams and Steven Spielberg, a film that will be very tough to predict at the box office.