June 2011 Forecast
By David Mumpower
June 2, 2011
BoxOfficeProphets.com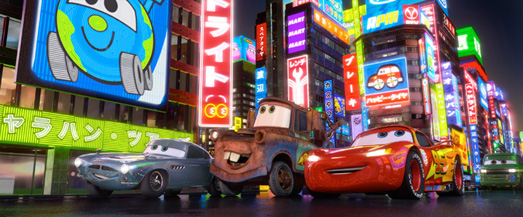 ---
There are only eight wide releases this June, and this is the rare example of Hollywood distributing roughly similar amounts of quality and quantity. Seven of the eight titles listed below are reasonably expected to open north of $20 million. Other than Judy Moody and the Not Bummer Summer, every other wide release in June has a legitimate chance at $100 million. Were I a betting man, I'd put the over/under on six titles reaching that plateau. The top three all seem like strong candidates to cross $200 million domestically, making June a potentially fantastic month of box office, at least on paper.

1) Cars 2
2) Transformers: Dark of the Moon

The top three films for June of 2011 are all sequels. Out of the prior iterations of each franchise, Cars ostensibly fell in the middle with $244.1 million domestically, $461.9 million worldwide. That performance places it ahead of X-Men Origins: Wolverine's $179.9 million/$374.8 million or even X-Men: The Last Stand's $234.4 million/$459.4 million if you would prefer to use those. It is well short of the historic numbers earned by the previous Michael Bay movie, Transformers: Revenge of the Fallen, though. That ill-regarded title somehow earned $402.2 million domestically; also, it earned an even more impressive $836.3 million worldwide. It currently stands as the 24th most lucrative movie release of all time. Why then am I selecting Cars 2 as the favorite to win the June box office campaign over the sequel to the number two overall domestic release of 2009?

Well, you saw Transformers: Revenge of the Fallen, right?

Okay, that was a cheap shot, a justified one, but a below-the-belt comment nonetheless. I actually have a great deal of confidence that movie goers won't care about the atrocious quality of the previous Transformers title. They want loud noises and shiny things, and that's the only thing Michael Bay does well. I am not expecting a massive decline from the Transformers franchise. Instead, I believe that Cars as a brand has reached a point where it approaches Transformers in terms of marketability and I think that movie goers who are on the fence about June releases are much more likely to give Pixar the benefit of the doubt than Michael Bay. And this just means that I think such movie goers are not idiots.

Cars the brand is huge on a scale that you may not have realized yet unless you interact with small children frequently. Over the period since the release of the original film, Cars has earned in excess of $6 Billion (with a capital B) in merchandising sales. Young boys covet Lightning McQueen and Mater toys in a manner previously reserved for Darth Vader and Ewoks. Cars has reached a level of ubiquity that defines it as the 1A to Toy Story's 1 in the Pixar business plan. And Toy Story 3 earned $415.0 million in North America last year. That amount exceeds what Transformers managed and Pixar managed to do it without people angrily storming out of theaters afterward, cursing the names of all people involved with the film. And if you didn't do this with Transformers: Revenge of the Fallen, I don't want to know you.

Of course, this conversation is a splitting of hairs anyway. I believe both of these projects reach $300 million domestically. The debate is how much Cars has grown the brand and how much Transformers has damaged the brand since the prior releases. The clever decision to turn Cars into an espionage thriller makes it more desirable to mainstream consumers. Conversely, the decision to introduce a new villain to Transformers allows the trailer to distract potential viewers from their visceral hatred from the prior movie's leg humping extravaganza. I envision a close race wherein Transformers starts stronger but Cars fittingly comes from behind to take the checkered flag.

Effectively, I view the choice between Cars 2 and Transformers 3 as deciding between good and evil. I choose to align myself on the side of the angels.

3) X-Men: First Class

There are two comic book adaptations this month. One of them is a reboot of an established franchise that has cleaned up historically at the box office. The other involves green and yellow jewelry. As such, the choice regarding which one finishes ahead isn't much of a choice. I mentioned some of the X-Men numbers above, but let's go ahead and summarize. The four X-Men features to date have earned roughly $786 million domestically. That's an average of about $196 million per title. Wolverine did show signs of slippage, becoming the first title to fall short of $200 million since the original. It inflation adjusts as the worst performance of the series thus far. Ergo, there is cause for concern.

The decision to reboot X-Men as a means to explore the complicated relationship between Magneto and Charles Xavier looks to be the right call. I was skeptical at first, but the early reviews are unexpectedly positive. In fact, they remind me that if I were to debate the best comic book adaptations to date, X2: X-Men United would be on the shortlist alongside Spider-Man 2, Batman Begins (yes, I prefer it to The Dark Knight) and Iron Man. When Bryan Singer jumped ship in favor of the ill-fated Superman Returns reboot, the X-Men franchise fell apart with two titles that are ugh and ugh-er.

Starting from scratch means that the long in the tooth cast members from the prior iteration can be replaced with younger actors whose stars are on the rise. Also, the new players are much cheaper. People working in their fourth or fifth film expect pay equivalent to their longevity. Starting from scratch nicely tidies the budget. It helps that a couple of the roles were cast perfectly. Michael Fassbender and James McAvoy headline as Magneto and Professor X, but the masterstroke is the inclusion of Jennifer Lawrence as Mystique. The Kentucky actress leveraged a sublime performance in Winter's Bone into the biggest acting coup since Twilight when she gained the role of Katniss in The Hunger Games. She went from virtual unknown to the hottest young actress in the industry in about eight months. X-Men: First Class benefits from this just as it benefits from the first (true) implementation of nerd goddess Emma Frost (as played by Mad Men's January Jones). The current co-leader of the X-Men is much beloved for her lusty fashion sensibility and…well, that's plenty enough for under-sexed hormonally driven boys/men.

X-Men: First Class is well cast, well timed, well established and apparently quite good. That means it's going to make a lot of money.

4) Mr. Popper's Penguins

While Cars 2 is clearly the top family film choice for the month, Jim Carrey's latest project is a frontline feature as well. A loose adaptation of the Richard & Florence Atwater story you may have read as a child, the movie reduces the number of penguins down from a dozen to half a dozen, but the general premise is still the same. A man in America has no business raising animals whose natural habitat is the North and South Pole. This leads to many hijinks, meaning that while Carrey isn't technically back to being a pet detective, this is the closest he's come to talking out of his butt since 1995. This is a live action version of Happy Feet, a film that earned just under $200 million at the box office, and it stars Jim Carrey. There is a lot of reason to believe that this becomes one of the solid hits of the summer box office campaign.

5) Green Lantern

I have mocked this character so much that you would think he made Aquaman look like Batman. The entire storyline mystifies me. I fail to see the appeal of intergalactic cops if they aren't men dressed in black. I particularly fail to see the appeal of a character who needs jewelry to perform appropriately (I mean, that's turning Liberace into a comic book hero). And I specifically dislike the insipid idea that a single color can fell hundreds of the universe's finest police offices. Green Lantern as a character fundamentally fails the laugh test for me. All of these are my problems and I will deal with them.

Here is what I have to say about Green Lantern as a property. There is no disputing the fact that DC Comics writer Geoff Johns reinvigorated the character over the past five years through several comic book events. Those include The Sinestro Corps War, Blackest Night and Brightest Day. Despite my comments above, you will be surprised to learn that I have read all of the above. I make it my mission to stay as informed as possible on all pop culture subject matter, so I bit the bullet here in order to understand the character, its appeal, and the potential for the movie. Along the way, my primary discovery has been that Swamp Thing is a DC Comics character. I had no idea. Of course, even though it was a key player in Brightest Day, it will not be appearing in the movie, so that's irrelevant to the topic at hand. It's just a note for less informed John Carpenter fans such as myself.

What is important is that the key to any good comic book adaptation is a great origin story. Even more of an imperative is having a great villain. These are the two aspects of the Green Lantern story that justify a movie. The idea that an ordinary military official could suddenly discover he is needed to police a sector of the universe is engaging. But that premise on its own would not be enough. Enter Sinestro. The mentor for Green Lantern eventually becomes his worst enemy and while I'm not certain if that happens during this movie or is drawn out over sequels (assuming the film does enough business to justify one or more of them), I can say with complete sincerity that Sinestro will get me into the theater in a manner that Green Lantern would not.

With regards to my perception of the movie, other than ardent Green Lantern supporter and BOP comic book store owner/expert Pete Kilmer, the comments I've heard about it have been universally negative. In fact, some of them have bordered on hostile. I must admit that these mirror my opinions of the trailers thus far and I say that as someone who adores Ryan Reynolds and Blake Lively, who seems woefully miscast. Still, Green Lantern is an upper tier comic book property, falling on the level below Superman and Green Lantern but as high as several Marvel characters whose films have opened north of $50 million. I believe that to be ambitious here, but a debut in the upper $30s would strike me as a net win for DC…and a badly needed one at that. Over the past few years, Superman Returns disappointed, the Wonder Woman movie failed to get off the ground, Jonah Hex became a movie punch line and the Wonder Woman television show failed to get picked up. DC needs a win but even a draw would feel like a win at this point. I have a hard time believing that in the 1990s, Marvel Studios was the comic book creator that was a complete mess. These things are cyclical, I guess, but DC needs a new cycle to begin sooner rather than later.

6) Super 8

Out of the June releases, this is the most difficult box office performance to project. On the surface, it has numerous similarities to E.T.: The Extra-Terrestrial as well as Cloverfield. Those are not a couple of projects that get mentioned in the same breath very often, but the presence of Stephen Spielberg as a producer and J.J. Abrams as a director is the unification of this odd meld. Spielberg was the director of E.T. and while Abrams was only the producer of Cloverfield, his oversight was integral to the success of that project. With Super 8, Abrams takes a handful of kids and tells a mystery from their perspective. The details of the plot have been carefully guarded thus far, so it's impossible to judge how strong the premise is.

What we do know for certain is the Friday Night Lights' Kyle Chandler is the most recognizable name in the cast, which is to say that this film is being sold almost exclusively based on the filmmakers and the suspense in the trailer. As much as I want to project a blockbuster performance, a lot more of these films wind up as batteries not included* than The Goonies. I think Super 8 will prove to be a $100 million exception and maybe much more, but that is only a gut feeling. None of the empirical data is encouraging. If anyone other than Spielberg and Abrams were involved, this would look like Frequency on paper.

7) Bad Teacher

Sometimes an actor stumbles into the perfect part at the least expected moment in their career. I believe we are witnessing just such a situation for Cameron Diaz. The legitimate A-list actress generally gets to be the pretty girl who is funny and films such as There's Something about Mary demonstrate she has a knack for this. As every woman knows, however, sometimes it's fun to be bad. With Bridesmaids still overachieving at the box office, it's fair to say that women are embracing films that (finally) cater to them rather than outdated societal expectations of who they should be. I'm not saying that Bad Teacher will be another Sex and the City, but I fully expect it to open similar to Bridesmaids, which is a solid box office feat.

8) Judy Moody and the Not Bummer Summer

I had this trailer inflicted upon me last weekend when I went to see Kung Fu Panda 2. At that moment, I realized that Heather Graham has had a sitcom canceled the week it aired as well as multiple movies released straight to DVD yet THIS project may be the low point of her career. And we are talking about a woman who is famous for portraying a roller skating porn star. Still, these books have some recognition as the young girl's answer to Diary of a Wimpy Kid. I can see it opening in the high single digits, which is really all a production of this scale needs to earn money long term.