Weekend Wrap-Up
Hangover makes Kung Fu Panda an endangered species
By Kim Hollis and David Mumpower
May 29, 2011
BoxOfficeProphets.com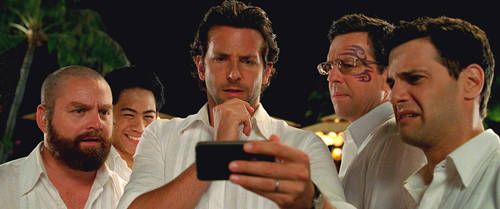 ---
North American audiences determined this weekend that the only cure for a Hangover was a lot of the hair of the dog, as The Hangover Part II is the Memorial Day Weekend box office champion…and it isn't close. It's very rare to see two blockbuster sequels released over a holiday weekend. With the expanded time to see the film, there should have been plenty of room for the box office to expand and accommodate both of them. Instead, this weekend's results prove that movie-goers had an appetite for just one of these sequels – at least thus far.

Sunday estimates have The Hangover Part II more than doubling Kung Fu Panda 2's performance over the first four days of their release. This disparity began on Thursday, when The Hangover Part II debuted with $10.4 million in midnight exhibitions, which is well beyond what Kung Fu Panda 2 managed the entirety of Thursday, $5.8 million. The Hangover sequel wound up with $31.7 million for the entire day, giving it what has proven to be an insurmountable lead of $25.9 million going into the three-day portion of the holiday weekend. The four-day gap (Thursday through Sunday) is a whopping $64.1 million, which is particularly bad news for Kung Fu Panda 2 since it is only at $54 million after four days. The Hangover Part II is sitting with $118.1 million since Wednesday midnight showings, and unless it's overestimated by $15 million (!) for the Friday through Sunday period, it is the highest opening ever for a live-action comedy.

At a minimum, The Hangover Part II is in striking distance of being the biggest R-rated opening ever. With estimates, it's behind The Matrix Reloaded's three-day opening total of $91.8 million but actuals could conceivably put it ahead of that number. Even without the $31.7 million on Thursday, there was enough secondary demand for this latest installment of The Hangover to surpass Fast Five's franchise record $86.2 million. It's also in the range of Pirates of the Caribbean: On Stranger Tides' 2012 high opening of $90.2 million. If this doesn't give you enough perspective for how spectacular The Hangover Part II's performance is, simply consider a comparison to Indiana Jones and the Kingdom of the Crystal Skull, arguably one of the most anticipated sequels of the past decade, also released with the same pattern in 2008. That film earned $125.2 million in four days, only 6% more than a freaking Bradley Cooper/Ed Helms comedy.

Another way to reinforce the strength of The Hangover Part II's performance would be to compare it to the original Hangover itself. That film managed $126.1 million during its first two weeks in theaters. The Hangover Part II will have surpassed that amount by Memorial Day afternoon. Barring something unforeseen, The Hangover's final domestic box office total of $277.3 million will be torched. The Hangover Part II will wind up being one of the top five domestic releases of 2012 and could conceivably compete for first place, a slot we'd been projecting as a foregone conclusion for Harry Potter and the Deathly Hallows Part 2.


You're probably asking the same question we are: How did The Hangover Part II join the ranks of major tentpole sequels such as the Fast and the Furious and the Pirates of the Caribbean franchises…and Indiana Jones? Early word-of-mouth for the sequel could be politely described as lackluster, and it is fair to say that the film is critically reviled. Only 35% of reviewers at Rotten Tomatoes cared for the movie, and the number drops to 22% when we isolate the "Top Critics." In fact, Rotten Tomatoes currently offers one of the strangest divides we have ever seen, as 94% of audience members indicate they love the film, rating it 4.6 out of 5. Apparently, the 28 Top Critics at Rotten Tomatoes have been shouted down by the masses. Every producer dreams of making a review-proof movie, but the reality is that Michael Bay seems to be the only one to get away with it. The Hangover Part II's opening weekend has become an exercise in populism. It's very simple. If you liked the first movie, you will like the second one. Sub out the tiger for a monkey in a jean jacket, and you've got a hit.

As surprising result as The Hangover Part II's explosive performance is, equally shocking is the mediocre result of Kung Fu Panda 2. We often discuss the box office phenomenon that the quality of a previous film in a franchise directly correlates to the opening weekend box office of its successor. Kung Fu Panda was a beloved 2008 release that was the #6 domestic performer of the year. It was well-reviewed, an Academy Award nominee, and has found tremendous popularity on home video. That first film opened to $60.2 million in three days. Kung Fu Panda has only made $54 million in four days, and that is with holiday inflation. This is despite the fact that it is almost as well-reviewed as the first one and that the people who have gone to see it are providing quite strong word-of-mouth.

It's as hard to point to a reason for Kung Fu Panda 2's decline as it was for Hangover II's success. One problem that Kung Fu Panda 2 has is that it's simply not as focused on the comedy as the original – instead, it's a character study with heart and emotional impact. When cutting the trailer, it would have been difficult to come up with enough gags to be as enticing as the original one was. Since we've had an over-saturation of animated kid flicks so far in 2011, with most of them being less than satisfying, Kung Fu Panda was also facing movie theater fatigue. Of course, that shouldn't matter for the top level films, and you can bet it's not going to impact Cars 2 when it opens in June.

If Kung Fu Panda 2 were a brand new DreamWorks property, this opening would be an "okay" result, nothing special. Since it's a sequel to a well-loved film, the result is nothing short of devastating. The worst part is that people truly are going to have a hard time coming up with an explanation for what went wrong. On paper, it seems as though almost everything was done properly. The only mistake is that for a comedy, Kung Fu Panda 2 isn't very funny. They should have added a monkey or a tiger…oh, wait. They already had those.

The Memorial Day Weekend numbers continue with Pirates of the Caribbean: On Stranger Tides, which is in third place with $39.3 million. After its somewhat subdued debut last weekend of $90.2 million, the Disney action-adventure fell an expected 56%. We knew that there was a certain rush to see this film from the Captain Jack Sparrow fans even as we also had empirical data to show us that there wasn't the pent-up demand for the franchise that there had been in the past. So far, the fourth entry in the Pirates series has earned $152 million for Disney, but that only tells a very tiny piece of the story. Audiences overseas clearly had a desire to see Captain Jack and his pirate cronies once again, because it had a record-breaking $256.3 million in overseas revenues in its first weekend (which coincided with its North American theatrical release). The film is already well over $450 million in worldwide receipts, which for this type of franchise, is where the money is truly earned. It's almost certainly safe to say that Disney will put a fifth film into production at the first opportunity. Hopefully, they'll take some time to develop a story that is less of a throwaway than On Stranger Tides was.

Next up is Bridesmaids, which continues to show remarkable staying power as it holds on in fourth place. The Universal property featuring Kristen Wiig and a merry troupe of funny women took in another $16.4 over the three-day portion of the weekend, a decline of only 22%. Word-of-mouth has been very kind to the Judd Apatow-produced film, as it has already earned $85 million and has a ways to go before it even slows down. Given that some are calling it a female version of The Hangover (I've heard several of my own female friends use that exact terminology, in fact), one might have expected the actual Hangover to knock the wind out of Bridesmaids' sails. Instead, what we're seeing is that female-targeted films – and not just romcoms – have a great shot at performing exceedingly well. Right now, it's almost a "build it and they'll come" scenario.

Thor takes fifth place, as newer, shinier options knock it down a few pegs. The Marvel superhero film earned another $9.4 over the three-day portion of the weekend, a decline of 39%. Considering the fact that Thor is a lesser-known, more marginal character in the comic book world, Paramount is going to be very pleased that the film is looking to end up in the $175 million range by the time it departs North American theaters (it currently sits with $159 million). It's been a solid overseas performer, too, as it has earned more than $250 million from those venues. So far, Iron Man and Thor have done an excellent job at laying the groundwork for the impending Avengers film. Next up, we'll see how Captain America fares, which will be interesting when you consider that his international appeal might be hampered since it's such a specifically patriotic character.

Yet another recent blockbuster sits in the sixth position. Fast Five, the big, big hit for Universal, had a three-day total of $6.6 million. It fell 37%, and has a current domestic total of $196 million, inching ever closer to the magical $200 million mark. We've talked a lot in this wrap-up about the importance of international numbers in the success of these blockbusters, and Fast Five is yet another example of how that comes into play. The fast car/heist flick has taken in almost $340 million from international locations, and you can rest assured that the studio has found a formula that works for this franchise. They're going to keep milking that cow while they can.

Next up, we have Woody Allen taking a shot at the top ten, as his Midnight in Paris earns $1.9 over the three-day portion of the holiday weekend from only 58 venues, good for a stellar seventh place finish. That's a per-screen average of 33,090, the best in the top ten, and it's pretty clear that this film is riding a wave of positive critical reviews to capture audience attention. Like many Woody Allen films, it's also doing well overseas, as it's approaching $15 million in international venues so far (this is a film with just a $30 million budget).

Our joined-at-the-hip wedding comedies take the eighth and ninth spots. Jumping the Broom earned $1.9 million, a decline of 49%. Its current domestic total is $34.2 million, which keeps it right in line with Something Borrowed, which is still hanging around despite no one really wanting it or caring too much about its presence. The film ends up in ninth place with a three-day total of $1.8 million, a decline of 48%. Its current domestic total is $34.8 million, and might provide some proof that on top of wanting product, women want good and unique product. They're not just going to head out and see any old crap you throw on a screen.

The last of our blockbusters in the top ten shows up in tenth place. Rio, the animated kid flick from Blue Sky Animation and 20th Century Fox, earned $1.8 million and fell 62% from its previous weekend. Fox has to be plenty pleased with this CGI animated success, as it has earned $134.8 million domestically and $315 million internationally, easily earning back its $90 million production budget before it even gets near home video. This film is actually looking somewhat similar to Ice Age, which also had a lot of its revenues come from overseas venues. A sequel is almost a certainty.

If we compare this year's Memorial Day weekend to 2010's, things are looking up, up, up. The top 12 films this weekend took in an outrageous $216.4 million, a monumental 49% more than the same weekend last year when Sex and the City 2 and Prince of Persia: Sands of Time disappointed by not even winning the weekend and the top 12 earned $145.3 million. Next weekend, the X-Men return to theaters, although this time we go back in time to see how Magneto, Dr. Xavier and the rest of the older generation had their beginnings.