Weekend Forecast for May 27-30, 2011
By Reagen Sulewski
May 26, 2011
BoxOfficeProphets.com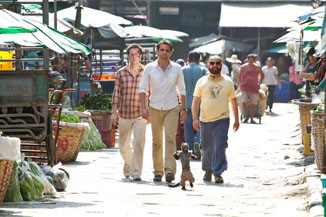 ---
For the Memorial Day weekend, Hollywood dispenses with trivial notions of letting one huge film reserve it all for itself, and throws two highly anticipated sequels out for consumption. Between this and last weekend's big film, if you can't find a reason to get to the theater this weekend, you may be in a coma.

The Hangover Part II is perhaps the new standard-bearer for "if you like this sort of thing, this is the sort of thing you'll like". Two years ago, the first Hangover had a solid opening weekend of $44 million based on a brilliant premise and an extremely well-crafted trailer, which steadily ramped up the incredulity of its characters and their apparently out-of-control night. Legs took it to nearly $300 million, so with only some slight variations – the most significant of which is a scenery change from Vegas to Thailand – we're at it again.

The trio of Bradley Cooper, Ed Helms and breakout star Zach Galifianakis make up the core of the film, with Ken Jeong making the leap from cameo to supporting player (Justin Bartha is mostly MIA again – and after appearing in both these films and both National Treasure movies, will have one of the highest cumulative box office figures of an actor that 98 per cent of the populace couldn't pick out of a police lineup). The question then becomes whether people are willing to pay money to see what's The Hangover's equivalent to the Bad News Bears Take Japan – the answer being... probably.

There are in fact some new moments and jokes in Hangover II, and they even snuck their way into the trailer, but it's likely that they number in the high single-digits. That'll work for opening weekend purposes, but should lead to a steep drop in the weeks to come. This is basically found money for Warner Bros. though, so it's hard to feel sorry for them, after what's going to be a massive $105 million five day weekend.

Perhaps an equally solid bet to win the weekend is Kung Fu Panda 2, which brings back the majority of the cast of the 2008 film with Jack Black as the newly-minted Po the Dragon Warrior joining the Furious Five in protecting the Chinese countryside with the power of kung fu. That is, until an old master, Lord Chen (voiced by Gary Oldman) threatens to destroy all that it stands for with modern weaponry. In his own bumbling way, Po must defeat these evil forces with the power of awesomeness.

The first film in the series was marked by clever humor, top-notch animation in both style and technical ability, surprisingly effective action scenes and an uncommonly sophisticated philosophy for a film targeted largely at children. It also featured excellent performances from its voice cast, which in addition to Black, also included Angelina Jolie, Dustin Hoffman, Ian McShane, Jackie Chan, Seth Rogen and several other notable names. The fact that Black is included among those excellent performances is notable considering that his wacky nonstop antics can, well, grate at times and have turned off significant portions of his potential audience. But like a hyper-active child being given a soccer ball, his character in Kung Fu Panda gave him focus and purpose, channeling all that excess energy into something constructive. As a fanboy accidentally raised to elite status, Black really made his childlike infectious enthusiasm work for the film.

The question then becomes whether this will work a second time. At least initially, this seems to be the case, though we're at least not back to square one with Po's abilities. Now, he's finding a way to utilize his...unique fighting style in concert with the other five warriors, who are still vaguely embarrassed to be hauling around this great lump of panda with them. Played with a constant feel of "can you believe this is actually happening?", it's proven to be a winning style for animation.

Opening in June of 2008, Kung Fu Panda grabbed $60 million in its opening weekend, and cruised to a $215 million total. Thanks to endless repetition on cable and solid DVD/Blu-Ray sales, expectations here are a fair bit higher, similar to the leap that Shrek made from movie 1 to movie 2. In fact, with the effective retirement of that franchise, Paramount/DreamWorks is banking strongly on Kung Fu Panda taking over that role in its arsenal. With this being a prime weekend for family viewing at the multiplex, it should take full advantage of its extended five-day opening weekend to the tune of $90 million over that period.

Finding the middle ground between Hangover's hard-R and Kung Fu Panda's soft-PG is Pirates of the Caribbean: On Stranger Tides, which comes into its second weekend with some questions to answer. Is that $90 million opening weekend, which already represents a step back for the series, a harbinger of a franchise that's taking on water, or is it merely a rough patch of water to be navigated around (okay, I'll cut it with the nautical metaphors)? As a third sequel that no one particularly asked for and isn't getting strong reviews, I think we all know what's the more likely outcome. While a drop as severe as At World's End's shouldn't happen, more than half of the opening weekend should easily go "poof" over Memorial Day weekend. Add in the extra holiday day and we're looking at a $45 million weekend.

On the flip side of that ledger, Bridesmaids' word-of-mouth appears to be for real, with just a 20% drop off in its second weekend. It's at this point that the person responsible for picking the clips for this film's trailer should start feeling nervous for his job. As a gender-flipped direct competitor to The Hangover II, this may suffer slightly, but personally I find that quality wins out, and over four days, I'd say we're looking at an $18 million weekend for Kristen Wiig and company.

A couple of franchise/spin-off films wrap up the weekend's notables, with Thor and Fast Five bringing in about $8 and 6 million for the holiday weekend respectively. Thor is looking like a $175 million domestic film, which is pretty close to a best case scenario for this second-(third-?)tier superhero lead up to The Avengers movie next year. Fast Five, meanwhile, has already blazed past every other entry in the Fast and Furious franchise and should wind up somewhere in the vicinity of $215 million. It's already got an eye-popping half a billion between domestic and international figures, and may end up in the all-time top 50 worldwide when everything is said and done.