Weekend Wrap-Up
Pirates 4 Jumps the Box Office Shark
By John Hamann
May 22, 2011
BoxOfficeProphets.com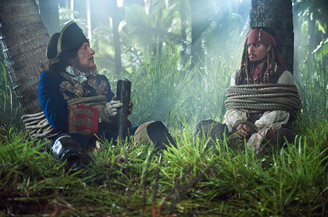 ---
The lone opener this weekend was Pirates of the Caribbean: On Stranger Tides, and one didn't have to be writing this column for the last ten years to know this series was slipping. Orlando Bloom and Keira Knightley sailed off into oblivion at the end of the third film, as did director Gore Verbinski, leaving Johnny Depp's Captain Jack Sparrow alone to guide the franchise. The last Pirates film took in $114.7 million over three days, a number we knew this outing was going to struggle to beat. Struggle it did, and I think I can hear Captain Jack whispering: "There be sharks in these here waters, and they look good for jumpin'".

Our number one movie this weekend is obviously Pirates of the Caribbean: On Stranger Tides, but the result is not as good as some were expecting. On Stranger Tides earned a solid (at least compared to non-Pirates films) $90.1 million from a massive 4,155 venues, giving it a strong venue average of $21,685. The good news for the franchise wraps right about there. The last film, At World's End, earned $114 million over the traditional Friday-Sunday portion of the weekend, but amassed a ridiculous $153 million over its first four days (that number also includes Thursday previews). That means On Stranger Tides came in about $30 million short of its predecessor. The second film, Dead Man's Chest, earned $135.6 million over its first three days, so On Stranger Tides is about $50 million short of that debut. The shine appears to be coming off the Pirates of the Caribbean franchise, as not only are the financials coming down, so are the critical notices, and potentially word-of-mouth.

The first Pirates of the Caribbean film, Curse of the Black Pearl, was that proverbial diamond in the rough – a critical and audience success that translated into big business for the studio. Johnny Depp became a superstar with Curse of the Black Pearl, as both critics and audiences loved his Captain Jack Sparrow – enough to turn an overlong, effects-filled romp into a 78% fresh critical success. Black Pearl earned $655 million domestically, and didn't drop more than 40% at domestic cinemas until weekend 22. In fact, it was out for 152 days before having an "average" weekend drop. The next two Pirate films combined for a little over $2 billion – yes billion – worldwide, despite critics being less enamored. The second film came in at 54% fresh (top critics were 41%), and the third at 45% (top critics, 35%). Four years later, and critics weren't feeling a rush of forgiveness for On Stranger Tides. Of the 191 reviews counted, only 65 found something to like, giving this one a rating of only 35%. With these numbers, one would think audiences may tire of getting beat with a stick.

Obviously they haven't. Even this lesser debut puts Pirates of the Caribbean: On Stranger Tides in the top 15 of all time May openers, but the fact that Fast Five opened to almost this much a few weeks ago has to put pause in the heads of Disney execs that are pushing for a fifth Pirates film. These things are certainly not cheap to make – On Stranger Tides is reported to have cost $250 million to make, a number this one will struggle to earn on the domestic side. However, Pirates 4 was not made for domestic audiences, because international box office will be where the money is. Depp is huge internationally, and is joined by Penelope Cruz this time out, and she's no slouch in the international box office world. Vicky Cristina Barcelona, for which she won an Oscar, earned only $23 million stateside, but went on to earn another $55 million internationally. All About my Mother earned $8 million in North America and $60 million overseas.

Geoffrey Rush and Ian McShane are the same – bigger stars to international audiences than they are to domestic ones. Despite being out to only a handful of territories, On Stranger Tides has already earned $92.1 in those locations after only a couple of days. Pirates 4 will end up as another ridiculous success for Disney, but it has jumped the shark – and I bet Captain Jack will think long and hard before setting sail for a fifth Pirates of the Caribbean movie.

The fourth Shrek film, Shrek Forever After, opened a year ago this weekend, and it appears to have something in common with On Stranger Tides. The original Shrek opened two years prior to the first Pirates film, and took in $42.3 million over its opening frame, and went on to earn $267 million in the summer of 2001. It had an open-to-total multiplier of over 6.3, a figure that says sequel more than the domestic gross. The first Pirates was the same, opening to $46.6 million, and finishing with a domestic gross of $305.4 million. Its opening-to-total multiplier was above 6.5. Both franchises had huge second and third films – Shrek 2 and 3 opened to $108 million and $121 million, Pirates 2 and 3 opened to $135.6 million and $121 million. Shrek 2 had an opening-to-total multiplier just beyond 4.0, but Shrek 3 came in at 2.65, and should have ended the series.

Shrek 4 debuted to $50 million less than Shrek 3, as it had obviously jumped the shark, at least for adults. The shift between the third and fourth Pirates film is not as severe as that of Shrek, but the trend of diminishing returns is the same. Both franchises provided too much product over too little of a time. The problem is that they still make bucket loads of cash for their parent companies, so destroying the brand is an afterthought. For Pirates of the Caribbean fans, I seriously hope Disney thinks long and hard about another Pirates film, and if they do move forward with it, ensure that a quality product is delivered, instead of using the franchise as a cash machine.

There's a good news story in second this weekend, as Bridesmaids turns a strong, $26.5 million opening last weekend, into a super hold this weekend. As expected, the Kristen Wiig comedy proved to be perfect counter-programming against Pirates, and posted a very strong second frame at $21.1 million. Bridesmaids dropped only 20% this weekend, as audience and critical buzz is driving both males and females to this one. All of a sudden, Bridesmaids has a good shot at being one of those small, word-of-mouth driven, $100 million plus pictures. The comedy cost Universal only $32 million to make, and with the additional success of Fast Five, the studio is having a very strong start to the summer. Universal has recently struggled over the summer time, but has two hits already, and still has Larry Crowne with Tom Hanks and Julia Roberts in July, as well as Cowboys and Aliens with Olivia Wilde (I mean Harrison Ford and Daniel Craig) in the first weekend of August. After only 10 days, Bridesmaids already has a haul of $57.5 million, and could be the sleeper of the summer.

Thor is third, as it gets creamed by Pirates of the Caribbean. After finishing almost $10 million ahead of Bridesmaids last weekend, it falls about $5 million behind, earning only $15.5 million in its third weekend. Thor falls a hefty 55%, and now appears to be finishing short of $200 million, at least on the domestic side. On the international side, Thor has already crossed the $200 million mark, and is driving toward $250 million. The question now is whether this is a half-billion earner worldwide, a number that does seem quite possible. Domestically, Thor has a cumulative total of $145.4 million.

Fast Five spends a fourth weekend in the top five, and still has a chance at becoming Universal's first $200 million domestic earner since The Bourne Ultimatum earned $225.5 million in the summer of 2007. This weekend, Fast Five earned $10.6 million. It dropped 48%, so the $125 million product will need a good Memorial Day weekend to put it close to $200 million. So far, Fast Five has a domestic total of $186.2 million, and has earned more than $265 million overseas.

Rio, despite being in its sixth weekend, takes the fifth spot. After dropping only 3% last weekend (I have no idea why), Rio got back to normal this weekend. The 20th Century Fox film earned $4.7 million and dropped a more normal 44%. Rio has now seen drops of 33%, 44%, 42.5%, 3% and now 44%, which shows what an odd duck last weekend was. Regardless, Rio has earned an exciting $131.6 million domestically, and over $300 million on foreign shores.

Priest falls all the way to sixth this weekend, as last weekend's soft $15 million opening turns into a nightmare in the second frame. Priest earned only $4.6 million this weekend, and dropped a ludicrous 69% in its second weekend. Made for at least $60 million (don't forget, Priest was on the shelf gathering dust for more than a year), this is going to be ugly for Screen Gems, as Priest will struggle to earn $35 million stateside. Give it $23.7 million so far.

Jumping the Broom is seventh, but has earned almost four times its budget before the weekend began. This weekend, the TriStar entry earned $3.7 million and dropped 48%. The small $7 million film has now earned $31.3 million.

Something Borrowed continues its slide downward this weekend. After declining 51% in its sophomore frame, the Hilary Swank-produced flick continued to drop, earning $3.4 million, good for a drop of 50%. Something Borrowed cost Warner Brothers $35 million to make, and has a gross so far of $31.4 million.

Ninth is Water For Elephants, as Reese Witherspoon turns a dog into a winner. Water For Elephants earned $2.2 million and dropped 49%. The $38 million Fox release has now earned a respectable $52.4 million.

Tenth goes to Tyler Perry's Madea's Big Happy Family, though it doesn't quite manage to cross the million dollar mark on the weekend. It earned $990,000 and dropped 55% from last weekend. The latest film in the Madea franchise has taken in $51.8 million so far.

Overall this weekend, the box office manages to stay ahead of last year, but could have been bigger, if On Stranger Tides had debuted to $100 million. The top 12 films this weekend earned $157.7 million, which compares favorably with last year's take of $143.1 million, when Shrek Forever After was on top. Next weekend brings the Memorial Day Weekend, and this year it's sure to be huge, as two big sequels open. Kung Fu Panda 2 and The Hangover 2 both hit theaters on Thursday, and both could be very big.