Friday Box Office Analysis
By Tim Briody
May 21, 2011
BoxOfficeProphets.com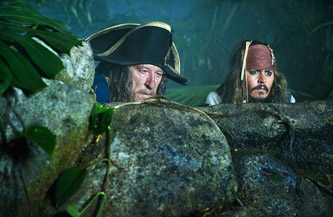 ---
This is tale of Captain Jack Sparrow (and how much his movie earned at the box office on Friday).

Pirates of the Caribbean: On Stranger Tides

The fourth Pirates of the Caribbean movie opened with $35 million, with $4.7 million of that attributed to midnight showings. This is, of course, an expected step back from the other Pirates sequels, Dead Man's Chest (first day take of $55.8 million) and At World's End ($42.9 million first Friday, after opening on a Thursday). They were wise not to release this mid-week, as it would have only kneecapped the weekend figure.

As David Mumpower thoroughly detailed in the Weekend Forecast, the Pirates of the Caribbean franchise was one of the most successful of the last decade, and the tepid (comparatively, anyway) box office of At World's End plus four years between films were a true test of the power of the franchise and or Johnny Depp's Jack Sparrow character. The result is far from a bomb, as On Stranger Tides' first day (counting midnight showings) is the top single day of box office to date in 2011, squeaking just ahead of [tm:5163_]Fast Five[/tm], though it's a far cry from what the previous sequels brought and anyone expecting a performance approaching either of the sequels was delusional.

Looking at the multipliers for the sequels, Dead Man's Chest has a 2.42 (though still shattered the three-day opening weekend record thanks to its $55 million Friday) while At World's End had a 2.67, helped by a Thursday opening (potentially reducing Friday's take) and opening over Memorial Day weekend (propping up Sunday's box office). I think the number is more likely to be on the lower end of that scale, as the few that were actively looking forward to a new Pirates film likely went out and saw it opening night. Deducing the number given for midnight showings, a 2.5 weekend multiplier for On Stranger Tides would give a weekend estimate of $80.4 million.

[tm:5170_]Bridesmaids[/tm]

The new poster child for horrible marketing, Bridesmaids is showing that word-of-mouth can still win out as it earned $6.4 million on Friday, a fantastic decline of just 17.9% from last Friday. It might be doomed with The Hangover 2 coming next weekend, but Bridesmaids is now a certified hit and one of the better box office stories of 2011. If it posts another strong weekend multiplier like last weekend, which is entirely likely, this would be an awesome second weekend of $21.5 million.