Monday Morning Quarterback Part II
By BOP Staff
May 17, 2011
BoxOfficeProphets.com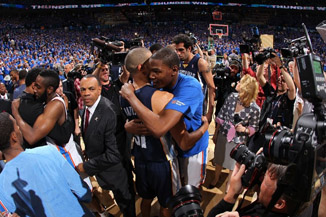 ---
TV? Who watches network TV anymore?

Kim Hollis: With the 2010-2011 network television season winding down, what are your lingering impressions? Also, do you have any early thoughts about the announced new series for 2011-2012?

Tom Houseman: Can Ted just meet the mother already? Seriously! Come on!

Josh Spiegel: For the networks, they stay the same even though everything is changing. If you look at the ratings from shows this year, it couldn't be clearer that they don't matter anymore. While the highest-rated show on TV remains American Idol, shows aren't doing nearly as well as they used to. Some of my favorite shows - Community, Parks and Recreation, and Fringe - are returning next season with ratings that, in 2001, would be laughable. Hell, they're pretty laughable now. The point is, when I see networks fret about getting big ratings, I wonder when they'll all embrace the cable sensibility that's becoming the norm. In terms of the past year's shows, the previously mentioned network shows all had excellent seasons (though Fringe's finale was a bit shaky), as did Parenthood (again, despite a shaky finale), Friday Night Lights, and so on. Still, a lot of the best shows on TV (in my opinion, of course) are on cable. Breaking Bad, Mad Men, Boardwalk Empire, Game of Thrones, The Walking Dead....these are the buzz-worthy shows worth talking about.

For next season, I'm very excited about the new NBC drama (scheduled, vaguely, for midseason) Awake, which was created by the same guy who created Lone Star - you know, that one FOX show that lasted two episodes? I watched both of them, at least. I'm curious to see what the new Christina Applegate-Will Arnett sitcom looks like, and I'm sure I'm not alone in being at least curious about Terra Nova. Oh, and I'd be remiss in not mentioning J.J. Abrams' two new series, both of which feature Lost alumni; his new show on CBS was created by Jonathan Nolan (aka Christopher Nolan's brother, who co-wrote Dark Knight) and co-stars Michael Emerson. So, I'm actually watching a CBS show next year. They finally cracked the code!

Edwin Davies: My main impression will be of great comedies - namely Parks and Recreation and Community - beating the odds by coming back with, in my opinion, their best seasons yet and even managing to get renewed, something that looked unlikely for both early in the year. (I know Community has only been on for two seasons, but expecting them to top their stellar first was a big ask.) Elsewhere, Breaking Bad went from being just one of the best shows on television to THE best show on television, Friday Night Lights bowed out with style and grace, much as it had comported itself through the previous four years, and more people became aware of how thoroughly awesome Peter Dinklage is. That's one damn fine year.

Jim Van Nest: My lingering impressions are that it would seem I am the kiss of death to TV shows. If I like it, it will likely get canceled. The one exception, is the one that probably should have gotten the axe, Harry's Law. Is it a great show? No. But Kathy Bates is fantastic and I'll watch her in anything. Sue me. The one that really pisses me off is Fox's cancellation of The Good Guys. Sure, it frees Colin Hanks to join Dexter, but The Good Guys was a rare find on TV. A show that was just made for the fun of it. There were no underlying messages and no social commentary. It was what the Dukes of Hazard would have been, had they been cops instead of 'shine runners. Stupid Fox...I just hope they replace it with another crappy reality show.

Next season, I'm pretty pumped about the Abrams Alcatraz show.

David Mumpower: When we discussed this in September, I said this: "Everything else I'm giving a chance is based almost exclusively upon actors I like such as Daniel Dae Kim and Grace Park for Hawaii 5-0, Adrianne Palicki for Lone Star and Jimmy Smits for Judge Jimmy Smits." We all know how quickly Lone Star and whatever Judge Jimmy Smits was called were canned. Hawaii 5-0 has become what passes for a hit these days, but we are only about six episodes in on it. The rest are ensconced on the TiVo. We will watch them over the summer; still, the show clearly did not impress us enough to make it a part of our weekly viewing. In fact, no new network television shows accomplished that, something I would not have imagined possible just a few years ago. The only one we were making an effort to catch each week was Undercovers and we were apparently the only ones doing so, which is why it was dropped at mid-season.

We have reached a point where network television runs to the middle on everything. Several of the highest profile programs from pilot season such as Wonder Woman and Locke & Key did not get picked up. No one even questioned the excellence of the latter. Instead, programmers simply made the determination that it would never appeal to women enough to become a major ratings performer. What Josh touched upon earlier is exactly right. Cable television programmers are ahead of the curve and we are all awaiting network television's (hopefully) inevitable catching up to the curve. Comedy Central figured out something Fox did not, that the loyal viewers of Futurama will make an effort to watch it, a rare statement for television these days. A small number of zealots can now guarantee the return of a quality programming, something that wasn't possible just a few years ago.

This is why the ratings depreciation Josh mentioned is such a huge story these days. I would go so far as to say that it may prove to be the top film industry story of 2011. Consider that Survivor routinely earned 30 million viewers back in the early seasons. Nowadays, it remains a ratings staple but it averages about 11 million viewers. We at BOP have bemoaned the cancellation of Firefly since *before* it happened. That show, one of the greatest of the 2000s, received about 4.5 million viewers a week. Parks and Recreation and Community, two of our staff's five favorite shows in the 2011 Calvins voting, averaged 3.4 million viewers last week. The other show Josh mentioned, Fringe, was around 3.3 million last week as well. All of these programs have been renewed, which is the networks' tacit acknowledgement that what we say here is true. Zealots mean more since they will enhance the revenue streams in more ways and will not miss episodes. What has to happen as we move forward is that networks have to target shows that will have the right combination of passionate zealots and casual observers. The announced shows for the 2011-2012 seasons lack that ability. So, it looks like another grim campaign.

At the moment, almost all of my favorite series are on cable. F/X of all channels has my two current favorites, Archer and Justified. Those don't count for the purpose of this discussion but I can say in all sincerity that Justified is the only show the BOP staff passionately debates these days. In terms of network programming thoughts, I felt that Modern Family had a bit of a sophomore slump at times yet it also had some of the funniest episodes for the year, particularly the episode where Ed O'Neill bonded with Nathan Lane. Cougar Town was more consistent although BOP webmaster Tony Kollath is correct that Jules and Ellie need to have their shrill dialed down a few notches. The Simpsons had a bit of a renaissance with several phenomenal episodes, particularly The Great Simpsina, Homer the Father and Angry Dad: The Movie. Plus, they had that brief Hank Scorpio cameo last week that made my night.

The Amazing Race All Stars was the best season for the series in years. Survivor demonstrated that having one player utterly dominate makes for boring television. Chuck fell apart, presumably suffering the karmic fallout from casting Brandon Routh last year. NCIS remains a steady source of entertainment for me, no small feat since I'm not a fan of procedurals as a rule. Human Target had a great season in my estimation, which separates me from several cast members here who will always be convinced that Ilsa Pucci caused the show's cancellation. Considering all of this, I have come to the conclusion that the network television program I have enjoyed the most this year is Supernatural, a constant pleasant surprise. The Weekend at Bobby's episode also had the funniest single moment of television this year.

I'm piecing this together as I reply and I've reached the conclusion that this is the worst season of television programming in my lifetime. Please do better, networks.