Weekend Wrap-Up
Thor Hammers Summer Box Office Start
By John Hamann
May 8, 2011
BoxOfficeProphets.com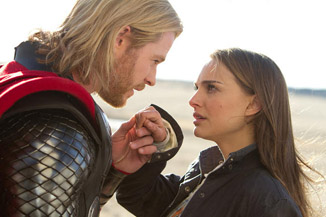 ---
So it begins. Summer at the box office got started in earnest this weekend with the release of Marvel's Thor, after getting a clean break from the winter/spring doldrums last weekend with an $86 million Fast Five opening. With the strong start for the Vin Diesel movie in the last frame, would there be room for two blockbusters this early in May? Would Marvel continue their streak of at least $50 million over the opening frame despite a lesser-known comic book movie in Thor? Would the counter-programming efforts of Something Borrowed and Jumping the Broom work? Read on to find out.

While we have two summer blockbusters in release this weekend in Thor and Fast Five, summer didn't always start this early. Prior to the late-1990s, summer didn't start at movie theaters until Memorial Day at the earliest. Take 1997, for example. Early May of '97 saw the debut of The Fifth Element, one of the first attempts at making big money in early May, but the experiment failed domestically, with the Bruce Willis film opening to $17 million on May 9th. The Fifth Element did start a big trend, though, as it was a summer film that earned over $200 million overseas, waking up Hollywood up to the fact that there could be big money overseas with the right kind of film. Like most years before 1997, the box office summer got started on Memorial Day, when The Lost World: Jurassic Park did $90 million over four days. A year later, things changed. Paramount opened Deep Impact on May 8, 1998, and it exploded, opening to $41.2 million. In my mind, Deep Impact changed box office history. A year later, The Mummy opened on May 7, 1999, to $43 million, and on May 5, 2000, Gladiator opened to $34.8 million. On May 4, 2001, the envelope was pushed, and The Mummy Returns opened to $68 million, proving the box office stratosphere could be reached in the first weekend in May. A year later, Sony opened Spider-Man on May 3, 2002, which set a record at the time with a $114.8 million opening weekend, ushering in the era of the modern movie superhero, and making the Marvel brand a giant in the movie business.

A bucketload of Marvel superhero films, and about $7 billion worldwide later, one of the lesser-known Marvel stars is up this weekend, this time in the form of Thor. As a lesser-known, expectations were varied heading in to the weekend for Thor, but Marvel and Paramount will be happy with a $66 million start from 3,955 venues, many of those 3D. Thor had a venue average of $16,688. The Norse God got started on Thursday at midnight, pulling in approximately $3.2 million, before earning a powerful $25.7 million on Friday. Tracking was looking for a $60 million opening, with Paramount lowering expectations even further, calling for a $50-60 million opening.

With the midnight screenings, identifying a proper weekend multiplier (weekend gross divided by Friday gross) becomes a little more difficult. We have to pull out the $3.2 million from the Friday gross to get $22.5 million, and divide that into the weekend gross to get a multiplier of 2.9. While that gives us a "proper" multiplier, it doesn't compare well with other Marvel films historically, as midnight grosses are often lumped in with Friday grosses. Ang Lee's The Hulk opened to $62.1 million in 2003, after pulling in $24.9 million on opening day, giving it a weekend multiplier of 2.5 – however, we don't know how Hulk did at midnight on Thursday. The first Iron Man had a multiplier of 2.6; the original X-Men 2.54; Fantastic Four 2.63; Spider-Man 2.91.

Multipliers on super-hero flicks are often lower than usual due to the fanboy effect, as fans of the comics rush out to see the films on Friday, frontloading it and thus lowering the multiplier. The solid multiplier here might be a response to the positive critical reception, which could translate into word-of-mouth. At RottenTomatoes, a massive 196 reviews were counted, and of those a stellar 155 were positive, giving Thor a fresh rating of 79%, but "top critics' were not as enamoured, with rating coming in at 65%. Richard Roeper called it "the most entertaining Superhero debut since the original Spider-Man", and gave it an A. Cinemascore was just as kind, giving it a B+ from early returns. This is the reception Thor needed to keep the momentum going for The Avengers movie that's due in 2012, over the first weekend in May. The Avengers will combine the likes of Iron Man, The Incredible Hulk, Captain America, Hawkeye, Thor and more, and will look to at least beat Spider-Man's former record of $114.8 million over a marvel-ous weekend.

Before Thor even opened on North American shores, he was already a star overseas. The Norse God had already pulled in $125 million from overseas theaters before a cell of Thor was shown over here. Similar to films like Brad Pitt's Troy and Ridley Scott's Kingdom of Heaven, Thor was made with an international audience in mind. Casting consisted of names familiar worldwide, like Natalie Portman, Stellan Skaarsgard and Anthony Hopkins, and the director, Kenneth Branagh, who was last seen co-starring in Tom Cruise's Valkyrie, which earned more overseas than it did in North America. The star, newcomer Chris Hemsworth, is Australian, and the world premiere took place in Sydney. Thor has to be considered a very large success for both Marvel and Paramount, as this one carried more risk in a lesser-known character, but the studios didn't scrimp on production costs, putting up $150 million for Thor.

Finishing second is Fast Five, last weekend's breakout success after opening to an amount even greater than the mighty Thor. After opening to $86.2 million domestically, it was to be no surprise that the carpet was going to be pulled from under it, as Fast Five not only had Thor to deal with, it also had a reputation as a one-and-done franchise, a la Tyler Perry or the Saw films. Considering what it was up against, Fast Five did okay. Fast Five earned $32.5 million and was off an expected 62%. The last film in the series, Fast & Furious, fell 62% after opening to $71 million, but didn't have a Thor-type film to face off against. Fast & Furious opened in the first weekend of April, and competed only with Hannah Montana in its second frame, and still had the massive drop. The third film, Tokyo Drift, debuted to only $24 million, but still dropped 59%. 2 Fast 2 Furious fell 63%, and the original fell 50% in its second frame (it's a little bit amazing that this is the fifth film, and the series has never seen a second weekend drop better than 50%). Fast Five has now earned a massive $139.9 million domestically after only 10 days (Fast & Furious earned $116.5 million in 10 days). While good, this one cost $125-$150 million to make, so the $111 million it's earned overseas will help pad Universal's books as well.

Third goes to our first counter-programming attempt, Jumping the Broom, which surprisingly beats out the other one, which we'll get to in a moment. Jumping the Broom earned a respectable $13.7 million this weekend, but was out to only 2,035 theatres. It had a venue average of $6,732. It cost Screen Gems only $7 million to make, so it has already earned more than the production budget.

Fourth goes to our other counter-programming attempt, Something Borrowed, and the match-up against Thor and Fast Five has certainly worked for it. The Hilary Swank produced rom-com earned a not bad $13.2 million this weekend. It debuted at 2,904 venues, and had an average of $4,530. The romantic comedy stars Kate Hudson, who is usually the $21 million girl, as Fool's Gold, You Me and Dupree and Bride Wars all opened to $21 million. This time out, the content seems a little more subdued, and Warner Bros will be happy it didn't sink to the level of Raising Helen ($11 million opening). This one cost Alcon Entertainment (The Blind Side) only $35 million to make, so the result should be good in the end. It's a critical dog (18% fresh at RottenTomatoes) but that's not new territory for a Kate Hudson film.

Fifth is Rio, which likely got booted from the larger 3D venues this weekend to make room for Thor. Rio earned $8.2 million in its fourth weekend of release, and drops a fairly large 45%. Rio is a big win for Fox and Blue Sky Studios, as it has taken in $114.9 million domestically and over $265 million overseas, all against a budget of $90 million. Can you say Rio 2?

Sixth spot goes to Water For Elephants, the Reese Witherspoon circus romance. In its third weekend, Water For Elephants earned $5.6 million and was off 40%. The $38 million Fox release has now earned $41.6 million, and is going to finish up with about $55 million.

Seventh is Madea's Big Happy Family, which fell 61% last weekend after opening to $25.1 million. This weekend, the draw is only $3.9 million, as Madea falls madly again, dropping 60%. Now 17 days into release, Big Happy Family has failed to double the take from the opening frame, as its total sits at $46.8 million.

Eighth is Prom, as the cheap Disney flick flounders. Prom opened to an ugly $4.7 million last weekend, and drops 49% to $2.4 million in its second frame. This one cost $8 million to make (but millions more to market), and has earned a sad $7.8 million.

Ninth goes to the fifth weekend of Soul Surfer, and should take some pride in just hanging on to a top ten spot so long. This weekend Soul Surfer earns $2.1 million, and drops 38%. The $18 million film has now earned $36.7 million.

Tenth is Hoodwinked Too!: Hood vs. Evil. It earns $1.9 million in its second frame and drops 54%. The $30 million Weinstein release has now earned $6.7 million, and had better hope for good news from DVD-land.

Overall this weekend, things are looking up. After Fast Five led the top 12 to $144.9 million last weekend, there is more good news, as Thor led this weekend's top 12 to an even better $152 million. Last year offered a tough weekend to go up against, and Iron Man 2 popped with an $128 million open, and led the top 12 to $170.8 million. The year earlier, Star Trek opened to $75.2 million, and led the top 12 to a lesser $142.8 million. Next weekend provides a pause before the next Pirates of the Caribbean flick, as the comedy Bridesmaids opens, alongside Priest with Paul Bettany.