Friday Box Office Analysis
By Kim Hollis and David Mumpower
May 7, 2011
BoxOfficeProphets.com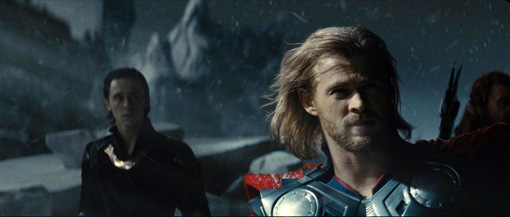 ---
Norse mythology was hot this weekend, as a shirtless Australian and the reigning Best Actress anchored a $25.7 million debut for Thor, including $3.25 million in midnight sneaks. Effectively, this means it made $22.4 million on Friday proper. What should we take from this? Given the performances abroad, we never expected Thor to match or exceed the reigning champion Fast Five. Thor is being judged against other Marvel properties, instead. This performance is obviously not as good as the other Avengers property, Iron Man. However, it's much better than Daredevil, The Hulk, The Other Hulk, Fantastic Four or even the original X-Men. Yes, ticket price inflation is a factor in this discussion, but what Thor needed to claim was a huge opening weekend. Mission accomplished.

With its early May opening, Thor is kind of the pace-setter for the upcoming season of comic book/blockbuster openings. This debut should be good news for Captain America, the third core member of the Avengers. It may also be good news for the next comic book adaptation on the schedule, Green Lantern. Alternately, it may turn out to prove that Marvel releases open bigger than any DC release that doesn't include Batman.

Thor looks to be headed for a weekend total around $69 million, which means that the studio is going to estimate it at $70 million. Its positive reviews and the fact that it's showing in IMAX locations should be a benefit to its prospects.

Meanwhile, Something Borrowed, something you would swear is a Katherine Heigl film but is not, had a Friday debut of $4.8 million. Instead of mocking this horribly reviewed film, BOP will instead take this opportunity to wish She Said/He Said writers D. James Ruccio and Caroline Thibodeaux a very happy wedding day and many years of future bliss. BOP is now two for two on weddings for writers of that column. So ladies, if you're looking for someone to say I do, this is the place. Also, Something Borrowed should make $13.8 million by preying upon lonely women across North America. We miss liking Kate Hudson in Almost Famous.

Finally, the other wedding film, Jumping the Broom, made $4.2 million. In case you're wondering, the title of this film does not reflect any yard stomping, you serving, or stepping up (2 the streets). Instead, this is a wedding pic a la The Best Man, which earned $2.9 million on Friday on its way to a $9 million weekend. So, they've spanked Taye Diggs - not an unpleasant proposition. Jumping the Broom should come in with $11.5 million.