Weekend Forecast for May 6-8, 2011
By Reagen Sulewski
May 6, 2011
BoxOfficeProphets.com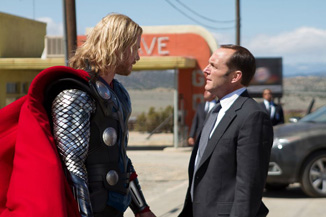 ---
Ironically, the first film of the official summer season has had its thunder stolen.

Thor had hoped to be the first mega-opener of the year, but after Fast Five, it'll simply have to settle for being the first comic-based franchise film to crack the $50 million mark. The first of Marvel and Paramount's two tentpole action films this summer, it's one of the films that's acting as a lead up to next year's Avengers film, which will team up Iron Man, Captain America, Thor, Hulk and some miscellaneous other heroes (calm down, nerds, you know it's true). Of the characters who are getting their own movie, Thor is arguably the most marginal and least well known. Of course, he's known in broad strokes – most people have at least a passing familiarity with the idea of the Norse god of thunder who wields a magic hammer, but to think that people also know he's also a comic book character is asking a lot of audiences.

The success of Thor, then, depends on how effective it is as portraying the fun and inherent camp of the series. A mixture of overwrought fantasy with Shakespearean dialogue and straight up ass-kicking action, Thor is unlike a lot of other comic-based movies and which may make it a tough sell. The cast is a bit of help in this manner but not dramatically so – recent Oscar winner Natalie Portman is the biggest name in the film for the bulk of it, though Anthony Hopkins is probably the most recognized name overall. Chris Hemsworth, probably best known (?) as Captain Kirk's dad in the reboot of Star Trek, plays the title character, a Norse god stripped of his powers and banished to Earth. The film then takes the form of a wacky road comedy as he attempts to regain his honor, until a villain from his home world of Asgard comes to extinguish humanity.

So yeah, it's all a bit silly, but it seems to own it. As directed by Kenneth Branagh (yes, that Kenneth Branagh) it appears to be just the right amount of over-the-top that it can win over casual comic-book movie fans, though a massive opening weekend on the lines of Spider-Man or The Dark Knight is obviously out the question. Something closer to a Hulk weekend is a lot more likely, but without the baggage of it being an iconic character that needs a massive number to be perceived as a hit.

Expectations are at least moderately high, hence the summer movie kick-off spot, and reviews are great to help it out in that way. In an unusual case, the film has already been released in several markets around the world in advance of the US release, in an attempt to reduce international piracy and give it some breathing room from Pirates 4, making over $100 million in a week. This feels like a film that's going to do a lot better in world markets than domestic, so while this is a decent sign, let's not get too excited about that number. I'd look for something more like $70 million this weekend in North America.

Studios have become more daring about counter programming against summer blockbusters in recent years, and this weekend is no different. Two romantic comedies get thrown up against Thor with the hope that women will want to see movies this weekend too, an idea that seems radical and subversive between May and September.

Something Borrowed is an adaptation of best-selling chick lit author Emily Giffin's first novel, about 30-somethings in New York dealing with life and love. Hey, why hasn't anyone written about that before? But I kid. Ginnifer Goodwin (of Big Love and Mona Lisa Smile fame) stars as an unlucky-in-love attorney (which of course means she's a failure at life) who lives in the shadow of her more flamboyant best friend (played by Kate Hudson, strangely moving away from lead roles lately). After Hudson steals away Goodwin's long time crush (played by something Colin Egglesfield, which I refuse to believe is a real name), Goodwin must come to terms with being a second-fiddle in life, or some such nonsense. John Krasinski is also along as the harmless best friend of Goodwin, who we of course know will turn into something more by the end of the movie.

Chick lit adaptations can have widely variable results at the box office, and often depend heavily on the star power of the lead, though extremely popular source material can make a big difference. Anne Hathaway is probably the queen of these with The Devil Wears Prada, though Julia Roberts can still throw her weight around in this genre, as Eat Pray Love showed. Even terrible books with terrible timing, like Confessions of a Shopaholic can still do well, at least initially. About the only thing that kills these films is poor or limited marketing, and while Something Borrowed hasn't had the saturation blitz that some others have had, its campaign has picked up recent weeks. Goodwin isn't a star on the level of some of the other actresses I've just named, but she's on the verge. Hudson will help the film some, but audiences know when a star isn't the focus of the film, and they've wisely kept her to the background here, avoiding the bait and switch.

With the book not being quite as popular as others in this genre, and Goodwin being far less known as an actress, Something Borrowed is going to fall a little short of many other comparable films, though it's still looking like a decent earner, with about $14 million in store here.

It says something that we've reached a point where we can plausibly have a film about blue-collar/white-collar clashes in a wedding film – and both families in question are black. That's about the only remarkable thing about Jumping the Broom, unfortunately.

Laz Alonso and Paula Patton star as a couple about to get married on Martha's Vineyard, she from an upper-class background, he from a working-class one, bringing together their families with all the inherent comedy that premise implies (which is to say, not a ton – this premise has been milked dry), tough that hasn't stopped Tyler Perry from making untold millions. Angela Bassett, Loretta Devine (of Grey's Anatomy), Mike Epps and Julie Bowen round out the cast, and this should limp in with around $11 million.

Fast Five made for an early start to summer-level box office, last weekend, opening at an eye-popping $86 million, a full $15 million over 2009's Fast & Furious, and assuring us at least a sixth entry in the franchise. Every single film in this series has had a horrific second weekend drop off, and while the competition between it and Thor is minimal, the presence of the latter isn't going to help. Fans of fast cars don't wait for the second weekend to see these films. This one may actually be good for a change, though, and any drop off from $86 million is still a pretty big number. Give it $39 million this weekend.

The remaining significant films are small in number, with Rio now showing signs of weakness after two decent weekends. It should fall to just $9 million this weekend. Water For Elephants could see a major erosion in interest because of competition from Something Borrowed, but it was headed south of $5 million anyway, as was Madea's Big Happy Family, which looks on target for the typical $50-60 million of Tyler Perry's films.