Weekend Wrap-Up
Fast Five Fires Up Slow Box Office
By John Hamann
May 1, 2011
BoxOfficeProphets.com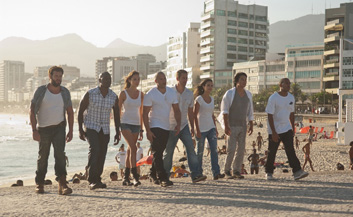 ---
The box office finally found the turbo button this weekend, as Fast Five revved up and took off with a very big win - something that was definitely needed around these parts. Summer starts in April this year, as Universal Films launched the fifth film in what is currently their most successful franchise. The bar was set high, as the last film, Fast & Furious, opened to a powerful $71 million. Other openers this weekend included Prom, from Disney, and Hoodwinked Too!: Hood vs Evil, but to mention them in the same breath as Fast Five is silly, as their combined openings were a little over 10% of what the Vin Diesel film did this weekend.

After a cold winter/spring where no film opened higher than $39.2 million, Fast Five will make us forget about that ridiculously long stretch quite quickly, as the Universal popcorn flick powered up the box office with a weekend gross of $83.6 million. That's a record for an opener in April and for the franchise, as Fast Five bests Fast & Furious, the 2009 entry in the series that took down $71 million over its opening session. You know you are doing something right when the fifth film in a franchise outdoes the fourth. Despite these extremely high numbers, it usually goes the other way. Fast Five debuted at 3,644 venues (a moderate count for a blockbuster of this size) and had a powerful venue average of $22,942. Some sources say Fast Five cost Universal as much as $150 million to make, but it has become the studio's biggest opener ever, eclipsing Jurassic Park: The Lost World, which debuted to $72 million in 1997.

It's been an odd route for the The Fast and the Furious franchise. It all started ten years ago in June 2001, when The Fast and The Furious opened to $40 million, beating its $38 million budget in the first three days. It was Vin Diesel's first big hit (unless you count Saving Private Ryan), and unfortunately kept Paul Walker (aka He Who Should Not Be Named) working. The second film opened to $10 million more than the original did two years later. 2 Fast 2 Furious took in $50.5 million in June 2003, but did not have Vin Diesel as part of the cast. The wheels started to fall off the franchise at this point, as it had an opening-to-total multiplier of 2.5, where the original was 3.6. This was more than sequelitis, it was more like audiences abandoning ship due to a bait and switch tactic.

Disaster struck with the third film of the franchise – at least domestically - as all of the former franchise stars got off the boat, and the series moved to Japan. The Fast and the Furious: Tokyo Drift opened to $23 million (or less than half of the second film) against a budget of $85 million. It finished domestically with a losing $62 million, but the diamond in the data was the fact that this one drew $95 million from overseas cinemas. It earned $157 million worldwide, and launched the career of director Justin Lin, who would direct the next two F&F films beyond Tokyo Drift.

About the same time that Tokyo Drift was sending the F&F franchise toward the brink, Vin Diesel's movie career was doing the same thing. The Pitch Black sequel, The Chronicles of Riddick, had its troubles in 2004 ($107 million worldwide against a $120 million budget), and Babylon AD imploded in 2008 with a sub-$10 million open. All of a sudden Vin Diesel had gone from multi-franchise superstar to goat, so he signed on to come back for the fourth film in the franchise, Fast & Furious. That's where the game changed again in the F&F world. Fast & Furious debuted to $71 million over the first weekend of April 2009, against a budget of about $85 million. It went on to earn over $350 million, with almost $200 million of that coming from overseas. The franchise was all of the sudden – and for the most part unexpectedly – back in the ball game.

That brings us to today and Fast Five, but even with this one things are different – critics liked it. I'll say it again: Critics liked Fast Five. At RottenTomatoes, 105 reviewers out of a possible 134 found something to like, giving Fast Five a Fresh rating of 78%. The reason I am stunned is that the last film was 27% fresh, and Tokyo Drift was 36% fresh. The opening and the reviews will breathe life into a franchise that's changing again, moving from a car chase franchise to an action/heist movie franchise. What they come up with for Fast Six is anyone's guess, but for now, this series is on fire. One has to give a lot of credit to Universal for keeping the franchise going, despite Tokyo Drift. One should also recognize that without Vin Diesel these films don't work.

Finishing wayyyy back in second is our winner from the two previous weekends, Rio. It's a tough weekend to be a holdover in this frame, as not only are we following a holiday weekend, Fast Five has taken over the biggest cinemas in most theaters. Considering this, Rio did okay. It earned $14.4 million this weekend and dropped 45%. The 20th Century Fox/Blue Sky Studio release crossed the $100 million mark, reaching $103.6 million. The G-rated release has also already picked up close to $230 million overseas, so it is shaping up to become a hugely successful picture - and likely franchise. $150 million domestic isn't out of the question, which will be in the ballpark of the first Ice Age ($176 million).

Madea's Big Happy Family, following a disappointing opening weekend, does the expected nosedive this weekend. Big Happy Family fell from $25.1 million last weekend to only $10.5 million this weekend, good for a drop of 60%. This is in line with the usual Tyler Perry drops - his last film, I Can Do Bad All By Myself, fell 58% in its second weekend. So far, Big Happy Family has earned $41.1 million, which is down from the usual Madea norm.

Fourth is Water For Elephants, down one spot from where it finished last weekend. The Reese Witherspoon drama earned $9.1 million in its second weekend, and was off 46%. This has to be considered a success for the Fox 2000 release, as Water For Elephants cost Fox $38 million to make, and has so far earned $32.3 million.

Fifth goes to Disney's Prom, but there is very little to get excited about here. Disney's cheap attempt to draw the teen crowd failed, as Prom earned only $5 million from 2,730 venues. It had a sad venue average of $1,832. Prom was cheap – it cost only $8 million to make, so it didn't carry a lot of risk for the Mouse House. Look for it in your Walmart $1.99 bin in only a few months.

Hoodwinked Too!: Hood vs Evil (all of a sudden I am starting to like "squeakquel") is sixth this weekend, and should have gone straight to video. The highly unnecessary sequel took in only $4.1 million from 2,505 venues. Critics hated it, and I feel sorry for any parent that got dragged to it this weekend. Hoodwinked: The Squeakquel was supposed to come out in January 2010, yes, 2010, but was shelved because the Weinsteins couldn't afford to put it out. It should have stayed on the shelf, but with a $30 million investment in it, The Weinstein Co. had to release it. Both Hoodwinked and Prom will be flushed in no time.
.
Soul Surfer is seventh, and despite a low take, it continues to shine. Soul Surfer pulled in just $3.3 million this weekend - its fourth – but has shown a leggy sensibility that's turned it into a winner. Soul Surfer has seen drops of 31%, 25% and now 39%, and has brought its cumulative total up to $33.8 million, all against a budget of only $18 million. Given the drops its seen so far, I could see Soul Surfer inch that gross up to about $45 million.

Another leggy monster is eighth, this time Insidious, with FilmDistrict winning with both Soul Surfer and Insidious. The horror flick earned another $2.7 million this weekend, and has seen drops of only 29%, 28%, 23% and now 48% - which is a better drop than most horror flicks see in their second weekend. Let's not forget that this one cost $1.5 million to make, and now has earned $48.3 million domestically.

Ninth goes to Hop, which finished fourth last Easter weekend with $12.2 million. This weekend, Hop dropped a searing 79% to only $2.6 million. Ouch. The $63 million Hop has now earned $105.3 million for Universal, with another $50 million coming from overseas so far.

Finally in tenth is Source Code, the well-reviewed thriller featuring Jake Gyllenhaal and directed by Duncan Jones. The Summit release earned $2.5 million, a drop of 50%, and now has a cumulative total of $48.9 million.

In other box office news, Scream 4 went from fifth last weekend to off the charts this weekend. It earned $7 million last weekend and $2.2 million this weekend, giving it a drop of 69%. The good news for the Weinsteins is that it has already earned $35 million overseas.

Finally, Dylan Dog: Dead of Night died this weekend. Out to 870 venues, Dylan Dog failed to even make a million, pulling in only $884,625. Yikes.

Overall, we finally have some fresh air at the box office. The top 12 this weekend took in $141.9 million thanks to Fast Five, and that top 12 is going to continue to rise next weekend. Last year's top 12 failed to pull in $100 million, as Nightmare on Elm Street could only lead the pack to $91.7 million. Next weekend, Thor's hammer swings, and a couple of weeks ago, I considered hiding as I thought it would be that bad. Surprisingly it's not, as its already garnered 49 reviews at Rotten Tomatoes, and only three – so far – are negative. Other openers include Something Borrowed and Jumping the Broom.