Weekend Forecast for April 29-May 1, 2011
By Reagen Sulewski
April 29, 2011
BoxOfficeProphets.com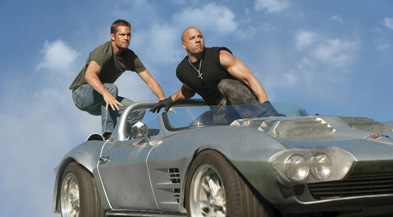 ---
Hollywood studios just can't help themselves. The calendar still says April, but the first of the year's summer blockbusters is landing this weekend.

With Fast Five, Universal is heavily pushing the "summer starts this weekend" angle, and while the calendar may not agree with them (whatever, there's still snow on the ground where I am), it'll certainly bring the first summer-like level of box office performance of the year. The Fast/Furious series is surprisingly ten years old now, and is essentially Vin Diesel's entire career. It's also had one of the strangest arcs of a franchise ever, with the first hitting big, the second film opening strongly but dropping heavily as one of the worst films ever, the third film, a spinoff, nearly destroying the franchise entirely, and the fourth bouncing back to become the most successful of all of them.

Fast Five threatens to take this to an entirely new level with the reunion of the casts of films 1, 2 and 4, sending them to Brazil to work on a heist together and then adding Dwayne Johnson as a federal agent hot in pursuit of them. This gives the series what it's never had – a credible bad/good guy to go up against Diesel (okay, and Paul Walker if you must), sort of a low-rent De Niro/Pacino pairing for muscled up action films.

So after four films of just throwing whatever at the screen and hoping it works, Fast Five now appears to be actually trying. While the series has always been about car fetishists, the stunt work has been amped up for this film, as the producers attempt to turn it into a heist series, Ocean's 11 with 350 hp under the hood. The drive off a cliff in particular is a selling point, and should sell some tickets all on its own. The target number here is 2009's Fast & Furious's $71 million – adding The Rock and getting no boost in the opening weekend would be a major disappointment – but there's not a lot of room above that number. The series has always trended very young, an audience that leans strongly towards the opening weekend, but that also means the market has a natural cap to it. Universal has done all they can with this film's campaign and should be rewarded with a $78 million opening weekend.

Three much smaller movies are also taking on this weekend, though none seem likely to make an impact. The generically-titled Prom may have the best chance, thanks to its theme and young, attractive cast, though Aimee Teegarden is really the only truly recognizable face in the crowd. Produced by Disney, it's a sort of Altman-esque overlapping story about a group of graduating high school seniors, and their hopes and fears and all that crap. Comparing it to Altman is of course doing it a tremendous favor, as it looks to redefine fluff. Any movie about Prom that's rated PG inherently lacks a certain verisimilitude, if you know what I'm sayin'. Opening at 2,700 venues, it should see an opening weekend of about $8 million.

Hoodwinked Too seems to fall into the category of "who asked for this"? A sequel to 2006's Hoodwinked, a modern wise-cracking take on fairy tales (with slightly less pop culture referencing than Shrek) featuring characters like Red Riding Hood and the Big Bad Wolf as they team up to fight crime. Ooh, high concept!

While the original film had a cult following among animation enthusiasts, it landed in the middle of the period where animation had reached a saturation point and there were no sure things in the genre anymore. Sub par animation doomed it to just $50 million domestic, but with 3D putting another upswing into the genre why not try again with a new cast? Hayden Panettiere, Patrick Warburton, Joan Cusack, Glenn Close, Bill Hader and Amy Pohler give the voice cast a lot of juice, but the series remains an also-ran even to the likes of Rio and Rango. With little ad support and a critical drubbing, it should see just $6 million this weekend.

It's almost not fair to talk about Dylan Dog: Dead of Night – giving it press just will get its hopes up. Based on an Italian comic series (when a film has to say that it's a popular comic on its poster, no, really it is, it's just sad and reeks of desperation) about a paranormal investigator, it stars Brandon Routh - who I'm sure thought he wouldn't be starring in this particular comic series five years after Superman Returns. Opening on around 800 screens, it faces the gigantic problem of no one knowing anything about this series. This is pure cult fodder and Freestyle Releasing, which has a string of some of the most notorious flops in recent years (Delgo, The Nutcracker 3D, multiple Uwe Boll films) will be able to add this to the list shortly, with about a $1 million opening weekend. Stop trying.

April's films are about to be driven out of theaters by blockbuster after blockbuster but there's still one more weekend to go for most of them. Family films like Rio and Hop continue to perform well, with Hop defying traditional drop patterns to capitalize on its Easter theme, actually increasing by 14% on the weekend. Rio should still lead the pack for returning films, with about $18 million this frame, pushing it above $100 million. Meanwhile, without the calendar boost, Hop should fall pretty dramatically, down to about $6 million.

The Tyler Perry movies run like clockwork at this point, and Madea's Big Happy Family shows no signs of being any different from the rest. Pencil this in for the standard 50 to 60% drop off in the second weekend, down to around $11 million.

Water For Elephants seems to have captured that same middle-of-the-road tragic romance market that made mild successes out of The Time Traveler's Wife, and larger ones out of all those Nicholas Sparks novels. That doesn't mean it'll necessarily have staying power, and in fact leans towards the idea that it won't. Fans of the book will have come out in force in the first weekend, and I see this dropping to around $10 million this weekend. Following these films, last weekend's pile up of eight films around $5 million should shift down to $3 to 4 million.