Weekend Wrap-Up
Easter Weekend Gives Life to Rio, Box Office
By John Hamann
April 24, 2011
BoxOfficeProphets.com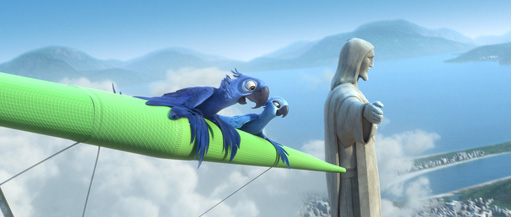 ---
The Easter weekend at the North American box office has (hopefully) given us a sign of what's to come: improved business at movie theaters. After almost five months of suck, the long weekend provided something we haven't seen this year, a couple of surprises at the box office. New films this weekend included another Tyler Perry comedy, this one with Madea in the title (which usually means big business); Water for Elephants, with the Twilight guy and Reese Witherspoon, who has always been able to pull a rabbit out of her hat; and African Cats, a Disney nature doc, just in time to cash in on Earth Day. With the kids out of school, holdovers were just as important this weekend, as Rio tried to repeat last weekend's victory, and Hop tried to dominate Easter.

Like the many frames before it this year, I thought we might be in for a rough long weekend in terms of movie box office. Water for Elephants did not look like a winner in my eyes – a depression-era drama about a circus performer did not pull at my inner-fanboy. Madea's Big Happy Family does not sound like a typical Tyler Perry outing, as usually his titles are a little more downbeat (Madea Goes to Jail, I Can Do Bad All By Myself), and at some point, even the Madea franchise will fade. Rio failed to open above $40 million last weekend (it was estimated at $40 million but actuals had it at $39.2 million; I was expecting Scream 4 to have the fudged estimate, not Rio), and Hop lost 50% of its audience. We seemed to be moving into those late April doldrums, as moviegoers wait for the blockbuster summer films. Last year, the combined top 12 films earned $100 million every weekend up until the last two weekends in April. The long weekend saved us this frame, as Friday provided some ridiculously high numbers, and not just for kids' films.

Our number one film of the weekend is a bit of surprise, as Madea failed to reach top spot, and instead it goes to the kids and Rio. The 20th Century Fox/Blue Sky Studios release had an excellent Friday (a Good one even), as it took in more on its second Friday than it did over its first. Rio turned a $10.9 million Friday into a $26.8 million weekend, repeating on top for a second frame. Tracking was completely off for Rio, as surveys had it doing only $20 million this weekend. Out to a huge 3,842 venues, the colorful animated entry had a strong venue average of $6,976. It dipped 32% from its $39.2 million opening, and virtually guaranteed itself at least $100 million in North American receipts, not to mention the fact that it is already dominating the overseas marketplace with almost $150 million earned so far. Rio cost Fox and Blue Sky $90 million to make, and will be a decent-sized winner at movie theaters. So far, Blu and friends have earned a very solid $81.3 million.

The Easter weekend is a bit of an odd duck as the holiday Friday (and Monday for some) skewers the usually reliable (and telling) internal multipliers (weekend box office divided by Friday box office). The second weekend for a young skewing animated film would come in at close to 4.0 (opening day multiplied by 4.0 equals weekend box office). For example, the second weekend of Hop came in at 3.85, despite being a live action/animation mix. Gnomeo and Juliet had a second weekend internal multiplier of 4.5, which is off the charts. Tangled's second frame multiplier was 4.2; Megamind's was 3.7; Legend of the Guardians was 4.2. I think you get the picture. This weekend, with the Easter effect (Friday and Monday holiday), multipliers are completely off. Rio's internal multiplier was 2.45 this weekend, as kids had ample opportunity to see a movie on Friday, which turns a normal Friday gross into a Saturday-type gross. Easter Sunday is a bit different, as the kids are busy collecting eggs and going to Grandma's for supper, so despite it wanting to work like a Saturday, the Sunday numbers are actually reduced. Easter provides a box office curve ball.

Finishing second is Madea's Big Happy Family. Usually, having Madea in the title really brings people out to the movies, but this time, the effect is diminished. Despite Madea Goes to Jail earning $41 million over its opening weekend, and Madea's Family Reunion opening above $30 million, the trend is diminishing, as Madea's Big Happy Family earned $25.8 million – still very solid, but definitely lower than usual. Big Happy Family debuted at 2,288 venues, and had an average of $11,254. This is actually a wider launch than usual for a Madea title, as Goes To Jail opened to 2,032 venues in February of 2009. Like Rio, tracking was off for Madea's Big Happy Family as well, as surveys were predicting $30 million.

Big Happy Family plays more like a Madea film without having the matriarch in the title. I Can Do Bad All By Myself started in September 2009 (yes, he makes them FAST), and it earned $23.4 million over its opening frame. A year ago, also over the Easter frame, Perry debuted Why Did I Get Married Too?, earning $29.3 million. Some thought Married was breaking the Madea mold, and that the actor-director was finally starting to break out. Madea's Big Happy Family indicates that may not be the case, or this could just be a blip in the trend. Regardless, Big Happy Family will likely earn $50 million or so for Tyler Perry and Lionsgate, against an approximated budget of about $20 million.

Third goes to Water For Elephants, which did better than what tracking was anticipating. Reese Witherspoon and the way too pale Robert Pattinson (somebody get that guy a cheeseburger) star in Water For Elephants, and that star power along with the bestselling novel from which it was adapted helped the film earn $17.5 million over its opening frame. Despite seeming like the world's biggest snoozefest to me, the tally beat tracking expectations, which were looking for nothing above $15 million (and me looking for much, much less). Elephants debuted at 2,817 venues and had an average of $6,212, which isn't bad for a soapy romance. As much as I hate to say it, I think we are looking at Twi-people propping this one up.

Who is happy it got propped up by Twi-nuts? Reese Witherspoon. The Walk the Line star has only had one hit film since that Johnny and June Cash flick in 2005, and that was Four Christmases - and if you've seen that one, you have my condolences. Witherspoon appeared in the loud Christmas flop How Do You Know with Paul Rudd and Jack Nicholson. That one cost $120 million to make and it earned $30 million at domestic theaters. Had it not opened at Christmas, the damage would have been even worse. For Robert Pattinson, this is his first $10 million plus opening outside of the Twilight and Harry Potter franchises, and at least for me, hopefully his last.

Fourth spot this weekend goes to Hop, as it enjoys an expected Easter bounce. Last weekend, the cute drum playing bunny earned $10.7 million, as it got completely trounced by the open of Rio, off almost 50% from the weekend before. This weekend, Hop increased its take to $12.5 million, up 16%. Was it worth dropping Hop into an early-April slot to take advantage of Easter? So far, Hop has earned $100.5 million against a budget of $63 million, so I would say the experiment worked. However, the bottom will fall out next weekend when Hoodwinked Too arrives at theaters.

Way down in fifth is the quickly forgotten Scream 4, which languishes this weekend. Scream 4 earned only $7.2 million in its second frame, down an alarming 62% this weekend. After a somewhat softer than expected opening, followed by a drubbing in a second frame where there was no real competition, one has to wonder if this franchise will continue to crank out films, as obviously, word-of-mouth isn't happening. So far, Scream 4, with its $40 million budget, has earned $31.2 million.

Sixth goes to African Cats, the new Disney nature documentary. Considering this one went out to only 1,220 venues, it did quite well, earning $6.4 million. It has per venue average that plays with the big boys, as it came in at $5.246. The opening weekend take is less than that of Earth, another Disney/Earth Day doc that opened to $8.8 million in 2009. It's closer to Oceans, which opened to $6 million in 2010. Budget data was not released, but one has to assume an amount in the $15-20 million area.

Seventh goes to the leggy Soul Surfer, as Dennis Quaid finds himself in another leggy sports drama (Quaid was in The Rookie, which opened to $16 million and finished with $75 million). Soul Surfer started with a surprise debut of $10.6 million, dropped 31% in its second frame, but has a much better hold this weekend, earning $5.6 million and dropping only 23%. Sony's Tri-Star and FilmDistrict put this one together for $18 million, and will see success out of this one. Soul Surfer has now earned $28.7 million, and could see $45 million before it's through.

FilmDistrict has another hit in eighth with Insidious, which is now in its fourth weekend. Insidious earned $5.4 million, off a tight 20% from last weekend. Since opening to $13.3 million, Insidious has seen drops of only 29%, 28% and now 20%. Don't forget that this little horror film was a $1.5 million pickup for FilmDistrict, and it has now earned $44.2 million.

The bottom two rungs of the chart are separated by only a couple hundred thousand. Ninth is Hanna, which took in $5.3 million and dropped 28%. It has a total of $31.7 million against a budget of $30 million. Tenth goes to Source Code, which earned $5.1 million and dropped 18%. Source Code has a total earned of $44.7 million against a budget of $32 million.

Overall, things are looking up as we head into the summer movie season. The top 12 films this weekend earned $124.1 million, well ahead of last year's take of $89.7 million. Next weekend starts bringing the big films. Universal opens Fast Five, as the studio hopes to have an opening in the same ballpark as Fast & Furious, which took in $70 million over its opening weekend in 2009. Other openers include Hoodwinked Too, Prom, and Dylan Dog: Dead of Night.