Weekend Wrap-Up
Rio, Scream 4 Fail to Ignite Box Office
By John Hamann
April 17, 2011
BoxOfficeProphets.com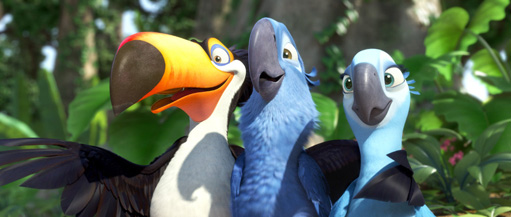 ---
Two contenders actually showed up at the box office this weekend in the form of Rio and Scream 4 (despite it being mid-April), raising the stakes on the box office mediocrity we've seen over these last months. Unfortunately, despite the more colorful contenders, it's the same old same old at the box office, as the new meat comes off as under-cooked. Openers included Fox and Blue Sky Animation's Rio, the gorgeous-looking 3D-animated musical extravaganza, and the slightly dusty Scream 4, as Wes Craven begs audiences for a return to relevance. Did audiences care? Are you kidding me?

This is now considered the 15th movie-going weekend of 2011, and we are yet to have a film open higher than $40 million. A year ago, films like Alice in Wonderland ($116 million opening), Clash of the Titans ($61.2 million opening), Valentine's Day ($56.3 million opening), Shutter Island ($41 million opening) and How To Train Your Dragon ($43.7 million opening) had already debuted higher than $40 million, and Avatar had eviscerated four weekends in January. This year is just a sad in comparison. The highest opener had been Rango, which debuted to $38.1 million in early March, followed close behind by Hop, which took in $37 million over its opening frame. Last year's big, early hitters were films aimed at adults (Alice in Wonderland doesn't open to $116 million without ALL audiences showing up in large numbers); this year, more are aimed at kids. Would that mean Rio would break the seemingly insurmountable $40 million plateau? It did, but only just.

Our number one film of the weekend is Rio, Blue Sky Studio's latest attempt at repeating their very large Ice Age success, and hopefully launching a new franchise. However, this is 2011, so breakout non-success was almost guaranteed. Rio earned an okay $40 million from 3,826 venues, giving it a venue average of $10,455. The easiest comparison here is Ice Age, the first in the very successful franchise that is still producing films, nine years after the original debuted (the fourth, Continental Drift, will open in the summer of 2012). Ice Age opened to $46 million in 2002, but it should be noted that Ice Age had one of the most clever trailers ever. Rio did not, and additionally seemed to be targeted at a much younger audience than that original Ice Age, which was aimed much wider. Rio repeats the success of Hop and Rango, and the unfortunate realization is setting in that the only good, successful films this year have been aimed at the Romper Room set, without much of a nod at all to the older moviegoer.

Rio is good. It does have that going for it, where something like Hop does not. It also has a shot at a growing international audience, as it is set in Brazil, and not Arkansas. Rio is going to need those international grosses, as this one cost $90 million to produce, and wasn't exactly slack in the marketing department either. Given additional costs for prints, advertising, and portion the theatre takes, the 20th Century Fox product would likely need to earn more than $200 million worldwide. The good news is that Rio is already a big hit overseas, taking in more than $80 million already (Rio opened in a few international markets last weekend to take advantage of European holidays). Rio is also a critical success – not to the Rango degree (89% fresh), but still strong at 71% fresh. The only animated kid product between now and Kung Fu Panda 2 (which debuts May 27) is Hoodwinked Too!, so get ready for some default legs on Rio.

Finishing second this weekend is Scream 4, the Weinstein/Wes Craven attempt at rebooting the franchise, and launching another trilogy – I guess if they show repeats on TV, they can do it at theaters as well. I have been curious to see how this one would do, and Scream 4 did about what was expected, opening to $19.3 million from 3,305 venues. It had an average of $5,833. This is the same "not lame enough to be a disappointment, not good enough to be a big success" that we've seen all year, and have seen this weekend with Rio. The debut is well off the low $30 million openings we saw from Scream 2 and 3, but that was more than ten years ago. To me, the long dead Scream franchise is much like the long dead Tron franchise – the sequel is better in my head than it is at the movies, and should have stayed dead.

Scream 4 cost The Weinstein Company only $40 million to make, so with this opening we will likely see more sequels (hurrah). Wes Craven has always been able to keep costs down on the Scream movies – the first earned $103 million domestic against a $15 million budget. The series has also been notorious for sturdy legs – the first earned an opening-to-total multiplier of 16.2 – Avatar's was a little less than 10. Scream 4 will likely not have the same legs as the earlier films – the CinemaScore is reported to be a B-, and the film is 58% fresh at RottenTomatoes.

Finishing third is Hop, which has had its ass handed to it once some different product – aimed at the exact same demographic – showed up. Hop earned only $11.2 million this weekend, after delivering a $21.3 million sophomore frame last weekend. That gives the poorly reviewed rabbit movie a weekend-to-weekend drop of 48%, which follows a 43% plunge last weekend. The nice thing for Universal is that Hop was not expensive, costing the studio only $63 million to make, a figure it reached last weekend. Hop has now earned $82.6 million stateside, and is just getting started overseas. Hop will finish just beyond the $100 million mark on the domestic front.

The faith-based release, Soul Surfer, had decent legs this weekend as it finishes in fourth place. The inspirational surfing movie from Sony and FilmDistrict earned $7.4 million this weekend after debuting last weekend with $10.6 million. It dropped 30%, and in reality could have earned less than it did this weekend over its entire run had it not been for a creative marketing plan aimed at church youth groups. Soul Surfer cost Sony, FilmDistrict and partners $16 million to make, and has earned $20 million so far. It should approach $40 million on the domestic front.

Hanna, after finishing a surprise second last weekend, finishes fifth this weekend. Hanna was supposed to be the cult/leggy holdover, but lags behind somewhat, likely due to the appearance of Scream 4. The Joe Wright film had a sophomore take of $7.3 million. Hanna dipped 41% compared to last weekend, which is on par for an action tale. The $30 million Focus Features release has taken in $23.3 million after 10 days of release.

Sixth is Arthur, which is playing more like Arthur on the Rocks, the abandoned 1988 sequel to the 1981 original. After opening to an embarrassing third last weekend with only $12.2 million, the Russell Brand product continued its quick trip into obscurity with a $6.9 million second frame. That's a drop of 43% for what was thought to be a decent sized hit in the spring season. All of a sudden, it doesn't look like Arthur will even match its $40 million production budget at the domestic box office. Give it a rather disappointing $22.3 million so far.

Insidious, the leggy horror film from upstart FilmDistrict, finishes seventh. It earned $6.9 million this weekend, and has another small drop of 27%, despite Scream 4 showing up. This has become a decent small-sized hit, even though it's only in weekend three. Insidious opened to $13.3 million, but since then has blossomed, dropping only 29% last weekend when it earned $9.4 million. This is the opposite of the usual horror trend, and with the $1.5 million price tag, FilmDistrict is off to a very good start. Insidious has taken in $36 million so far.

Source Code drops only one spot to eighth this weekend, and has a better hold than the last frame when it fell 42%. The Summit release earned $6.3 million in its third weekend and dropped 27%. The $32 million Jake Gyllenhaal flick has now earned $37 million.

We have a big surprise in ninth place, as The Conspirator, a movie that had no marketing or presence whatsoever, takes in $3.9 million from 707 venues. The Roadside Attractions film was directed by Robert Redford and has a pretty solid cast that includes Robin Wright, James McAvoy, Evan Rachel Wood, Alexis Bledel, Justin Long, Tom Wilkinson and Kevin Kline. The film tells the story of Mary Surratt (Wright), the woman who was charged for conspiracy in the assassination of Abraham Lincoln. With the Redford name behind it, people were obviously interested and the film was able to break out much more strongly than anyone expected.

Tenth goes to Your Highness, as the failed opener becomes box office loser of the week in its second frame. After opening to a softer than expected $9.6 million, the Natalie Portman film drops 58% to $3.89 million this weekend. I guess everyone hates James Franco. The $50 million Universal flick has now earned only $16 million, and is going to be a decent sized flop for the studio.

Overall, the box office remains on the soft side, but still improves over last year. The top 12 films this weekend earned $120 million, a 7% increase over last year's top 12 total of $111.9 million. Now we enter the two weekends before summer where movies go to die. Next weekend brings Water For Elephants with Reese Witherspoon and Team Edward (she's in the circus! He's not!), African Cats, one of those super revenue flicks for Disney, and a Tyler Perry film with Madea in the title.