Weekend Wrap-Up
Arthur Fails to Stumble Over Hop
By John Hamann
April 10, 2011
BoxOfficeProphets.com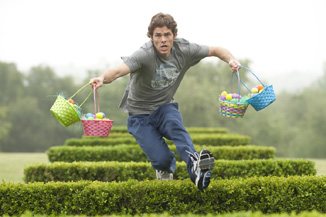 ---
Once again, it all looked good on paper. The April 8-10th box office weekend brought four new films to moviegoers this weekend, all of them serving a different demographic. We also had the second weekend of Hop, last weekend's animated winner, which found almost $40 million over its opening weekend. Openers included the Arthur remake starring Russell Brand and Helen Mirren; Your Highness starring the very hot Natalie Portman; Hanna, the action-thriller flick from Joe Wright; and Soul Surfer, a faith-based comeback story with Dennis Quaid. In any other year, some of these would be $20 million openers, but when you're down, sometimes it's tough to get up.

Number one for the second consecutive weekend is Hop, Universal's attempt at making Easter more of a moviegoing holiday. Too bad they didn't make a better movie, as Hop dropped a fairly severe xx% this weekend, grossing $21.69 million. To be fair, I thought the opening weekend gross would be more like this second weekend total, so props to Universal for turning this turd into a financial success. Other animated films have certainly had better holds – this year's Gnomeo and Juliet fell 25% in its second frame after opening to $25 million, but one could argue the lower opening had an effect on the second weekend hold. Looking at March/April kid-flicks, How to Train Your Dragon opened a little higher ($43.7 million open), had much better reviews, and held better at 34%. Rango, which mirrored Hop's open at $38 million, and also had much better reviews, fell a very similar 41%. Horton Hears a Who opened slightly higher at $45 million, had better reviews, but fell more than Hop at 45%. I think the lesson here is that animated films that don't open in summer or November are patently unpredictable in their second weekends. The good news for Universal and Illumination Entertainment is that regardless of film quality, they have a winner in Hop, as the $62 million film has a running total of $68.15 million after only 10 days of release.

Second spot goes to the remake of Arthur, starring Russell Brand and Helen Mirren. North American audiences did not get caught up in the incessant marketing for this one, as Arthur failed to live up to tracking expectations. The remake, which also stars Helen Mirren and Jennifer Garner, opened to $12.6 million this weekend from a very wide 3,276 locations, and earned an average of $3,874. I would say that since Warner Bros. chose to put this one into 3,276 theatres, they weren't expecting an opening (or a venue average) quite this low. They also should not be expecting box office legs like the first Arthur had 30 years ago. That film opened to $2.7 million, but went on to earn $95 million at the US box office. The biggest difference between the two films is quality. The original, 1981 version of Arthur is 90% fresh at RottenTomatoes, with some calling it the best comedy of the '80s. The Arthur in theaters this weekend is the complete opposite, at only 25% fresh. Dudley Moore in the original was considered "endearing," while the Russell Brand version is called "irritating."

The 2011 version of Arthur likely cost Warner Bros. about $40 million to make, a number this one won't see from this side of the ocean; however, with a mainly British cast, it could do okay in Europe. For Brand, who also voices the lead character in Hop, Arthur is going to be the film moviegoers remember. Is this a career killer? Potentially. IMDb lists only one film in pre-production for Brand, Rock of Ages, which isn't expected to see theaters until June of next year.

Third this weekend goes to Hanna, which stars Saoirse Ronan, Cate Blanchett and Eric Bana. Hanna looks like a small film, but was marketed as a big one, and the payoff appears to be decent. Hanna earned a somewhat suprising $12.3 million from only 2,535 venues this weekend, giving the thriller a venue average of $4,852. From Focus Features, Hanna could have opened as an arthouse/platform release, but Focus knew they had a winner and went wide. Moviegoers responded to a deft marketing campaign that began months ago (and a very cool tagline: "Adapt or Die"), and one that was followed by some seriously good reviews. Hanna was 71% fresh at RottenTomatoes, with 82 reviewers out of 155 finding something to like. Hanna is one of the few action films in release, and with this one actually being good, audiences responded. The opening gross might not blow folks out of the water, but this is a decent opening for a small film. Hanna cost Focus $30 million to make, a number this one should see before leaving North American cinemas.

In fourth is a real surprise, as the faith-based Soul Surfer finishes above the $10 million mark. From Sony and FilmDistrict (Insidious), Soul Surfer could finish as high as third when actuals are released tomorrow and is a credit to its quiet marketing campaign. Soul Surfer earned $11.1 million from 2,214 venues, and carries a very strong venue average of $5,013. Soul Surfer was marketed to church youth groups, and the ploy obviously worked. The story revolves around Bethany Hamilton, a young female surfer who makes a comeback after losing her arm to a shark. Danny Boyle's 127 Hours would have killed for a weekend like this. Will Soul Surfer play beyond opening weekend? Maybe. Critics were split down the middle on Soul Surfer, as it finished with a 51% fresh rating at RottenTomatoes. Made for only $18 million, Soul Surfer will end as another win for FilmDistrict, and for Sony.

Sixth is another suprise as FilmDistrict's Insidious leapfrogs Source Code, and has an excellent second weekend, especially for a horror film. After opening to an okay $13.3 million last weekend, word-of-mouth is obviously very good for this one, as it earned $9.74 million in its second weekend. That's a drop of only 26%, and this is a horror movie, where drops are usually in the 50% area. Armed with a B Cinemascore, decent reviews, and a marketing campaign that worked, Inisidious may be just that. On top of the good hold, one needs to remember that this film carries a budget of only $1.5 million, so even with a big marketing spend, this one is going to be huge for the upstart studio. Give it $27.1 million so far.

Sixth is Your Highness, a film I just don't get. Starring Natalie Portman, James Franco and Danny McBride, this is a stoner comedy that takes place in medieval times. Uh huh. I obviously wasn't the only one wondering what the heck this was all about, as Your Highness, with its decent cast, opened to only $9.52 million from 2,769 venues. Critics felt the same, as RottenTomatoes found only 24 reviewers out of 99 that liked the picture. Universal spent $50 million on this bad idea, and will lose a bucket load unless I'm missing something.

Seventh goes to Source Code, Jake Gyllenhaal's latest attempt at action star status. After a decent $14.8 million opening, Summit's Source Code failed to hold well, despite positive reviews. The sci-fi thriller earned $9.0 million in its second weekend, and drops 39%. Made for only $32 million, Source Code still looks like a decent investment, as it will likely approach $50 million before it's through.

Relativity Media's Limitless falls to eighth after four weekends of release. The Bradley Cooper/Robert DeNiro flick earned $5.69 million and dropped 39%. Limitless has proved to be a good investment for Relativity, as it cost $27 million to make, and has a gross so far of $64.38 million.

Diary of a Wimpy Kid: Rodrick Rules continues its quick exit out of the top ten, as the live action kid flick falls another 52% this weekend after plunging 58% in its second frame. Wimpy Kid 2 earned $4.89 million in its third weekend, and after opening to $23.5 million, only has a cume so far of $45.46 million. The good news for Fox is that this one cost only $21 million to make, so will remain a decent investment.

Tenth this weekend goes to The Lincoln Lawyer, which earned another $4.6 this weekend, dropping 33%. The well-reviewed Matthew McConaughey film has earned $46.5 so far, and has exceeded its budget, making it a success for Lionsgate.

Overall this weekend, the box office again failed to get ahead of last year, but that's all about to change next weekend. A year ago, the top 12 films at the box office earned $119.3 million with Clash of the Titans on top for a second weekend, and Date Night opening to $25 million. This year, the top 12 finished with $105.59 million. Next weekend brings two big films that will hopefully light any sort of fire at the box office. They are Scream 4 (Scream 3 opened to $35 million) and the animated Rio, from the folks that brought you Ice Age (the first one opened to $46 million in 2002).