Weekend Wrap-Up
Universal Hops Away With Victory
By John Hamann
April 3, 2011
BoxOfficeProphets.com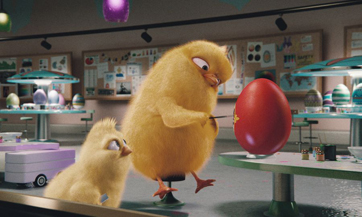 ---
Three new films hit theaters this weekend, and with Spring Break still on for some, not to mention the approach of Easter, Universal's Hop dominated the box office. While some will tell you Hop broke out this weekend, I would disagree – it did fill a vast hole, delivering a cute animated kids film, which Rango did not. The other two new releases opened close to each other and were targeting similar audiences, but were very different films. Summit's Source Code struggled somewhat despite very solid reviews, and despite finishing third, FilmDistrict's Insidious did quite well. Last weekend's openers were literally flushed, leaving room for new films to dominate.

Our number one film of the weekend is Hop, Universal's animated follow up to the super-successful Despicable Me. Hop, about an Easter Bunny in training, got off to a very strong start on Friday, earning $11.4 million – a few hundred thousand more than How to Train Your Dragon started with a year ago. Hop continued its strong pace over the weekend, pulling in $38.1 million from 3,577 venues, and carrying a venue average of $10,651. Hop finished the weekend with a weekend multiplier (Friday gross divided by weekend gross) of 3.3 – healthy considering the season, Spring Break, and the target demographic. The leggy How to Train Your Dragon had a solid opening weekend multiplier of 3.61, after opening March 26, 2010. Dragon went on to have an open to total multiplier of almost 5.0 – a figure Hop likely has no chance of, but I've been wrong before.

You see, Hop isn't a very good movie, whereas How to Train Your Dragon is the complete opposite, as it holds a valued place in my Blu-ray collection. Dragon was a stellar 98% fresh Rotten Tomatoes, and was one of those films that made an impact despite the viewer's age. Hop feels different, aimed at just the very young, while adults would only find it momentarily cute. Hop was only 23% fresh at RottenTomatoes – an awful score for a kids film – as there was only 20 fresh reviews out of a possible 87. However, before we throw this one completely out the window, Hop was directed by Tim Hill, who also put together the brain dead Alvin and the Chipmunks movie (the first one, not the squeakq... second one). Alvin was a similar 27% fresh, but managed to equal How to Train Your Dragon's open-to-total multiplier (albeit over the Christmas moviegoing season). The lesson is that these things are impossible to predict based on reviews alone – especially with kids films.

Universal and Relativity Media paid $63 million for Hop, which was made by Illumination Entertainment, the group behind last summer's Despicable Me. That film surprised in July 2010, opening to $56.4 million. It went on to earn $251 million domestically, and another $291 million overseas. Universal spent a similar amount on Despicable Me - $69 million – and obviously made a mint. While Hop won't do the same kind of business, it does have two weekends of play before Easter, then Easter weekend will be its fourth frame. This will be an interesting film to watch to due to the holiday play – can it hold long enough to have a strong Easter weekend? Do general audiences even see this as an Easter film? Hop has the schedule to itself next weekend, but the frame after that brings Rio, the new animated film from the folks that brought you Ice Age. Regardless of reviews and schedule, Hop is going to be another successful animated entry for Universal. They are working with Illumination Entertainment again next year on Dr. Seuss's The Lorax, which will open in March 2012.

Finishing second is Source Code, the new movie from Duncan Jones (son of David Bowie), the up-and-coming director who helmed the awesome (but little-seen) Moon with Sam Rockwell. Source Code brings another strong actor to the world of sci-fi, this time Jake Gyllenhaal, who takes over the bodies of others to stop a terrorist attack. Source Code opened softly in my mind, taking in $15 million from 2,961 venues. It had an average of $5,084. From Summit Entertainment, Source Code easily had the best reviews of the weekend, and was targeting that (until recently) under-served older male market. With Limitless, The Lincoln Lawyer, Paul, Battle: Los Angeles, and Sucker Punch all released in the last few weekends, there have been more choices for males, and that may have hurt Source Code. This is also our second sci-fi movie with a strong male lead in the last four weekends, with the other being the quick-to-exit Adjustment Bureau with Matt Damon.

As mentioned above, Source Code is a critical darling, certified "fresh" at Rotten Tomatoes. Of the 163 (!) reviews counted, 144 were of the positive variety, leaving this one at a very strong 88% fresh. It has the best reviews for adults since the Oscar nominees left theaters, and it is refreshing to see a adult sci-fi do so much better in the review department than something like Hop. The other good news is that despite the somewhat soft opening, Source Code will be a success for Summit. The studio paid $32 million for the thriller, earning half of that back from the domestic opening, and having a star with some international clout, Summit should see a decent return from this one.

Finishing third is Insidious, the new horror flick from another upstart distributor in FilmDistrict, the company put together by Graham King, who produced films like Rango, The Departed, and Traffic. After a formidable marketing campaign that seemed to call the film a hit before anyone saw it, Insidious earned $13.5 million at the box office. Released to 2,408 venues, the creepy-kid flick had a venue average of $5,604. Reviews were pretty much split down the middle, but I don't think FilmDistrict cared about reviews. The reason for this is that their film cost only $1.5 million to make. After a debut of $4.9 million on Friday, Insidious was profitable - and a big winner for an upstart studio. Insidious was put together by the team that created the Saw franchise, but they appeared to leave the tools at home for this one, generating a PG-13 rating instead of the torture-porn label.

Landing in fourth is Diary of a Wimpy Kid: Rodrick Rules, as the carpet is pulled from the feet of this sequel (but you'll see that it's not nearly as bad as what happened to Sucker Punch). Rodrick Rules earned $10.2 million in its second frame, and tumbled a hard 57%. The drop isn't that much of a surprise. The first Wimpy Kid film fell 54% in its second weekend (against How to Train Your Dragon), so this one is following the pattern of the original. Made for only $21 million, Rodrick Rules will be another win for Fox, but don't look for it to beat the original, which took in $64 million. So far, Diary of a Wimpy Kid 2 has earned $38.4 million.

Limitless finishes fifth this weekend. After a stellar drop of only 20% last weekend, Limitless held decently again, earning $9.4 million and falling 38% - despite the competition from Source Code. The Relativity Media release is turning into a big hit for the studio, as this one cost only $27 million to make, but has earned $55.6 million after only three weekends of release. Relativity could be looking at as much as $80 million on the domestic front from this one, and likely a similar amount coming from overseas sales. As a distributor, Relativity was desperate for a hit, and got one with Limitless.

Sixth spot goes to The Lincoln Lawyer, Lionsgate's $40 million courtroom thriller. Lawyer earned $7.1 million in its third weekend, and drops a not terrible 34%, following a 19% drop last weekend. The 83% fresh Lincoln Lawyer has now earned $39.6 million.

Falling from second last weekend to seventh is Sucker Punch, as everyone jumps off the sinking ship. After opening to $19.1 million last weekend, Sucker Punch got just that, as it fell 68%, earning only $6.1 million. All of a sudden, the $82 million Zack Snyder flick looks to be doomed financially, unless an overseas campaign can save it. Give Sucker Punch $30 million so far.

Eighth goes to Rango, as the talking lizard is stomped by the cute bunny. After earning $9.8 million last weekend, Rango drops 53% to $4.6 million this weekend, which gives an indication of how much parents and kids wanted new product at the multiplex. Rango will still end as a win for Paramount, despite the $135 million production budget. Rango has earned $113.8 million domestically, and is approaching that amount overseas.

Landing in ninth is Paul, which is feeling a bit like Nanny McPhee returns in that it was already profitable before coming to America, and once it opened, everyone forgot about it. Paul earned $4.3 million in its third frame and dropped 45% this weekend. Paul now has a domestic running total of $32 million, but has also earned $31 million overseas against a $40 million budget.

Tenth goes to Battle: Los Angeles, which is falling off the face of the Earth after four weekends at the box office. The sci-fi flick with Aaron Eckhart earned another $3.5 million, which is off 54% from the previous frame. So far, Battle: Los Angeles has earned $78.5 million, good enough to be profitable for Sony/Columbia even before international numbers are added in.

Overall this weekend, the 2011 box office weekend was up against the frame last year when Clash of the Titans broke out, earning $61 million, leaving little chance for top 12 success this weekend. Last year, the top 12 earned $168.6 million; this year, the top 12 earned only $115.8 million. Things may change next weekend, though, as Arthur opens, which stars Russell Brand as the titular character, and Helen Mirren taking on the John Gielgud character. Other openers include the very interesting looking Hanna, as well as Soul Surfer, along with another Natalie Portman film, Your Highness.