Friday Box Office Analysis
By Tim Briody
April 2, 2011
BoxOfficeProphets.com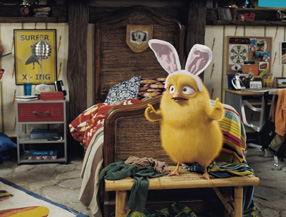 ---
[tm:4976_]Hop[/tm]

Hop opened to $11.4 million on Friday and we should all weep for humanity as this is going to blow away all expectations. This is disturbingly even more than [tm:4683_]Rango[/tm] earned a month ago. And considering Rango's opening weekend multiplier of 3.96, we should all be very, very afraid of what Hop is going to come in with - which looks to be about $42.2 million.

[tm:4379_]Source Code[/tm]

Perhaps exhausted by sci-fi films that require thought, Source Code somewhat disappoints with $5 million on Friday. This is less than [tm:5008_]The Adjustment Bureau[/tm] ($6.7 million) and [tm:5075_]Limitless[/tm] ($6.6 million), so audiences are either somewhat over these films or [bp:1336_]Jake Gyllenhaal[/bp] is no [bp:151_]Matt Damon[/bp] (whereas Bradley Cooper is). Source Code should have a decent enough weekend multiplier but it's a step back from the previous two films in terms of opening weekend. Look for it to have a weekend of $13.7 million.

[tm:5130_]Insidious[/tm]

Horror entry Insidious comes in with $4.9 million on Friday. This isn't terrible or anything, but it's definitely lost behind the other two openers and is neither a breakout (see: Hop) or a flop (see: [tm:4937_]Sucker Punch[/tm]) so that doesn't get you many headlines. Give it a weekend of $12.2 million.

Notable Holdovers

Last week's surprise champ, [tm:5073_]Diary of a Wimpy Kid: Rodrick Rules[/tm] drops a rather high 62% to $2.7 million. The first Wimpy Kid movie had a Friday-to-Friday drop of 61% so that's becoming standard for the franchise. It turned in a weekend multiplier of 3.5 on its second weekend so it'll recover to a degree, but it could potentially be tempered by (sigh) Hop. Rodrick Rules should have a second weekend of $9.5 million.

Meanwhile, Sucker Punch plummets a hilarious 77% to $1.9 million. Look out below as it has a second weekend of $5.5 million, and no hope of approaching its reported $75 million budget.