Weekend Wrap-Up
Zack Snyder Sucker Punched by a Wimpy Kid
By John Hamann
March 27, 2011
BoxOfficeProphets.com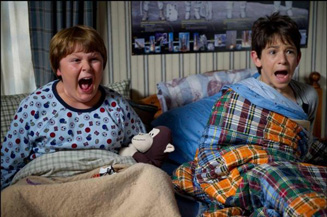 ---
2011 continues its path as one of the strangest early movie-going years ever this weekend, as a live action kids film called Diary of Wimpy Kid: Rodrick Rules (aimed at boys who are about 12) beat out Sucker Punch (which is aimed at boys with a mental age of 12). Yes, a big name director - Zack Snyder of 300, Dawn of the Dead and Watchmen – with a big, effects-laden event film in Sucker Punch, got schooled by Diary of a Wimpy Kid: Rodrick Rules, a film that looks like it should be premiering on Nickelodeon. The 2011 box office continues to sputter, as we continue to wait for a film to open to more than $40 million.

The number one film of the weekend is Diary of a Wimpy Kid: Rodrick Rules, the 20th Century Fox sequel to the so-so hit from last year. Wimpy Kid 2 opened to $24.4 million from 3,167 venues. It had an average of $7,704. Wimpy Kid's Friday gross of $7.325 million, was almost exactly the same amount the original earned ($7.375 million) 53 weekends earlier. Despite being a sequel, the follow-up did even better the original's multiplier of 3.0. This time around, it had a 3.3. I think that if a poll was completed, the result would show that almost exactly the same audience that came out for the first Wimpy Kid movie showed up for the sequel - plus a few extras.

The fact that this was even made is a bit of a surprise, as the original Wimpy Kid wasn't all that. Sure it opened to $22.1 million against a budget of only $15 million, but there wasn't a lot of good news following that success. The film fell 54% in its second frame, and 48% in its third before leveling off in weekend four. It failed to earn an open-to-total multiplier of 3.0, something that a kids flick usually has no problem pulling off. Reviews for the original were mixed, and at best blah, and was definitely no standout.

It did do quite well on DVD, though. The Wimpy Kid DVD outsold Kick-Ass during its first week of DVD release, with Wimpy Kid outpacing Kick Ass by 250,000 units. It went on to earn over $35 million from DVD sales. So really, it's been a good year for the Wimpy Kid franchise. Had this been a normal box office year, Wimpy Kid likely would have come in second; however, Sucker Punch failed and opened the door for the weekend win.

Financially, Rodrick Rules will be another win for Fox, and like all things Wimpy Kid, winnings will likely match the original. Rodrick Rules cost $21 million to make, about $6 million more than the original, despite being 25 minutes shorter. Fox will likely pull in something similar to the $64 million the original earned, but could earn more overseas this time, as awareness is higher (the original took in only $11 million from international locations). With the similar opening and budget, I think we can expect a Wimpy Kid 3 in about a year.

Finishing second this weekend is Zack Snyder's Sucker Punch, as the king of March tries to lay another one down. Unfortunately, Sucker Punch only looked good in the trailer, and audiences caught on. Sucker Punch earned only $19 million this weekend from 3,033 venues. It had an average of $6,269. This time out, I think Zack Snyder went too far. Known for his genre busting action films (300, Watchmen, Dawn of the Dead), Sucker Punch did look like a genre-buster, but with a defiantly odd story, starring a bunch of young women wearing very little, I think Snyder may have put off everyone except the audience that paid to see Battle: Los Angeles. This is a 14-year-old gamer's wet dream, but very little to anyone else.

When 300 came out, it was a new, good-looking, visceral experience. I loved 300 when I saw it in the theater. However, when I saw it a second time on DVD, I found it to be poorly acted and lacking in story. 300 came out in 2007, and now, four years later, I think we have a better idea of what to expect from Snyder, and our choices become more guarded.

Warner Bros. spent $82 million making Sucker Punch, a film that would likely have cost $200 million ten years ago. What filmmakers can do with a computer now is simply amazing. With the low opening and terrible reviews, Sucker Punch is going to have to work hard just to make $50 million, and will have to try and pick up the balance overseas. 300 earned more overseas that it did domestically; however, Watchmen did not, as it picked up $107.5 million domestically and only $77 million overseas. Sucker Punch is a disappointment – had a better product come out of this effort, we might have seen a cultural phenomenon. Instead, we are left with another turkey in 2011.

Sucker Punch feels a little like Kill Bill and Grindhouse. The Planet Terror portion of Grindhouse was as over the top as Sucker Punch, and audiences resisted, despite the fact that the film came from Robert Rodriguez. Tarantino's Kill Bill (which I love - don't get me wrong) may have also put some folks off with the Gogo Yubari character, who, if you don't remember, was the Japanese school girl character with killer tendencies. Not everyone is going to accept girls who look like they just walked off the set of the latest Britney Spears video who kick ass like a ninja. Maybe I'm just getting old, but that's the feeling I'm left with. Sucker Punch was also not screened for critics, and when reviews started to roll out on Friday, they made news due to their badness. Only 20 critics out of a possible 102 found something to like here, and top critics liked it even less. If Snyder does this with Sucker Punch, what's he going to do with Superman?

Finishing third is Limitless, which held a lot better than I was expecting. After an okay opening weekend on top with $18.9 million, Limitless held well, earning $15.2 million and dropping a slim 19%, which is great for the genre. The Bradley Cooper/Robert DeNiro had good, but not excellent reviews, and that would have helped a little, but in reality we can likely look at the new films released this weekend, and how many adults (with brains) would have taken those in. While I doubt it's a Taken, Relativity Media is going to be very happy with this hold. Limitless cost Relativity and its partners only $27 million to make, and it has a gross so far of $41.3 million. It could see as much as $70 million before it's through.


Despite two new films in the top two spots, The Lincoln Lawyer manages to stay in fourth for a second straight weekend. The Lionsgate release that opened to $13 million last weekend, fell 17% to $11 million, again indicating there were few new choices for thinking adults this weekend. It's a good hold for the $40 million effort, as it tries to turn an 82% fresh rating into legs. So far, it has earned $29 million, and should earn more than the production budget domestically.

Fifth is Rango, which has another strong weekend in its fourth outing. The Johnny Depp voiced character earned another $9.8 million this weekend, and drops 35% compared to last weekend despite competition in a similar demo from Diary of a Wimpy Kid 2. Originally, I thought Paramount was going to eat it on Rango, but the talking Lizard managed to cross the $100 million plateau this weekend, and looks like it will at least match the production budget domestically. It has already brought in another $75 million from overseas, so the Gore Verbinski film is going to hit the win column for the studio despite costing $135 million to make, and being a little bit outside the norm. Give it $106.4 million on the domestic side so far, and the highlight that it has been one of the very few successful films released in 2011.

Sixth is Battle: Los Angeles, which has been the poster-child for the 2011 movie-going season with its great trailer, and complete awfulness. Now in its third weekend, Battle: Los Angeles earned $7.6 million and dropped a nasty 48% from last weekend. It's hard to believe, but this $35 million plus opener is going to struggle to reach $90 million on the domestic front. So far, it has accumulated $72.6 million in domestic receipts.

Seventh spot goes to Paul, the alien road movie with Simon Pegg, Nick Frost and the voice of Seth Rogen. Paul earned $7.5 million in its second weekend, and dropped 42%. With the Shaun of the Dead guys as the leads, this one was expected to be front-loaded, as it almost plays as a sequel to the zombie flick and Hot Fuzz. Give Paul $24.6 million so far for Universal against a $40 million production budget - and remember, it has earned an additional $30 million overseas.

The rest of the top ten are the also-rans. Eighth goes to Red Riding Hood, the Warner Bros. disappointment. Red earned only $4.4 million in its third weekend, and dropped 39%. It has a running total of $32.5 million. Ninth is The Adjustment Bureau with Matt Damon and Emily Blunt. Now in its fourth weekend, the Universal flick earned $4.2 million and dropped 26%. It has a running total of $54.9 million against a budget of $50 million. Finally in tenth is Mars Needs Moms, the animated bomb from Disney. It dropped a hefty 59% on its way to $2.2 million - and it beats out Beastly by only $1,000, so we might see a change once actual numbers come in. Mars Needs Moms has yet to reach $20 million, which is horrible against its $150 million budget.

Overall, this weekend is the same, same, same. The top 12 films grossed $109.3 million, a little bit more than last weekend, but definitely lower than expected due to the implosion of Sucker Punch. Last year, over the March 26th - 28th weekend, How To Train Your Dragon earned $43.7 million and led the top 12 to a cume of $117 million. Next weekend brings three new releases, Hop, an animated kids flick from Universal, Source Code with Jake Gyllenhaal, and Insidious, a new horror film.