Friday Box Office Analysis
By Kim Hollis and David Mumpower
March 26, 2011
BoxOfficeProphets.com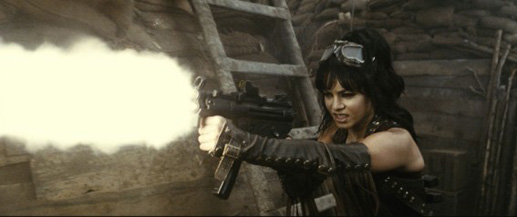 ---
The empowered (?) women of Sucker Punch take on the spunky, spirited lads from Diary of a Wimpy Kid, which sounds kind of mean, really. Which one will emerge victorious? The answer might surprise you.

Sucker Punch

Zack Snyder's first three films had opening Fridays of $10.9 million, $28.1 million and $24.5 million. His fourth live-action film (we're going to throw out The Legend of the Guardians: The Owls of Ga'Hoole as an outlier) will not do as well in its opening weekend as 300 and Watchmen did on their opening days. Sucker Punch earned $8.1 million on Friday, which includes roughly $800,000 from midnight sneaks. This begs the question why you might have midnight sneaks for such a movie. Those were some bored, sleepy movie theater employees.

Anyway, Sucker Punch is Snyder's fourth March release and it's going to finish fourth in terms of opening weekend box office. Suffice to say that consumers have grown jaded to his splashy special effects and excessive use of slo-mo. At regular speed, Sucker Punch is seven minutes long. With a reported $80 million budget, the film earned only 10% of that amount on its first day, and will assuredly leave North American theaters in the red, not even factoring marketing costs. Of course, the worst aspect of this whole story is that Sucker Punch is not going to win the weekend. It appears to be headed to a $19.6 million weekend, which means it's probably going to lose to...

Diary of a Wimpy Kid: Rodrick Rules

The sequel to the $64 million hit opened almost exactly a year after its predecessor, and it earned almost exactly the same amount on its opening day - at almost exactly the same cost. The Fox release took in $7.3 million, which represents 40% of its budget. It's going to exceed that $18 million cost with opening weekend numbers. The previous film's first Friday was $7.4 million versus an initial outlay of $15 million. Putting that into perspective, if the Wimpy Kid films keep costing $3 million per production, we could get four of them for roughly the same price as Sucker Punch. You know, we like Zack Snyder, but these facts/jokes are pretty much writing themselves. It's hard not to see this and cringe.

The original Wimpy Kid had an opening weekend of $22.1 million. Our expectation is that there will be at least some sequel behavior, so we're tempering our expectations a smidge to $21 million. Rodrick Rules, indeed. Of course, weekend estimates might have this as a photo finish, because we know how truthful the studios are about these things. It would be a stretch to expect Sucker Punch to win without numbers tampering.

Notable Holdovers

Bradley Cooper's Limitless had a strong Friday-to-Friday hold, as it dropped only 29.7%. This looks to qualify as a bona fide hit now, particularly in relation to its $27 million budget. Its weekend total should wind up around $14.2 million, and will probably make it the movie Abby Cornish is more proud to have on her resume (versus Sucker Punch).

The good news continues for The Lincoln Lawyer, which puts Matthew McConaughey back into serious mode after languishing in horrible rom-coms for a few years. It fell only 26% to $3 million on Friday, which should translate to a three-day total of $9.6 million. Score (another) one for Groupon. They needed it after their horrific Super Bowl commercials.

Finally, Paul dropped 48% from last Friday, which is to be expected considering the nature of its stars, Simon Pegg and Nick Frost. They attract a strong fanboy element, and Paul is the very epitome of a fanboy film given what they were going for. After a $2.3 million Friday, Paul should wind up with a second weekend total of $7 million. With international numbers factored in, it's already beaten its $40 million budget.