Weekend Wrap-Up
Mars More Disastrous to Disney than Battle: Los Angeles
By John Hamann
March 13, 2011
BoxOfficeProphets.com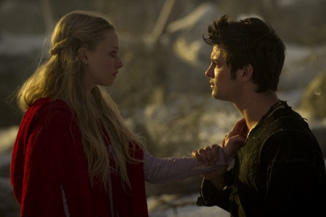 ---
While the box office remained soft again this weekend, we did learn something. We learned to never, ever, put the word Mars in your movie title. Disney did that this weekend, releasing Mars Needs Moms, an extremely expensive motion-capture flick from Robert Zemeckis's shop, ImageMovers. Let's just say things did not go well. On the (slightly) more positive side, Sony released the $70 million Battle: Los Angeles onto unsuspecting audiences, while Warner Bros. did what did CBS Films did last weekend - conned teenagers out of their parents' hard earned money, as some went to see Red Riding Hood, from Twilight director Catherine Hardwicke.

Our number one film of the weekend is the Sony/Columbia disaster movie, Battle: Los Angeles, the one with the fantastic teaser trailer, and the not so fantastic follow ups. Battle: Los Angeles earned $36 million from 3,417 venues. The $70 million event picture managed an average of $10,536. While no disaster (we will get to Mars Needs Moms soon), it is certainly no breakout success, as it couldn't beat fellow March opener Wild Hogs, which opened to $39 million in 2007, and earned approximately half of what a real March event film did. I'm talking about 300, which earned $70 million over its opening frame, also in 2007.

Battle: Los Angeles isn't a Skyline loser ($11.7 million opening, $22 million finish), but it also didn't cost $10 million to make. It had a decent star in Aaron Eckhart, who did have a large role in The Dark Knight, which you might remember. That was 2008, though, and since then, Eckhart has only shown up twice, with one of the films being the brutal Love Happens, a movie even Jennifer Aniston couldn't save. As for his other movie, it was the critically acclaimed but barely seen Rabbit Hole, which garnered Nicole Kidman an Academy Award nomination but saw Eckhart left out when it came to Best Actor nominees.

The Battle: Los Angeles opening is on par with District 9, which opened in mid-August 2009 to $37.4 million, but that's where the comparison ends, as Battle just isn't very good. At Rotten Tomatoes, Battle could only find 40 positive reviews out of a possible 123, leaving it with a rotten rating of 33%. "Top Critics" at the site (or the ones actually read by humans) gave it a 22% rating. Battle: Los Angeles was made for action junkies and really no one else, but to say it drew more than Skyline should be considered some sort of success. For March, it's a top 15 film, and Sony will make a decent amount of money off of it; however, international box office will have to be counted before real dollars are seen.

Second this weekend, despite the Mars Needs Moms debut, is Gore Verbinski's Rango. The talking lizard movie earned another $23.1 million, helping it to stay above $20 million in its second frame with an okay 39% drop. Things are looking pretty good for its ability to hang around, particularly since the "big" competition from Mars Needs Moms didn't challenge Rango. Last weekend, Rango had a weekend multiplier of just under 4.0 (at 3.96), and it does even better this time out, as it's up to a 4.27. Often times, we do see second weekend declines in the 35-45% range for CGI animated films (Megamind, Toy Story 3 and Despicable Me all followed such a pattern) prior to their straightening out in weekend three and seeing better staying power. It seems unlikely that Rango is going to follow any sort of How to Train Your Dragon trajectory, but the people who champion it are really, really enthusiastic. It still has a long way to go to match its $135 million budget, but for now, Rango has taken in $68.7 million domestically and $30 million overseas.

Third is Red Riding Hood, with its brilliant production and costume design matched with its insipid screenplay and acting. The Amanda Seyfried flick pulled in an okay $14.1 million, but this is another film that didn't come close to breaking out from its intended audience of teenagers. This one was only 12% fresh at Rotten Tomatoes (hopefully you weren't looking for a good new movie this weekend), and was 7% fresh amongst the aforementioned "Top Critics." For Seyfried, this is only a slightly better opening than that of Letters to Juliet ($13.5 million), despite the much stronger marketing campaign. What it won't see is Juliet's legs, as Letters might have opened at medium size, but went on to earn almost four times its opening weekend domestically, finishing with over $53 million in domestic sales. Even worse is the fact that Red Riding Hood cost Warner Bros. $42 million to make, not the $30 million spent on Letters to Juliet. Twilight this is not, and I expect it to disappear rather quickly.

Fourth spot goes to The Adjustment Bureau, with Matt Damon looking for legs as he tries to rid the smell of Green Zone and Hereafter from his resume. Unfortunately, it's not to be, as Adjustment got adjusted down. The Phillip K. Dick story earned only $11.5 million and was off 46%. The Adjustment Bureau cost Universal an estimated $51 million to make. It looks like it might pull in $60 million domestically, and should find even more than that overseas, as it earned $10 million from foreign shores last weekend. Give the thriller $38.5 million so far.

Fifth goes to Mars Needs Moms, and it would have ranked lower had it not been a disastrous movie-going year so far. Mars earned a paltry $6.8 million, and should be considered a complete embarrassment, as it cost $150 million to make and couldn't pull in 10% of that over its opening frame. This was a bad concept executed poorly – only the very young are going to want to see something like this, and even then, some would resist. Critics even resisted this Disney film, as only 24 reviewers out of a possible 57 found something to like at Rotten Tomatoes. Even the critic count on this one should have spelled trouble – 57 reviews (at the time of this writing) is amazingly poor for an animated Disney movie.

As I mentioned above, don't put the word Mars in your movie title. Invaders From Mars did that in 1986, and finished sixth with an opening of $2 million. Tim Burton did it with Mars Attacks!, and while that one had a fantastic marketing campaign, it also didn't work, opening to under $10 million in 1996, eventually folding up with a $37 million domestic gross (international audiences turned it into a $100 million global hit). Brian De Palma made Mission to Mars, and while it did open at number one with $22 million, it became renowned for its badness, and grossed only $60 million domestically against a $90 million budget. Finally, there is Ghosts of Mars from director John Carpenter. That one finished ninth over its opening frame, grossing only $3.8 million.

Sixth goes to Hall Pass, the outrageous comedy from Warner Bros. Despite being not great, Hall Pass has saved its dignity by dropping 35% last weekend, and a somewhat deeper 42% this weekend, as the Owen Wilson flick earns $5.1 million in its third frame. The $36 million Farrelly Brothers effort has now pulled in $34.9 million.

Finishing seventh is Beastly, last weekend's Twilight wannabe. In its second frame, Beastly earned $5.1 million, and falls an ugly 48%. The good news for the CBS Films product is that it was cheap to make, costing only $17 million, or $25 million less than Red Riding Hood. There won't be a lot of profit here for CBS, but it won't be a disaster either. Give it $17 million so far.

Just Go With It remains a top ten film this weekend as the Adam Sandler/Jennifer Aniston comedy earned $4 million. Just Go dropped an okay 38% this weekend, despite shedding about 500 venues. This Sandler product has not seen a drop close to 50% in its run, and still stands a strong chance of earning $100 million. So far, Just Go With it has earned $94 million for Sony.

Ninth goes to The King's Speech, which finally seems to be losing its momentum after being nominated for and winning Best Picture at the Academy Awards. The King's Speech added another $3.6 million to its coffers, with a decline of 42% from last weekend, its biggest drop ever. The Weinsteins are forcing a PG-13 rated version into theaters shortly, which probably isn't really going to do that much to keep it hanging around. The total for the royal picture is $129.1 million domestically, and it has earned another $180 million internationally.

Tenth goes to Gnomeo and Juliet, which has really struggled since Rango and Mars Needs Moms showed up. This weekend, Gnomeo earned $3.5 million, and drops hard again, losing 51% of its audience from last weekend. This Disney product still has to be considered a success, as someone turned lawn ornaments into an $89 million winner.

Overall, box office is still way off of last year, but that's becoming such a common sight, it no longer surprises. The top 12 this weekend earned $118.4 million, which is on target with last weekend's $121 million, but we should have had three fairly big films opening this weekend. A year ago, Alice In Wonderland was still dominating, and the top 12 brought in $135.7 million. Will things pick up next weekend? It's doubtful, as openers include The Lincoln Lawyer, featuring both Mathew McConaughey and Ryan Phillippe (in the same movie!), Limitless with Bradley Cooper and Robert DeNiro, and Paul, the alien comedy with the Shaun of the Dead guys.