Friday Box Office Analysis
By Tim Briody
March 12, 2011
BoxOfficeProphets.com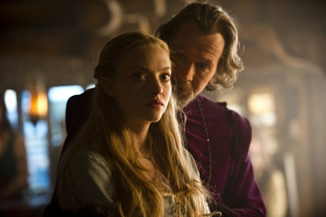 ---
[tm:4362_]Battle: Los Angeles[/tm]

Stuff blow'd up real good as Battle: Los Angeles opens to $13.4 million on Friday, a pretty decent opening considering the critical beating it's taking from both reviewers and audiences. The easiest and most recent comparison is last fall's Skyline. Battle: Los Angeles has already surpassed that film's opening weekend and will have outgrossed its entire run after Saturday. That had a pretty terrible 2.46 weekend multiplier, something that I don't think Battle: Los Angeles will duplicate exactly. Friday was probably its best day thanks to the "oooh, shiny"-ness of it, so look for a weekend of $35.5 million.

[tm:5076_]Red Riding Hood[/tm]

Performing better than [tm:5010_]Beastly[/tm], Amanda Seyfried's Twilight'ed up Red Riding Hood earned $5 million on Friday. While Seyfried is probably responsible for a bulk of that gross, you have to wonder if using the director from the first Twilight film, Catherine Hardwicke, was worth anything at all. Then again, you have to wonder if any Twilight fan can name the director of the first Twilight film. Anyway, look for a weekend of $13.6 million.

[tm:4920_]Mars Needs Moms[/tm]

Ouch. Animated offering Mars Needs Moms crashes and burns with $1.7 million on Friday. Give it $5.4 million and let us never speak of it again.

Notable Holdovers

[tm:4683_]Rango[/tm] falls 43% from last Friday to $5.4 million, which is probably a bit high but it did have a 3.96 multiplier last weekend so Saturday and Sunday is where it will really shine. Mars Needs Moms is no factor for it at all so Rango will solidly take second place with $22.7 million.

[tm:5008_]The Adjustment Bureau[/tm] drops 49% to $3.4 million. While it's lost the "I wanna see stuff blow up" dollars to Battle: Los Angeles, it's on its way to another decent weekend for what it is. Look for the [bp:151_]Matt Damon[/bp] film to have a second weekend of $11.5 million.

All is right with the world as Beastly drops 55% from a week ago to $1.6 million. Give it a second weekend of $4.5 million.