Weekend Wrap-Up
Rango, Adjustment Bureau Give Hope to Box Office
By John Hamann
March 6, 2011
BoxOfficeProphets.com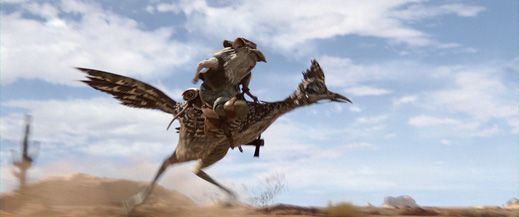 ---
Finally. After seven weekends of questionable films leading the box office (like the 6% fresh Roommate and the 19% fresh Just Go With It), we have two films leading the box office that are actually good. After what felt like seven weekends of pain, Johnny Depp and Matt Damon are here to save us. Openers this weekend include Depp's animated Rango from director Gore Verbinski; The Adjustment Bureau starring Damon and the lovely Emily Blunt in a sci-fi picture based on a Phillip K. Dick story; Beastly with Alex Pettyfer trying to get teens to forget I Am Number Four; and Take Me Home Tonight, an '80s comedy from the writers of That 70s Show. Had it been one of the last seven weekends on the calendar, only the former two would have opened.

Our number one film is the animated Rango, re-teaming Johnny Depp and his Pirates of the Caribbean director Gore Verbinski. When I first started seeing trailers for Rango, I wondered if the concept was too "out there" for young kids, but with a sales pitch that featured the Depp brand almost more than Rango's, the film worked, likely to a wider audience than just kids. Rango earned a not bad $38 million from an ultra-wide venue count of 3,917. The Paramount release had a venue average of $9,701. While the opening was strong, Rango was an expensive film to make. George Lucas and ILM spent $135 million making Rango, so the CG western is going to need an opening-to-final box office multiplier well over 3.0 – and that's just to match the budget. With prints and advertising, the overall budget for Rango was likely more than $200 million. Will an animated western play in Bulgaria?

Co-production credit on Rango goes to Nickelodeon Movies, as Paramount tries to rebuild the relationship with the kid company. Lately, the two companies have had their hands in some live action films, with disastrous results. Together they made The Last Airbender, M. Night Shyamalan's Razzie Award winner, and Imagine That, the Eddie Murphy vehicle that cost $55 million to make and earned $16 million domestically. In the late '90s and early 2000s, Paramount and Nickelodeon put out a slew of animated features, some successful, some not. It started with The Rugrats Movie, which earned $100 million domestically against a $24 million budget, and it earned an additional $40 million overseas, when it wasn't even cool to do so. Other Paramount/Nickelodeon titles included Jimmy Neutron: Boy Genius, which earned $100 million worldwide against a $30 million budget; Rugrats in Paris ($103 million worldwide, $30 million budget); and SpongeBob SquarePants ($30 million opening, $140 million worldwide, $30 million budget).

For Johnny Depp, Rango is the second success the oddball actor has had in animation. Depp did the voice work in 2005's The Corpse Bride, which is still in the top 25 opening weekends for the month of September. The Corpse Bride opened to $20 million, but wasn't a real hit with domestic audiences (it was maybe a little TOO weird), as it had a domestic total of $53 million, but added another $64 million from overseas audiences. Depp jumps back to live action with the the next chapter in the Pirates series, On Stranger Tides, then the more serious Rum Diary, based on the Hunter S. Thompson book.

Finishing second is The Adjustment Bureau, Matt Damon's follow up to True Grit. The Adjustment Bureau belongs in the same weird genre as Rango, as this one is a sci-fi romance (sci-ance? Rom-fi?) based on a short story by Phillip K. Dick (Blade Runner, Minority Report). The Adjustment Bureau drew $20.9 million in business this weekend from a slim venue count of 2,840. It had a venue average of $7,375. The Adjustment Bureau is from Universal, who was desperate for a hit. Forgetting Little Fockers, Universal hasn't had a film come close to opening at $20 million since Despicable Me last summer, but now looks poised to have a solid year. Bureau was a $62 million pickup for the studio, so with a solid domestic run and a good result from some international markets, this should be a decent win for the studio.

For Matt Damon, The Adjustment Bureau and True Grit finally puts the year that included Green Zone and Hereafter out of the collective consciousness and gets the star back on the right path. Green Zone was the Iraq war drama that cost $100 million to make and earned only $35 million at domestic cinemas, and Hereafter was Clint Eastwood's miss that earned a similar amount. Now, with True Grit earning more than $200 million worldwide (so far), and The Adjustment Bureau 70% fresh at RottenTomatoes, Damon is back on top. 2011 looks loaded for the star, as he has Contagion from director Steven Soderbergh, Happy Feet 2, and Cameron Crowe's We Bought a Zoo opening just in time for next year's Oscars.

Landing in third is another new film, Beastly, the Beauty and the Beast tale for teen twi-hard types. Beastly did better than expected, as teenagers bought this dreck, as it earned $10.1 million from 1,952 venues. It had an average of $5,182 for CBS Films. Beastly is another of those sickening teen romance films with a bit of the supernatural added. Critics hated it, with only 12 positive reviews out of a possible 57 being posted at RottenTomatoes. Starring teetering teen stars Vanessa Hudgens and Alex Pettyfer, this one might have been saved by casting Neil Patrick Harris as the blind tutor. Beastly cost $17 million to make, so this one will likely match the production budget before it's through. Next weekend, we get another of these teen romance/supernatural films, Red Riding Hood, and this one at least looks better than Beastly.

Fourth goes to last weekend's eventual number one film, Hall Pass. The Wedding Crasher/Hangover wannabe earned $9 million and dropped 33%. Looks like it's safe to say that the 34% fresh comedy from The Farrelly Brothers is failing to click with domestic audiences. So far, the $36 million New Line release has earned $27 million.

Last weekend's almost number one, Gnomeo and Juliet, gets stomped on by Rango and runs for cover. Gnomeo earned $6.9 million and dropped a hurtful 48% in its fourth weekend. Regardless, Gnomeo has earned more than it had any right to, as its total so far stands at $83.7 million.

Sixth goes to Liam Neeson's Unknown, which has failed to catch fire like Neeson's Taken did. Unknown earned $6.6 million in its third weekend and dropped 47%. Financially, though, the news for Unknown is good – it cost $30 million to make and has already found $53 million on the domestic front.

Seventh goes to our Best Picture winner The King's Speech, and despite already pulling in over $100 million prior to Oscar night, it still sees a nice bounce from its big win. The King's Speech pulled in another $6.5 million and dropped a very slim 11% thanks to the four Oscars it won last Sunday. The Colin Firth starrer is now the biggest release ever for The Weinstein Company, as it gets ahead of Inglourious Basterds, which earned $120.5 million domestically in 2009. The King's Speech has taken in $123.8 million domestically, and is approaching $300 million worldwide – all against a tiny $15 million budget.

Eighth goes to Sony's Adam Sandler/Jennifer Aniston comedy Just Go With It, which is now in its fourth weekend. Just Go With It earned $6.5 million and dropped an expected 38%. This $80 million Sandler comedy has performed exceptionally given the season, as it has a cume so far of $88 million. It should see $100 million before it's through, and is just getting started overseas.

I Am Number Four takes the express route downward, as it moves from fourth last weekend to ninth this weekend. Number Four earned $5.7 million this weekend, and dropped a searing 48%. The $60 million flick has earned $46.4 million so far, and likely won't match its production budget.

Finally in tenth is the Justin Bieber concert movie. Never Say Never earned another $4.3 million and dropped 54%. It has a total of $68.9 million against a $13 million production budget. Highway robbery.

Topher Grace's Take Me Home Tonight finished outside the top ten in 11th spot, as the '80s based flick could only manage $3.5 million. Without much of a marketing push from Relativity Media, the film really didn't have much of a chance, and is going to have to hope for the majority of its revenue to come from the home video market.

Overall, the top 12 films at the box office got their collective nose back above $100 million this weekend, but compared to last year, it's a drop in the bucket. A year ago, Alice in Wonderland opened to $116 million, only $9 million less than what the entire top 12 earned this weekend. Next weekend will provide even more pop to the box office. Openers include Battle: Los Angeles from Sony, Disney's launch of Mars Needs Moms, and Warner Bros.' teen-targeted Red Riding Hood.