Weekend Forecast for March 4-6, 2011
By Reagen Sulewski
March 4, 2011
BoxOfficeProphets.com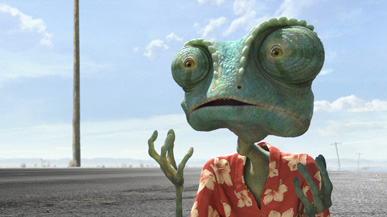 ---
After trickling out a couple at a time in the early part of the year, the floodgates open on movie releases this weekend, with four major releases firing at four separate markets. The chance of a huge breakout is small, but overall the box office should see a nice kick up from the last few anemic weeks.

Any time there's an animated film in a market like this, it instantly becomes a favorite to take the weekend crown. When it has one of the biggest box office draws out there, like Rango does, it's doubly sure to be one. Johnny Depp stars as the title lizard, who finds himself drafted into being the sheriff of a dusty western town of (literal) critters and varmints to protect against the tyranny of some outlaw snakes. Unless you count A Bug's Life adapting The Magnificent Seven by way of The Seven Samurai, it's the first animated western, and it seems like rich territory to mine for zany madcap action.

In addition to Depp, there's a pretty solid cast of voice talent, including Isla Fisher, Abigail Breslin, Ned Beatty, Timothy Olyphant, Alfred Molina and Bill Nighy, which is a sufficiently weird group of people to make me think there could be something interesting in the film itself. Directed by Gore Verbinski, it seems to have a lot of energy and inspired lunacy, and an attractive, if off-beat look. Much has been made about the relatively unique way this film was made, which involved the actors actually performing as much of the film on sets as possible, with the animation being done based on these performances. From what I can tell, that energy seems to have made the transition to CGI wholly intact.

Is it too strange, really, for mass audiences? Possibly, although that shouldn't matter until the second weekend. And while it won't approach the initial success of a Shrek, or even an Ice Age, there's no reason to think it can't compete with the likes of a Madagascar or a How To Train Your Dragon. There's enough quality apparent in both the animation and the concept that both young and old audiences should embrace it right off the bat. Opening at a massive 3,700 venues, it should start with approximately $47 million.

Hard sci-fi – that is, sci-fi without alien invasions and/or space ship and explosions, is a rare visitor to multiplex screens. For every Moon, Contact and Vanilla Sky, there are a dozen or more Transformers, Men in Blacks or I, Robots. It's rare when the subject gets treated like it's for adults, so it's doubly encouraging when a film like The Adjustment Bureau, based on a Philip K. Dick story, arrives with certified star power in tow, making it very likely that it'll have some positive feedback for Hollywood for the genre.

Matt Damon plays a man running for the Senate who has a chance meeting with a ballet dancer (watch out, Matt! They're all crazy, Black Swan tells me so!) played by Emily Blunt and quickly falls for her. Mysterious events seem to conspire to keep them apart, which is when Damon finds out the truth – there really is such a thing as fate, and it's being controlled by actual powers that be, shadowy figures in trench coats and fedoras who run around behind the scenes making things happen the way they're "supposed to". And they're pretty insistent that Damon and Blunt can't be together if their plans are going to come to fruition.

Call it Inception meets Dark City, but without all the dazzling technical wizardry, which is a large reason why this film is seeing release in March instead of July. Still, it's a solid and intriguing premise with a couple of big established stars (along with a neat supporting cast that includes John Slattery and Terence Stamp and several other "distinguished" gentlemen) that doubles as a romantic movie.

Largely, this film will live or die due to Damon, who needs a better year in 2011 than 2010. After vaulting himself into superstardom with the Bourne series, Damon was the lead in two very depressing movies last year, Green Zone and Hereafter (True Grit was a supporting role), for which the word underwhelming doesn't quite capture just how poorly they did. A turn back towards more positive material should be just what's needed, and all signs point towards a decent start of around $25 million.

Another week, another teen angst novel adaptation starring Alex Pettyfer. Beastly pairs him up with High School Musical starlet Vanessa Hudgens in a sideways version of Beauty and the Beast. Pettyfer is a spoiled New York teen who pisses off the wrong witch (Mary-Kate Olson – oh don't act surprised) and is transformed into a hideous beast until he can learn empathy or how to be a good person or something. I say "hideous" with a bit of a squint, though – I've seen rougher and uglier dudes at music festivals than the after of Pettyfer's transformation. Can't make your heartthrob too too ugly, or else the 15-year-old girls won't want to look, can you?

Where Pettyfer's last film at least had a modicum of action and special effects to draw in a wider audience, this film has... talking and brooding. I can see the teen audience lapping that up, or at least the female teen audience, but the schmaltz will actively turn off everyone else. And for those that think Hudgens might bring in extra eyes because of her HSM fame – I give you Bandslam. Opening at around 2,000 venues, Beastly should find a forgettable opening weekend of about $7 million.

Finally, we have Take Me Home Tonight, a piece of cinematic nostalgia that was held back so long it was in danger of becoming a recursive film. Filmed in 2007 but held back because of copious cocaine references (what, they weren't okay then but are okay now?), it's a trip back to the '80s with Topher Grace and Anna Faris playing twin siblings at a crossroads in that period between college and real adulthood. And where do these issues get resolved? At a party, of course. Unfortunately, this makes the movie seem like a ripoff of Superbad when it might have come out almost simultaneously had the studio not sat on it.

Looking at the result, it's not clear that it's worth the fuss. While the cast (which also includes Dan Fogler, Michelle Trachtenberg, Dmitri Martin, Chris Pratt and Michael Ian Black, among others) is likable enough, and director Michael Dowse (Fubar, It's All Gone Pete Tong) has comedy chops, there's not a strong sense here that they have any great material to work with. Without the Apatow Brand Seal of Comedy Approval, this seems doomed to cult film status, after an opening weekend of around $5 million.

After some suspicious shenanigans, Hall Pass was declared the winner of last weekend's box office, edging out Gnomeo & Juliet by a little over $100,000. This is a hollow victory at best given that the film it beat out was in its third weekend of release. The Farrelly Brothers comedy gets its win but will sink like a stone, with virtually no defenders and even those having no passion for it. It should fall to $7 million from $13 million this weekend.

Meanwhile, Gnomeo now faces actual quality family entertainment in Rango, though the dent that will make in its overall total is small compared to what it's earned in the past three weeks. Give this about $8 million as it inches closer to the $100 million milestone.

Following that, we have a barrage of unremarkable films earning in the low double digits/high single digits last weekend – a veritable who's who of "make it a Blockbuster night": Unknown, I Am Number Four, Just Go With It, Justin Bieber – I don't see any films in this list inspiring urgency this weekend. Start with Unknown at $7 million and work your way down to Bieber at $5 million – this is a forgettable bunch.

A wild card this weekend is The King's Speech, which strides in triumphantly with four Oscars and a newly minted PG-13 version so kiddies can see it without being sworn at (never mind that it's a plot point). In recent years, the Oscar win for Best Picture hasn't guaranteed a major boost in box office, and in the case of The King's Speech, just the nominations alone have earned it several tens of millions. The Weinsteins aren't even bothering to expand its theater count this weekend. That all said, it's been a very leggy film so far and it would be strange for an Oscar win to work against it. A small uptick to around $8 million should be in the cards here.