Weekend Wrap-Up
Box Office Lame as Hall Pass, Drive Angry Fail
By John Hamann
February 27, 2011
BoxOfficeProphets.com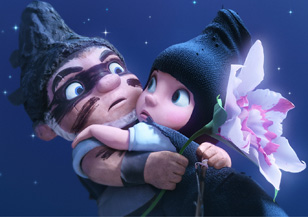 ---
With the long Presidents' Day weekend in the rear-view mirror, this late-February weekend was set up to fail at the box office. Add to that some disappointing results from the openers, and all of a sudden we are looking at a serious car accident at the box office. Things have been bad at the box office since Christmas, and with Oscar mixing with this bad news, the spotlight is on. Openers this weekend included Hall Pass with Owen Wilson and Jason Sudeikis and Drive Angry with Nic Cage – and both flew well under their tracking estimates.

It was a very close race for the top spot this weekend – something that wasn't expected to happen – but the reason it was close was not because one film did stunningly well, it's the opposite.
Our number one movie of the weekend is not what anyone would have expected. In fact, the result may change once actuals are released, but it seems unlikely. At any rate, our top movie during Oscar weekend is Gnomeo and Juliet - its first time at the top in its three weekends of release. The Disney animated film earned $14.2 million this weekend, good for a drop of just 26%, and is performing better in its third weekend than I thought it would do in its first. The lone kids flick in the top ten has now earned $75.1 million, and now (somewhat unbelievably) has an outside shot at earning $100 million. Paramount's animated Rango may have something to say about that next weekend, though, as the Johnny Depp-voiced flick has seen a serious marketing push lately.

Our second place film is Hall Pass, the new lewd, crude, comedy from the Farrelly Brothers, who have been quiet since The Heartbreak Kid under-performed in 2007. Hall Pass opened to only $13.4 million, despite tracking having it opening closer to $20 million. It debuted at 2,950 venues, and had a venue average of $4,549. Hall Pass was produced by the Farrellys' Conundrum Films, and New Line Cinema, which is owned by distributor Warner Bros. The film reportedly cost $36 million to make.

Hall Pass should have had everything going for it – decent stars in Owen Wilson, Jason Sudeikis, Jenna Fisher and Christina Applegate, decent directors in the Farrellys (Dumb and Dumber, There's Something About Mary), and a decent marketing program. What it lacked was a solid, understandable premise, especially for movie-goers in middle America. This is how the premise reads at IMDb: "A married man is granted the opportunity to have an affair by his wife. Joined in the fun by his best pal, things get a little out of control when both wives start engaging in extramarital activities as well". So, I am as open-minded as the next person, but does this read like a date movie? Sounds more like well-made porn, something with a script and production values, rather than a comedy playing at more than 2,900 screens. Am I just getting old? If one looks deeper, you might read that the film actually supports family values, but if you get that out of the marketing for this one, your powers of observation are well beyond mine.

The other problem Hall Pass had was that it just isn't funny. You know you're in trouble when a Nic Cage 3D flick gets better reviews than yours, and that's exactly what happened with Hall Pass. Of the 93 reviews listed at RottenTomatoes, only 32 were of the decent variety, leaving Hall Pass with a rotten rating of 34% (top critics liked it even less, at 29%). Slate called it misogynistic, while the Washington Post called it "phlegmatically paced" - and these comments are the trend. I expect this one to fold quicker than The Heartbreak Kid, which opened to $14 million and finished with about $37 million. Note to Owen Wilson: Call Wes Anderson, get him moving on his next film – and make it something other than Darjeeling 2.

Finishing in third this is Unknown, Liam Neeson's latest. Before we get into it, let's remember that last weekend was a four-day holiday frame, which means Unknown had no chance to have the second weekend legs that Taken had in 2007. Unknown earned $12.4 million this weekend, and drops 43% from Unknown's #1 $22 million finish last weekend. Taken fell only 17% in its second weekend. Regardless of Taken's success, the drop here for Unknown should still be considered a win. This is an action film, and often following a long weekend, a film like Unknown is going to fall 50% or more, so this should really be viewed as a success. Unknown has already earned a very strong $42.8 million against a budget of only $30 million.

Fourth goes to Just Go With It, the Adam Sandler/Jennifer Aniston comedy. Just Go With It earned another $11.1 million and dropped a not bad 41% compared to last weekend. With Hall Pass now on-site, the Sandler comedy should have suffered more than it did; however, Hall Pass may have lost viewers to Just Go With It. The $80 million Just Go With It has now earned $79.4 million, and could be another contender for $100 million. Someone should thank Brooklyn Decker for this success – no, I will.

I Am Number Four is next up in fifth place. It earned $11 million in its second weekend after debuting last weekend to $19.5 million. It fell 43%, and is now facing the fact that it likely won't earn enough to match its $60 million budget. Alex Pettyfer had better hope than Beastly opens well next weekend, and folks aren't going to remember Number Four, let alone turn it into a franchise. Give the DJ Caruso flick $37.7 million after two weekends of release.

Bieber Fever is alive again (at least it was on Friday) as Paramount has already released a director's cut of the Never Say Never concert film. That must be a record for a release of a director's cut, as the original was only in theaters for 14 days. The cash grab worked, as Never Say Never earned $9.2 million this weekend, off a not bad 31% compared to the long weekend. It's also showing much better legs than the Hannah Montana concert film ever did. The Hannah film fell from $10 million in weekend two to $3 million in weekend three, so Paramount should be ecstatic about the hold. Give Bieber a running total of $62.8 million against a budget of only $13 million.

Oscar finally rears it head in seventh this weekend, as The King's Speech continues its remarkable run. After dropping only 10% in the last frame, the Colin Firth film does even better this weekend, earning $7.6 million and increasing 17%. Oscar night should prove extremely eventful for this one, so expect the current total of $114.5 million to increase further next week and weekend.

Big Momma: Like Stupid and Stupid finishes eighth. It earned $7.5 million and fell a not nearly enough 54%. Give the $30 million Fox film $28.6 million so far. 20th Century Fox should be fined for releasing this trash.

Drive Angry backfires this weekend, as it is quickly becoming apparent to audiences that Nic Cage makes many more bad movies than he makes good ones. Drive Angry actually improves on the norm as far as reviews o, but after Season of the Witch, The Sorcerer's Apprentice, G-Force and Bangkok Dangerous, who is really going to support this guy? Drive Angry was tracking to open in the mid-teens, but instead earns a laughable $5.1 million. Drive Angry was 47% fresh at RottenTomatoes (which should be considered very good for Cage lately), but it didn't compel his audience to pay for a 3D movie ticket. IMDb lists a budget of $50 million – If Drive Angry makes $10 million in theaters, how many $2.99 DVDs will it have to sell at WalMart to be profitable?

Finally in tenth is The Roommate, our number one film four weekends ago. The Roommate earned $2 million this weekend and dropped 49%. The Screen Gems release has now earned $35.9 million.

After an uptick last weekend, the box office goes back to its struggles in this frame. The top 12 earned $97.2 million this weekend, which is pretty awful in comparison to last year's $122.1 during the same frame - a 20% decline. Next weekend should improve things as we have the animated Rango, the Matt Damon sci-fi The Adjustment Bureau, Beastly for teen twilight freaks, and Take Me Home Tonight, an '80s comedy.