Friday Box Office Analysis
By Tim Briody
February 26, 2011
BoxOfficeProphets.com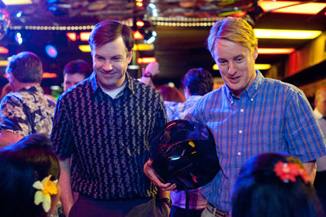 ---
Hall Pass? Fail!

[tm:3023_]Hall Pass[/tm]

The Farrelly Brothers' Hall Pass is on top on Friday with $4.6 million. This is actually the same opening day earnings as their last film, 2007's The Heartbreak Kid. That had a 3.0 multiplier on its way to a $14 million weekend, though that fate is probably way too good for Hall Pass - especially with the Academy Awards on Sunday, though Oscar viewers and Hall Pass viewers probably do not have much of an overlapping Venn diagram. Let's give it $12.4 million for the weekend.

[tm:5048_]Drive Angry[/tm] 3D

Two months, two bombs for Nicholas Cage. Unlike [tm:2998_]Season of the Witch[/tm], Drive Angry doesn't even get the privilege of opening in the top three, instead finding itself in ninth on Friday with $1.6 million. Call it $4.4 million and let's all forget this happened, okay?

Notable Holdovers

Less than a million behind Hall Pass, the possibility is there for Unknown to spend a second weekend at number one. It fell 41% from last Friday to $3.9 million, so it's not quite Taken's Friday-to-Friday decline of 34.1% but it's still pretty decent. The only caveat against it being #1 this weekend is again the Oscar telecast, as that's more likely to affect Unknown than it is Hall Pass. It should end up ahead of Hall Pass for the weekend, barely, thanks to a strong Saturday. Look for a second weekend of $12.9 million.

Also of note, [tm:5079_]I Am Number Four[/tm] falls 48.3% to $3.1 million, [tm:5080_]Big Mommas: Like Father, Like Son[/tm] is off 57% from last Friday to $2 million and a week after a 70% Friday to Friday decline, [tm:5081_]Justin Bieber: Never Say Never[/tm] is only off 29% to $2.7 in its third weekend, helped by the 3D only "director's cut" containing 40 minutes of new footage. I will never understand kids.