Weekend Wrap-Up
Presidents' Day Brings the Known Unknown
By John Hamann
February 20, 2011
BoxOfficeProphets.com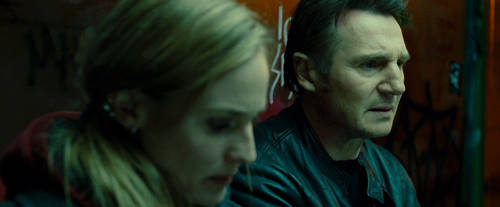 ---
This is just what we need to solve the box office blues – a nice long weekend in the middle of February. I've got the box office blues because last weekend left us with a battle for top spot between Justin Bieber and Adam Sandler, and despite solid results, those names never equal victory. This weekend, Liam Neeson and Steven Spielberg are big names in the top ten, but so are Martin Lawrence and something called Alex Pettyfer. Thus, there is some good, some bad, and more than a little indifference. Openers this weekend include I Am Number Four, the new DreamWorks film (they're ba-ack), Unknown, a Taken hopeful, and Big Mommas House 3, something I just don't want to know about.

It was a close race to number one over the Presidents' Day Weekend, as two openers did worse than expected, and the other over-performed. Our (surprise) number one film of the weekend is Unknown, and if you're feeling a little "Taken" by this result, you are not the only one. Once again, Liam Neeson has a film busting out in February, as Unknown pulled in $21.8 million from 3,043 venues over the Friday-to-Sunday portion of the long weekend. It earned a venue average of $7,154. Neeson's last breakout success in February was Taken, the revenge thriller that opened to $24.7 million on January 30, 2009. While not a huge opener, Taken dropped only 17% in its second weekend, and dropped only 8% in weekend three. It went on to earn a goofy $145 million domestically (or almost six times its opening), and $225 million worldwide. Unknown, much like Taken, wasn't a very expensive film to make. Taken cost Fox $25 million to make; Unknown cost Warner Bros. $30 million – a number it won't be far from attaining following end of business on Monday.

What made Unknown work so well? The answer is simple enough – it was packaged and released to look like a Taken clone, down to the movie poster. Reviews were also very similar, with critics saying that Neeson is the best thing about both outings. 116 reviewers saw Unknown, and 65 gave it a thumbs up – giving the flick a 56% fresh rating. Taken wasn't much different – it was 57% fresh – and both films may have found that critical sweet spot between extremely well made and very accessible. This is surprising, as Unknown is from director Jaume Collet-Serra, who did the funny Orphan and the laughable House of Wax.

Liam Neeson has made some interesting choices throughout his career, and rightly or wrongly, his name brings credibility to films. In the '80s and '90s, Neeson appeared in some interesting films, like John Boorman's Excalibur and The Mission with Robert DeNiro. He was great in Sam Raimi's Darkman and Woody Allen's Husbands and Wives. Then Spielberg landed him for the role of Oskar Schindler, which made Neeson an international superstar, as Schindler's List made $321 million worldwide in 1993. The rest of the '90s were fairly quiet for Neeson, before stepping into Star Wars: The Phantom Penance, and we all know that George Lucas killed off the best characters in the first film, abandoning any hope for the franchise. Following that, Neeson appeared in some great films like Gangs of New York and Love Actually before taking on the villainous role in Batman Begins and the voice of Aslan in the Chronicles of Narnia series. Neeson has done a great job of staying in the limelight, making solid choices throughout his career. It looks like Unknown could be another of those great choices.

Finishing second this weekend is I Am Number Four, Steven Spielberg and DJ Caruso's most recent shot at launching the career of a young new star, a la Eagle Eye and Disturbia with Shia LaBeouf. Unfortunately for Alex Pettyfer, I Am Number Four didn't work as well as expected, but it still grossed $19.5 million to finish in the second spot this weekend. Number Four launched on 3,154 venues, and had an average of $6,183. This franchise wannabe is from the latest incarnation of DreamWorks, and the first film from the company distributed by Disney's Touchstone Pictures. I Am Number Four had a lot of things going for it, but likely finished second because of two reasons: lack of any name recognition whatsoever, and the fact that it was produced by Michael Bay.

Critics caught on that Bay was involved, and lambasted the movie. At RottenTomatoes, only 26 positive reviews were counted out of a possible 94, leaving Number Four looking like Number Two, with only a 28% fresh rating (top critics liked it even less, at 19% fresh). Despite the reviews, never count out a DJ Caruso film. As odd as that statement may seem, the director turned Disturbia, which opened to $22 million, into a $70 million hit (against a $20 million budget). He also turned September opener Eagle Eye into a $100 million film, despite a $29 million opening and some really bad reviews. The new and improved DreamWorks team was hoping to turn Number Four into a franchise, so without some serious legs, I highly doubt that's going to happen.

Gnomeo and Juliet finds itself in third this weekend, beating out both Adam Sandler and Justin Bieber. Thhanks to zero kid competition, the Disney flick earned $19.5 million, off only 23% compared to last weekend. Gnomeo and Juliet already has $50.4 million in the bank, not bad for a film that looks like it could have gone straight to VOD.

Finishing fourth is Just Go With It, last weekend's number one film featuring Sandler and Jennifer Aniston. Just Go With It benefited nicely from the Presidents' Day long weekend, as the Sony film earned $19.4 million and dropped 40%. The holiday on Monday will prop up holdovers this weekend, as Sunday business should behave more like a Saturday, and increase the millions earned by the holdovers. Normally, a Sandler flick would drop about 50% (partly due to making bad films, partly due to the Sandler-fanboy success his films see in their first weekend). Made for $80 million, this is another Sandler picture that is going to do just fine for Sony, likely pulling in $100 million domestic. For now, Just Go With It has earned $60.8 million.

I feel like I need a shower as I talk about the fifth place finisher, Big Mommas: Like Father, Like Son. It earned $17 million this weekend and should be seen by no one.

Sixth goes to the Justin Bieber movie. The 3D concert flick earned $13.6 million in its second weekend and dropped 54% - which is high, but not nearly the 100% I was hoping for. Hannah Montana dropped 67%. The Bieber flick has now earned $48 million.

Finishing seventh is The King's Speech, and it should be getting ready for what is likely to be a very successful Oscar night next week. After dropping only 6% last weekend, The King's Speech had another grand weekend, earning $6.6 million and dropping only 9%. What's left to say about this one? It crossed the $100 million mark domestically this weekend, and crossed the $200 million mark on the worldwide stage, all against a $15 million budget. The news simply can't get much better for this one. Those Weinstein boys are back.

Eighth goes to The Roommate, and I find it hard to believe that I would see this before TWO other films in the top ten. In its third frame, the 6% fresh Roommate earned another $4.1 million and dropped 50%. The $16 million Screen Gems product has doubled that production budget, as it has a gross so far of $32.7 million. For those still playing at home, this was our number one film two weekends ago – look it up, I'm serious!

Channing Tatum and the bird, I mean Eagle, finishes ninth. The small Focus Features film earned $3.6 million and dropped 59%. This one is going to be a loser for the studio, as it has only earned $15 million so far against a budget of $25 million.

Finally in tenth is No Strings Attached, the Natalie Portman rom-com. No Strings earned $3.1 million this weekend, off 46% from last weekend. The Paramount release has now earned $66 million, against a tiny budget of only $25 million.

Overall this weekend, things were looking good, as we're 7% ahead of the same weekend last year. This weekend, the top 12 coughed up $130.8 million, which is very favorable when compared to last year's total of $122.1 for the same weekend. Next weekend, Nic Cage returns in Drive Angry, and The Farrelly Brothers release Hall Pass. Could be interesting.