The Amazing Race Season 18: Pre-Game
By Daron Aldridge
February 20, 2011
BoxOfficeProphets.com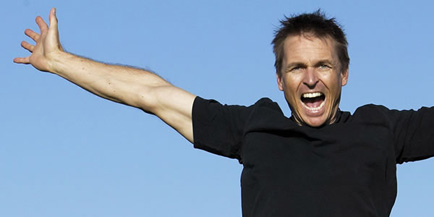 ---
Welcome back to the Amazing Race, friends. We are in store for a whole lot of familiarity with its second All-Star edition, subtitled "Unfinished Business." Given the consistent quality of this show, I have no problem with bringing back memorable teams and for the most part, Phil and company succeeded in its casting. The casting didn't include any previous winners, hence the ability to appropriately use the subtitle.

The part that lies outside of "the most part" for me is the inclusion of five teams from Season 14. There are only 11 teams to start off with and they populated almost half the cast from one season - and actually a disappointing season at that. Outside of the standout winners/siblings Tammy & Victor and runners-up Jaime & Cara, I don't remember being blown away by the racing skills of any of these teams. Alas, they didn't consult with me on their choices, so I will just have to enjoy the free entertainment this show provides. My fingers are crossed for more memorable antics from Season 14's teams aside from furthering deaf Luke's status as a villain, which just seems wrong.

First off, here is how the teams would rank based upon their previous placements:

1. Father and daughter Ron & Christina – 2nd place (Season 12)
2. Best friends and former NFL cheerleaders Jaime & Cara – 2nd place (Season 14)
3. Brothers and professional cowboys Jet & Cord – 2nd place (Season 16)
4. Mother and son Margie & Luke – 3rd place (Season 14)
5. Sisters LaKisha & Jennifer – 4th place (Season 14)
6. Harlem Globetrotters Flight Time & Big Easy – 4th place (Season 15)
7. Dating Goths Kent & Vyxsin – 5th place (Season 12)
8. Father and his School of Rock writer son Mel & Mike – 6th place (Season 14)
9. Father and beauty pageant daughter Gary & Mallory – 6th place (Season 17)
10. Engaged couple Amanda & Kris – 8th place (Season 14)
11. Best friends Zev & Justin – 9th place (Season 15)

So, if you are the type of person who thinks that this next go-round will play out for them with the same results as last time, then read no further. But let's be honest, the world and this race are not that predictable.

Here is a look at my initial power rankings of these teams and a brief explanation as to why I feel this way. Keep in mind; this is 100% guesswork (slightly educated guesswork since none of the teams are purely unknowns - aside from Amanda & Kris, who I didn't recall at all). Also, all opinions will of course have a tinge of preferential subjectivity. If you have read my recaps over the last three seasons, you will see that my affinity for some teams endures.

1. Globetrotters Flight Time & Big Easy (Season 15): Here is a team that shouldn't have been eliminated and gone out in fourth place but thanks to a pair of foolish mistakes during one Roadblock (trusting a competitor and taking a four-hour penalty in a close leg) that was exactly their fate. The first time around, these guys worked very well together as you would expect from playing on a team for their day job, but they also had possibly the best attitudes of any team prior and since toward each other and their opponents, excluding Dan, who flaked on Easy at the aforementioned Roadblock. I think that if they approach the race the same way this time, they will cross the finish line first unless…

2. Cowboys Jet & Cord (Season 16) also replicate their strategy, which gave them a second place finish. Along with Flight & Easy, the cowboys were the definition of how to work together as a TEAM (crazy thought, huh?). Even when they were spared elimination, they forged ahead and became the first and only team to ever go from back of the pack to first place, even with having to perform the extra Speed Bump. Their biggest threat is that everyone probably views them as the biggest threat. U-Turns likely await them at some point on the race. I wouldn't be surprised (or disappointed) if my picks for first and second place flip-flop because I think the Globetrotters and cowboys are my two favorite teams ever on the race.

3. Former NFL cheerleaders Jaime & Cara (Season 14): Every season (until the last one, thanks to Nat & Kat), there is a ton of talk about whether or not this would be the first time an all-female team was going to win. I remember thinking Jamie & Cara could have been that team. They strung together several strong showings after they got a few legs under their belt and if they can settle back into that groove, I can see them making it to the last leg.


4. Best friends Zev & Justin (Season 15): A team that is memorable for two reasons – Zev's Asperger's Syndrome and being eliminated for losing their passports. Their ninth place finish doesn't do them justice as competitors. First, in only four legs, Zev showed that his diagnosis was not an obstacle at all and he actually adapted very well to traveling and new situations, which was a huge question mark for him. Second, it is easy to forget that while Justin misplacing the passports was the biggest mistake they could make, they were actually in first place comfortably when they tried to check in with Phil sans travel documents. I think they could and will show they are a better team that shouldn't be defined by their one ginormous error.

5. Mother/son Margie & Luke (Season 14): Like the cowboys and Globetrotters, Luke and his mom also have a U-Turn-shaped target on their backs. Unlike the cowboys and Globetrotters, it is there not because of their competitive threat but simply because people don't like them. Regardless of whether you think it was justified or not, hearing impaired Luke was painted as the villain of his season. This isn't Survivor, so there isn't a need to make people like you but there was so much ill will between them and another team, it could rear its head here. As long as they work together again with the stronger team of Jamie & Cara, they will again outplace their arch nemesis team of…

6. Sisters LaKisha & Jennifer (Season 14): They raced hard and were at odds with Luke often. I think that was part of their downfall. They focused too much on beating one team and lost sight of needing to beat all the teams. You may not like another team but don't let that cloud your focus. I fear that the old feelings will boil to the top and they will be out-raced by Margie & Luke...again.

7. Father/Daughter Ron & Christina (Season 12): I am reluctant to rank a team that previously finished second, so low but I don't have much confidence that they can produce the same amount of strong finishes they racked up in their season. Aside from eventual winners TK & Rachel, the field of competitors was not that impressive as I recall (or don't recall, thanks to leaving little to no impression on me). They should be able to do well but end up right in the middle of the pack. Yet that is still ahead of fellow season 12 team...

8. Dating Goths and color pink enthusiasts Kent & Vyxsin (Season 12): Here is a pair that I believe will replicate their previous strategy and yield far different results. Last time, they didn't surprise viewers with their attempts to shock us with their appearance but rather with how strongly they performed in spite of their occasional dust-ups, which is reminiscent of last season's tattooed pair Nick & Vicki, who should never have lasted as long as they did. This time around, I believe there are too many better teams that will be able to capitalize on their potential disharmony to sneak past them.

9. Engaged Amanda & Kris – 8th place (Season 14): I must be honest here and say that Amanda & Kris are the biggest wild cards for me because I cannot recall how they ran the race the first time around. In fact, they were the only team that I didn't even recall after seeing their picture and reading their introduction interview for this season. Now I only vaguely recall them as the team that was U-Turned by "allies" Margie & Luke and eliminated. Also, they have transitioned from being labeled as "Dating" to "Engaged." So congratulations on that but I have to put you low on my rankings.


10. Father/daughter Gary & Mallory (Season 17): Despite a decent showing last time, Miss Kentucky and her daddy have their work cut out for them and I don't think they will be able to make it past the first couple of rounds.

11. Father/son Mel & Mike (Season 14): The final season 14 alumnus team takes the spot at the bottom of the ranking. This is hard for me to do because I did enjoy watching them last time. They weren't particularly competitive but they were entertaining and displayed an appreciation of each other. Unfortunately, Mel is now easily the oldest racer at 70 and his son Mike doesn't exactly have the physicality to pick up that slack. That is why I am placing them so low but I would love to be wrong about them.

So there are my thoughts of how these teams rank before getting a single glimpse at the effectiveness of their race strategies. I may be spot-on or miss by a mile but I look forward to watching to find out.