The Calvins: A Ten Year Retrospective
By Reagen Sulewski
February 19, 2011
BoxOfficeProphets.com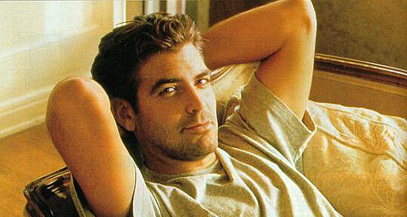 ---
Looking back over the history of the Calvins, one thing seems pretty clear – George Clooney should get a restraining order against us.

Over the course of out ten years of voting, Clooney sticks out as a clear and consistent favorite of our voting process, named as a top ten finisher ten different times, across acting, directing and screenwriting categories. He's also won three times, tied for the most wins by a person in our history with Peter Jackson, but he's unique in being the only person to win across multiple categories, let alone to claim wins in directing, writing and acting categories. There could be a couple reasons for this – perhaps it's his incredible talent across all aspects of the movie industry, or maybe it's just those dreamy eyes, and it's our way of getting him to notice us. Either way, call us, George!

It's not even really a close contest, either. Going over the all-time lists, his next closest competitors sit all the way back at seven nominations each. Christopher Nolan and Peter Jackson also accomplish these numbers by going across categories, but should probably learn to act if they want to have a hope of catching Clooney.

The all-time, All-Calvins list of top 10 finishes, where individuals are named, save Worst and Breakthrough (number of wins in parentheses):

Ten Nominations
George Clooney (3)

Notes: As mentioned above, Clooney has wins in Best Actor, Best Director and Best Screenplay. If he learns to write music, we're in trouble.

Seven Nominations:
Peter Jackson (3)
Christopher Nolan (2)

Notes: Jackson's wins were back-to-back-to-back, for the Lord of the Rings trilogy, with six of them coming for directing and writing those films. With the arrival of the Hobbit films next year, Jackson has a shot at topping this; then he has to start "finding" lost manuscripts of Tolkien. Nolan holds the current record among the Calvins for longest time between wins, taking a screenplay prize back in the first year of the awards for Memento, then winning again for director two years ago for The Dark Knight. That project of his in 2016 is going to be special.

Five Nominations
Amy Adams (1)
Meryl Streep (1)
Kate Winslet (1)
Matt Damon
Wes Anderson
Joel and Ethan Coen
Quentin Tarantino

Notes: As a group, we tend to cluster our actress votes more than actor votes, which is in large part symptomatic of the dearth of quality roles for women in film relative to men. Amy Adams is quickly emerging as Kate Winslet 2.0, with mentions in 2006, 2008, 2009, 2010 and 2011. Writer/directors loom large here, with three of the more highly acclaimed double-threats appearing.

Four Nominations
Natalie Portman (1)
Jason Reitman (1)
Robert Downey Jr.
Cate Blanchett
Nicole Kidman
Tilda Swinton
Paul Thomas Anderson
Alexander Payne
Brad Bird

Notes: Reitman is another stealthy rising favorite, with his four mentions coming from three films since 2007. Another cluster of actresses here reflects similar things to the five nomination crowd. As well, we have four more writer-directors, with Brad Bird playing the role of hard-luck loser – collecting two second places for The Incredibles and two third places for Ratatouille.

Three Nominations
Paul Giamatti (2)
Leonardo DiCaprio (1)
Anne Hathaway (1)
Naomi Watts (1)
Renee Zellweger (1)
Andrew Stanton (1)
Charlie Kaufman (1)
Ben Affleck
Clive Owen
Don Cheadle
Mark Ruffalo
Phillip Seymour Hoffman
Russell Crowe
Sam Rockwell
Sean Penn
Stanley Tucci
Keira Knightley
Patricia Clarkson
Samantha Morton
Taraji P. Henson
Fran Walsh & Phillipa Boynes
Edgar Wright
Judd Apatow
Alfonso Cuaron

Notes: Giamatti has the highest batting percentage of anyone with more than one nomination, winning in back to back years in Supporting Actor for Cinderella Man, then in Actor for Sideways. Since then, while he's done roles theoretically worthy of being noticed by us, they've been in movies obscure enough that we haven't gotten to them in time. Such is the flow of the Calvins. The actor/actress imbalance starts to straighten out here, although one actor/director (Affleck) sneaks in (Penn's mentions are all for acting). Charlie Kaufman, along with Walsh & Boynes, are the most highly decorated pure writers in Calvins history, though Walsh and Boynes get the Jackson asterisk attached to them.

Calvins tendency seems to be to pick a favorite film and run with it, letting it pile up a number of awards. Below are the most lauded films in Calvins history ($ indicates number of awards won in categories no longer awarded by us):

Six Wins
Eternal Sunshine of the Spotless Mind

Five Wins
Good Night, and Good Luck $
The Queen
The Social Network

Four Wins
The Lord of the Rings: The Fellowship of the Ring $$
The Lord of the Rings: The Two Towers $
Lost in Translation
The Lord of the Rings: Return of the King $$
The Dark Knight

Three Wins
The Royal Tenenbaums
About a Boy
Adaptation
Sideways
The Departed
No Country For Old Men
Juno
WALL-E $
Up in the Air
Inglourious Basterds

Two Wins
The Bourne Ultimatum
Up
The Hurt Locker
Exit Through the Gift Shop
The Fighter

As much as we enjoy piling on some of our favorite terrible actors, we've in general been decent about spreading out the "wealth." Only a few actors have felt our wrath on multiple occasions. Below are the most frequently mentioned worst performances, with wins in parentheses:

Three Nominations
John Travolta
Mike Myers
Nic Cage

Two Nominations
Megan Fox (2)
Halle Berry (1)
Paul Walker (1)
Arnold Schwarzenegger
Ben Kingsley
Hayden Christensen
Jessica Alba
Shia LaBeouf
Taylor Lautner
Will Farrell

Over the years, we've also had a number of close races – so many so, that to get our attention as being particularly tight, we're not even interested in hearing about it if you're as many as four points out from first place. That's right, we're that heartless. The closest photo-finishes in Calvins history are below:

One Point
2002 Screenplay – Memento vs The Royal Tenenbaums
2004 Worst Performance – Paul Walker (2 Fast 2 Furious) vs Ben Affleck (Daredevil)
2005 Supporting Actress – Virginia Madsen (Sideways) vs Cate Blanchett (The Aviator)
2006 Worst Performance – Kristianna Loken (Bloodrayne) vs Nicolas Cage (The Wicker Man)
2008 Scene – Ratatouille vs Once

Two Points
2005 Worst Performance – Halle Berry (Catwoman) vs Sharon Stone (Catwoman)
2005 Special Effects – Sky Captain and the World of Tomorrow vs Spider-Man 2
2007 Music – A Prairie Home Companion vs Children of Men
2010 Actor – George Clooney (Up in the Air) vs Jeremy Renner (The Hurt Locker)

Three Points
2002 Actor – Gene Hackman (The Royal Tenenbaums) vs Russell Crowe (A Beautiful Mind)
2005 Supporting Actor – Benicio Del Toro (21 Grams) vs Sean Astin (The Lord of the Rings: The Two Towers)
2007 TV Show – Battlestar Galactica vs The Office
2008 Worst Performance – Jim Carrey (The Number 23) vs Nicolas Cage (Ghost Rider)
2008 Overlooked Picture – Hot Fuzz vs Once
2009 Screenplay – WALL-E vs In Bruges

We've also had some runaways in our history, with five Calvins winners more than doubling their runner-up's point totals. The most lopsided victories in the Calvins are as follows:

2010 Scene – Up vs The Hangover – 136.54%
2004 Breathrough Performance – Keisha Castle-Hughes (Whale Rider) vs. Scarlett Johansson (Lost in Translation) - 130.40%
2002 Worst Picture – Planet of the Apes vs Lara Croft: Tomb Raider – 129.00%
2009 Worst Picture – The Happening vs 10,000 B.C. - 113.88%
2007 Supporting Actor – Michael Sheen (The Queen) vs Alan Arkin (Little Miss Sunshine) - 112.50%

Until next year.