Friday Box Office Analysis
By Kim Hollis
February 19, 2011
BoxOfficeProphets.com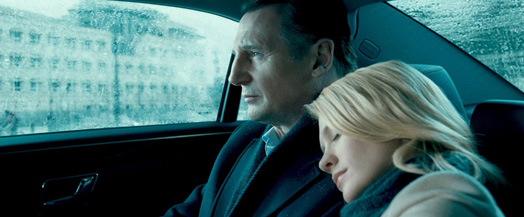 ---
This week's new films include a movie that looks a lot like a surprise blockbuster from two years ago, a young-adult targeted flick and a sequel that very few people wanted. Could they keep the box office hopping in the aftermath of Adam Sandler and Justin Bieber?

Unknown

Unknown, the Liam Neeson thriller that wants so badly for people to associate it with his previous hit Taken that the tagline is "Take back your life," earned $6.7 million on Friday. This isn't quite so solid as the $9.4 million that Taken earned on its first Friday, but that's likely because people can sense that there's a little bit of desperation in this type of marketing pitch. Even so, $6.7 million is a good enough number for Warner Bros., particularly since the budget on the film was only $30 million. Given that we've got a holiday weekend with the President's Day holiday falling on Monday, Unknown should perform slightly better than it would on a normal Saturday-Sunday. A three-day total of $21.4 million will put it well on its way to being highly profitable. The interesting question will be whether it can hold up like Taken - both films have almost identical ratings at Rotten Tomatoes, so word-of-mouth might be similar.

I Am Number Four

It's kind of a theme this weekend that new movies seem to look a lot like other movies. In the case of I Am Number Four, its marketing was reminiscent of Jumper and Push, which is to say it looks like fairly generic sci-fi targeted to the youth movement. I Am Number Four's Friday total was smack dab in the middle of both of those films' Fridays, as the new release earned $6.2 million, which is better than Push's $3.5 million but worse than Jumper's $8.7 million. The Alex Pettyfer film is looking at a weekend total of $19.2 million, which is probably about in line with expectations.

Big Mommas: Like Father, Like Son

I'm not even going to spend more time on this atrocity than I have to, so let's just say it earned $4.8 million on Friday and should have a weekend total better than it deserves. It should be able to nab $13.9 million.

Notable Holdovers

Just Go With It drops 47% from last Friday to $5.2 million. That's not too terrible, really, and the film should have a second weekend total of $16.8 million, maybe even a little better. Gnomeo and Juliet outperforms Justin Bieber on Friday, falling only 30% to $4.3 million. It should have a nice three-day total of $14.6 million. Finally, the Biebs falls 69% from last Friday, which was totally expected. It should wind up with $11.3 million.