Weekend Forecast for February 18-21
By Reagen Sulewski
February 18, 2011
BoxOfficeProphets.com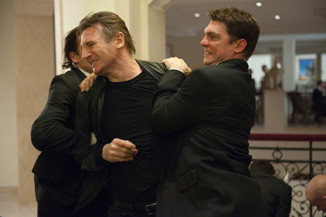 ---
While February box office has come a long way in ten years, studios are still reluctant to throw their top shelf projects out in the dead of winter. Instead, we get the second-tier franchises, quasi-sequels and series that are stabbing for their last gasp at relevancy. This is the big "wait for on demand" weekend.

If a movie could send another movie a Valentine, Unknown would be filling up Taken's hand-made cardboard box with mash notes and cards saying "I Choo-choo-choose you!". There's no direct connection between the two films other than each having Liam Neeson in the lead role, but the films couldn't look more similar in tone or style without Luc Besson filing a lawsuit.

Neeson again takes on the role of a vengeful man bent on vengeful vengeance in a European setting. This time, instead of a wayward daughter, he's out for himself after his identity is stolen following a car crash. Even his wife, January Jones, can't remember him, though it's not difficult to believe that she just genuinely forgot. With the help of a local woman (Diane Kruger) he goes out to kick ass and take names – specifically, his own – uncovering the conspiracy behind his "disappearance".

Directed by Jaume Collet-Serra, who was behind one of the great ridiculous movies of the last couple of years, Orphan, Unknown is promising that same kind of action-thriller experience as Taken, which took everyone by surprise a couple of years ago by being one of the leggiest films in some time, presumably by finding a dead spot in the release schedule. That's not quite the same situation Unknown finds itself in, with three $25 million openers just last week, though there is a dearth of action films out in the marketplace right now.

For the case of a sequel to a surprise hit, it would make a lot of sense to look at the final box office total in relation to its opening weekend and predict at least a small step up in box office. For a quasi-sequel like this, the relationship isn't so clear, and depends on how effective Unknown can be at convincing audiences that they're in for the same experience. One line in particular "I remember how to kill you", seems calculated to evoke the "particular set of skills" monologue from Taken. Then again, Neeson's newly minted status as action hero didn't help The A-Team much at all last summer, with it barely receiving any uptick at all from Taken's opening weekend. I think we're looking at a similar thing for Unknown, which should start out with a solid $26 million over three days, and $30 million over the Presidents' Day Weekend.

One of the problems our next film, I Am Number Four, will face is the prospect of traveling well-trod ground. This is at least the third kick at the can for the "young adult" superpowers idea, following Jumper and Push, and it also has to deal with the wake of TV series like Heroes and the imminently failing No Ordinary Family and The Cape. This is a concept with a lot of baggage. The good news: at least a couple of those things were at least temporarily successful.

In theory, this also comes in a little premade success, coming as it does from a moderately popular teen novel series written under a pseudonym by James Frey and Jobie Hughes(yes, that James Frey). Of course, being based on a novel didn't help Jumper. The film stars the latest young actor Hollywood's trying to push on us, Alex Pettyfer, as the title character, a member of a team of teens with special abilities on the run from a mysterious organization that's trying to eliminate them. As he attempts to blend in to normal society, various CGI-filled battles occur, to the enjoyment of people who like that kind of thing.

Directed by D.J. Caruso (he of Disturbia and Eagle Eye, but also the criminally underrated The Salton Sea) and co-starring Tim Olyphant and Dianne Agron (of Glee fame), the combination of sci-fi action and a vaguely romantic sideplot have this film primed for at least modest success. Reviews alone would sink it, but then this isn't a particularly discriminating audience. Lacking the star power – such as it was – of Jumper, but with a bit more of a hype machine behind it, I Am Number Four should at least approach Jumper's $24 million opening over three days and $28 million over four.

Thirdly, we have... oh no. Oh no no no no. This can't be! Unnnnggghhh! Martin Lawrence? How (arrrrghhGHgh!) could you?! Big Momma 3? Aaaahhgh!! And a step-son? RAAggggh... cinematic abomination... curse you, Tyler Perry... Aaauugh!... who's still watching these... can't... ponder this... anymore without... permanent brain damage... $12 million.

Phew. Just made it through that one. This brings us to the holdovers, which for the most part are a group of films that could use a net. Just Go With It won the weekend for Adam Sandler by the tiniest of margins over Justin Bieber's concert film. While that order should stick this weekend, it'll be further down the box office charts, as Sandler's films of late have not shown anything resembling legs, save for Bedtime Stories, which opened at Christmas. Everything else that could be considered recent has fallen anywhere between 44 and 65 (!) percent in its second weekend. With Just Go With It receiving some fairly harsh reviews and word-of-mouth, I have to think it will land towards the bottom of that scale, or at best in the middle, dropping to about $16 million over the long weekend.

Let's do a little thought experiment with Never Say Never: how many of Justin Bieber's rabid pre-teen fans do you imagine waited on purpose for the second weekend of his film being in theaters? See my point? Of course you do. Never Say Never should fall from its $29 million opening to around $9 million this weekend.

Gnomeo and Juliet, meanwhile, actually has a chance to not be horrible in its second weekend. While it didn't receive great reviews, it's practically Toy Story compared to the other new releases from last weekend, and as the main kiddie option out there, should at least fare well for a couple of weeks. This weekend should bring it about $18 million.

The King's Speech remains the last Oscar nominee with any kind of significant weekly box office, and should cross $100 million this weekend with another $7 million performance. However, Black Swan has also just passed that same plateau, and True Grit now looks like a $175 million film. Also not to be dismissed is The Fighter, which is inching towards $90 million, though even with multiple Oscars probably can't get to $100 million.