Weekend Wrap-Up
Sandler and Bieber bring the box office back to life
By John Hamann
February 13, 2011
BoxOfficeProphets.com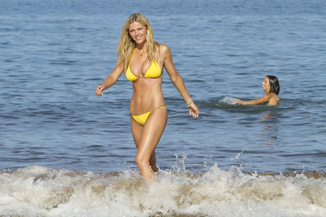 ---
The box finally was able to breathe a sigh of relief this weekend, as fortunes turned back to the positive - it's too bad a Justin Bieber gimmick was one of the movies to turn things around. Things were still just as bad on the movie quality side, as the only film garnering decent reviews this weekend was – wait for it – the Justin Bieber concert movie. Other openers included Adam Sandler and Jennifer Aniston in Just Go With It, or more aptly, Just In Time For Valentine's Day; Gnomeo and Juliet, a 3D film about garden gnomes; and The Eagle, an old school historical action epic "starring" Channing Tatum. I'm happy the doldrums have been cast off of the box office, but did it really have to go like this? Justin Bieber, Adam Sandler and Channing Tatum? God hates me, I'm sure.

Adam Sandler's Just Go With It takes the top spot, as it was a solid Valentine's Day choice for couples celebrating over the weekend. Just Go With It earned a respectable $31 million from 3,548 venues, and had an average of $8,737. For Sandler, Just Go With It is at the lower end of his opening spectrum, but we have to remember that it is February and not June, and that this should really be looked at as a four-day gross, as Valentine's Day lands on Monday, where it is sure to have a very strong outing. Sandler's 50 First Dates was also a Valentine's opener, but that big day fell on a Saturday in 2004. 50 First Dates grossed $10.5 million on the Friday, which ballooned to $19.8 million on the Valentine's Saturday. Had Dates not had Valentine's on Saturday, the gross would likely be similar or less than that of Just Go With It.

Just Go With It cost Sony $80 million to make, a figure this one should have no trouble recouping. The Sandler comedy should already have $35-$40 million in the bank following Valentine's Day, and then will enjoy at least a better-than-average hold with President's Day falling next weekend. While critics didn't enjoy Just Go With It, audiences seem to like it. RottenTomatoes counted 80 reviews, and found only 15 that enjoyed the film, giving the rom-com a rating of only 19% fresh. Cinemascores, on the other hand, were the complete opposite – the overall rating was an A-minus, with females giving it an A. This surprises me, as the marketing seemed to be centered around Brooklyn Decker channeling Bo Derek in Blake Edward's 10, and Sandler plays a man who avoids commitment by faking being married. Based on that female Cinemascore, if you can't guess how this one ends, you should stop going to the movies. Regardless, Just Go With It will earn $100 million for Sony, and then make a similar amount overseas.

Second place goes to Justin Bieber: Never Say Never (remember, folks: it's just a movie. Don't go all Jim Jones on me). Whether I like it or not, Justin did very well this weekend at the box office, taking in a Hannah Montana-like $30.3 million. The 3D concert/bio flick opened at 3,105 venues, and earned a venue average of $9,746. Tracking didn't know what to do the Bieber fan base, but guessed at a $30 million or less number after being embarrassed by the Jonas Brothers flop ($12.5 million open, $19.2 million finish). That number turned out to be dead on. Reviews were surprisingly good, with 34 out of a possible 54 finding something to like (or buying into the manipulation), leaving the Bieb with a 63% fresh rating. This commercial was bought by Paramount for $13 million, and they are already seeing real dollars in return.

Justin Bieber almost earned that budget back on the first day of release. Never Say Never took in $12.2 million on Friday night alone, as the fanbase ate it up on the first day. The question following Friday was whether it would follow the Hannah Montana pattern, the Jonas Brothers pattern, or neither. Hannah Montana/Miley Cyrus: Best of Both Worlds opened to $8.7 million on its first Friday – a number the folks at Disney were thrilled with, until they saw the Saturday number and were over the moon. Hannah Montana pulled in another $13.1 million on Saturday – an increase over Friday of 51%. Even the Sunday out-grossed the Friday. The Best of Both Worlds movie enjoyed a weekend multiplier of 3.6, and started the fad. The Jonas Brothers opened with a much lower $5 million on their opening day, and never saw a higher number. The 3D concert experience finished with a weekend multiplier of 2.5, and followed the weekend with a 77% plunge. The Jonas Brothers went from hot, to not, in a weekend. With the Bieber film, the result was more along the lines of the Jonas Brothers film, although you do have to remember that Hannah Montana was billed as a one-weekend-only event. The weekend multiplier for Never Say Never was 2.48, and we'll have to wait to see how it holds up next frame. The low 2.48 might indicate a heavy fall is in the offing.

Gnomeo and Juliet finishes third this weekend, as the February movie lineup is pushing me to move to Antarctica. The Disney-then-Miramax-then-Disney film took in $25.5 million this weekend from kids that are either too young for Bieber madness (I would also say too smart, but they chose this instead – enough said). The 3D release opened at 2,994 venues this weekend and had an average of $8,517. Mixing Shakespeare and garden toys in the Toy Story model might look good on paper, but do kids really want to see this? I think Disney should be really happy with this result, as this could have gone the way of Planet 51 ($12.2 million opening), Alpha and Omega ($9.1 million opening), or worse. Kudos to the Disney marketing machine for bailing this one out. Critics were mixed on Gnomeo and Juliet, with 50 out of 92 finding something to like, leaving it with a 54% fresh rating. No budget data is available, but if it looks cheap, it probably is. Despite this being the first real kid's picture since Yogi, and the only one on the slate until March, I still expect Gnomeo to fade fast.

Fourth goes to the last of our four openers (yes, we were desperate for new product), Focus Features' The Eagle. Starring Channing Tatum, Focus Features is discovering quickly that most people couldn't pick their star out of a lineup. The Eagle debuted to only $8.6 million from a too-wide 2,296 venues. It had a sad venue average of $3,741. Romans fighting, without the 300 look, or many effects whatsoever, and starring GI Joe. Who did Focus think was going to attend this one? I am floored that it made as much as it did this weekend. If they were aiming for an older crowd they should have made a better movie – this one was only 33% fresh at RottenTomatoes, and will likely find itself at the back of the pack by next weekend.

Fifth goes to The Roommate, which held better than it had any right to. The Roommate earned $8.4 million in its second weekend, following a first place finish with $15 million last weekend. The Screen Gems release fell a respectable 44%, and reaffirms my plans to move either very far north or very far south as soon as possible. The $16 million horror flick has now earned $26 million, and is another winner in the goofy library of PG-13 horror that Screen Gems has amassed.

The King's Speech spent Wednesday and Thursday in the number one spot – the first time the Best Picture nominee had accomplished that feat - before running into four openers and The Roommate to finish sixth this weekend (I hear the hinterland is nice this time of year). The King's Speech earned $8.4 million and thankfully dropped only 4% compared to the previous weekend. Now in wide release for eight weekends, The King's Speech has amassed $93.9 million domestically, and has a similar amount earned overseas. All of this against a budget of $15 million – that's earnings so far that equal 10 times the production budget.

No Strings Attached falls to seventh, but still holds well despite the addition of Just Go With It. The Natalie Portman starrer earned $5.6 million in its fourth weekend, and dropped only 29%. The $25 million Paramount production has now pulled in $59.9 million.

Sanctum finishes in eighth place, with the 3D movie with James Cameron's name attached as Executive Producer dropped 46% to $5.1 million. People aren't really finding much reason to see this flick, as reviews are tepid and the subject matter is pretty dull. Sanctum's total after two weekends is $17.5 million.

Ninth goes to True Grit, which manages an eighth consecutive weekend in the top 10. True Grit earned $3.8 million this weekend, and dipped 19%. With the Oscars still two full weekends away, True Grit will pad the $160.3 million it's earned so far, and with some wins, could pull the domestic gross up to $175 million.

Finally in tenth is The Green Hornet, the Seth Rogen action/hero film that's been hanging around since January. The Green Hornet earned $3.6 million this weekend, falling 40% from last frame. The Green Hornet has taken in a very respectable $92.3 million, which would look a lot better if the film's budget hadn't skyrocketed over the years to $120 million. Still, it's looking to be a profitable venture once ancillary revenues are figured in.

Overall this weekend, the box office pulled out of its funk, but at what cost to the people seeing these movies? All kidding aside, the weekend was strong, with the top 12 earning $142 million. We haven't seen a top 12 do that well since Christmas, and puts last weekend's $75 million frame behind us. A year ago, Valentine's Day mixed with President's Day and made $189 million. With the calendar setup different this year, comparisons aren't as strong. Next weekend brings some interesting films out for the President's Day frame. Openers include I Am Number Four (despite being directed by DJ Caruso), Unknown with Liam Neeson who dominated February box office a few years ago with Taken, and Big Momma's House 3.