Weekend Wrap-Up
Lack of Choices Propels Roommate, Sanctum
By John Hamann
February 6, 2011
BoxOfficeProphets.com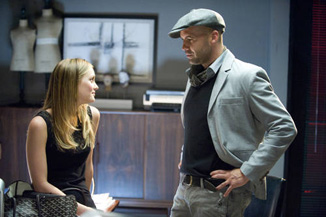 ---
It's kind of sad, really. The release of any form of interesting movie seems to have ground to a standstill, and when that happens, any new kind of filmed dredge tends to float to the top of the box office. With Oscar nominations out, and the Super Bowl upon us, new releases are of the ultra-lame variety this weekend. Openers include a Screen Gems PG-13 horror flick (you know, for kids!) called The Roommate (scary title), and Sanctum, a 3D spelunking movie. The best thing that could have happened this weekend would be these two duds failing badly, but no, both will make money for their studios, and we will repeat this lame game a year from now.

Our number one film of the weekend is, unfortunately, The Roommate from Screen Gems. From the studio that knows how to make money in the off-season, The Roommate earned more than expected this weekend, taking in $15.6 million from 2,534 venues. It had a venue average of $6,156. Tracking had the Leighton Meester (or is that Foghorn Leghorn?) PG-13 rated horror flick opening in the low-teens, so to beat that by a few million means something drew audiences this weekend. That something is likely the drought of films aimed at teens lately – especially females – as both No Strings Attached and Black Swan were rated R. As we say a lot in this column, I don't hate the fact that there's another PG-13 horror film out there, what makes me angry is that they are made so poorly. The Roommate, which was held back from critics, has only scored three positive reviews out of a possible 30 at RottenTomatoes, and likely won't get more positive reviews. This stuff is made for zombies.

Zombies or not, The Roommate is going to make some serious money for Screen Gems. According to The Hollywood Reporter, The Roommate was made for only $16 million (other sources say it was even lower, at $8 million), an amount it almost cleared in its first weekend. Screen Gems is notorious for this kind of success. One of my favorite examples is When a Stranger Calls, a ridiculously bad 2006 opener that cost the company $15 million to make and opened to $21.6 million. Remember Boogeyman? (it's okay if you don't). It opened to $19 million in the first weekend of February 2005 against a production budget of $20 million. Screen Gems has been trying to provide quality as of late, making Burlesque and Country Strong, but both those films failed financially, despite the effort. Next up for the small, Sony-based studio is Priest, based on a graphic novel and starring Paul Bettany, and Friends With Benefits, starring Mila Kunis and Emma Stone.

Finishing second this weekend is Sanctum, and if you turned on your TV this week, you know it's from Executive Producer James Cameron (snore). The caving movie also did better than expected this weekend, earning $9.2 million, more than the $6-8 million tracking was expecting. To me, this one comes off as a National Geographic spelunking movie, best suited for one of those slow (but profitable) IMAX earners. The 3D promise obviously got some folks out to theaters, and Cameron's name would have helped, but it didn't stop it from not being a very good movie. Sanctum earned 35 positive reviews out of a possible 113, giving it a 31% fresh rating. Critics liked the situation, but say the acting was so bad, they were put off.

Universal paid $12 million for distribution rights to Sanctum (which cost $30 million to produce) so this kind of opening should put a film like this in the black. Advertising for Sanctum would likely have been double that amount, so Universal will be looking for a $30 million domestic total (or more) to push this one into profitability. Sanctum will end up as a decent library title for the studio, and not much else.

Natalie Portman's No Strings Attached is third, as Natalie Portman enjoys her fifth consecutive weekend with a film earning more than $8 million. After an opening that approached $20 million and a second weekend that declined only 32%, No Strings Attached holds decently again this weekend, earning $8.4 million and dropping 37%. Being the Oscar flavor of the year, Portman is going to help two films earn more than $75 million, this one and of course Black Swan, which is willing itself toward $100 million. No Strings Attached cost Paramount only $25 million to make (Ashton Kutcher must work for free), and has a cume so far of $51.8 million.

Fourth spot goes to The King's Speech, likely the current Best Picture fave. The King's Speech had another solid weekend, earning $8.3 million, and declining only 25%. Now in wide release for seven weekends, The King's Speech amazing run toward Oscar is one for the ages. This small British film cost only $15 million to make, has earned $84.1 million domestically, and another $70 million overseas, where it's just getting started.

The Green Hornet finishes fifth, as the Sony film is enjoying a very quiet box office season. The Seth Rogen comic book flick is now in its fourth weekend, and earned $6.1 million. It was off a 45%, as the Super Bowl would have cut in to the fanbase on Sunday. So far, the $120 million Sony release has earned $87.2 million on the domestic front, and more than $60 million overseas.

Sixth goes to last weekend's number one film, The Rite, with Anthony Hopkins. After opening close to $15 million last weekend, the latest exorcism flick earned $5.6 million in its second frame. That gives it a weekend-to-weekend drop of 62%, an expected amount for a genre horror flick. Made for $37 million, The Rite will struggle to earn that amount domestically, but with the Hopkins brand, The Rite could pick up a few more bucks overseas. Its total right now is $23.7 million.

Seventh goes to another genre film, much like The Rite – this time it's Jason Statham in The Mechanic. Never meant to be a huge earner, The Mechanic managed to open above $11 million last weekend, and like The Rite, doesn't hold well in its second weekend. The Mechanic earned $5.4 million in its second frame and drops 53%, which will raise very few eyebrows. Made for $40 million, The Mechanic will do okay for CBS Films, as it has earned $20.1 million domestically so far, and is just getting started overseas.

Eighth is True Grit, now in its seventh weekend of release. True Grit earned $4.8 million this weekend, off 37% from last weekend. The western crossed the $150 million mark on Thursday, and is the second biggest western of all time (not adjusting for inflation), behind Dances With Wolves, which earned $184.2 million. True Grit is just getting started overseas, but has a domestic cume now of $155 million.

Ninth goes to Ron Howard's The Dilemma. The comedy earned $3.4 million in its third weekend and dropped 39%. The $70 million Universal production has now earned $45.7 million.

In tenth is Black Swan, Natalie Portman's other film. Black Swan earned $3.4 million and fell 34%. It has a cume of $95.9 million. The Fighter, another of the big Oscar nominees, finished 11th, earning $2.9 million. It has a total of $82.5 million.

Overall this weekend, things remain heavy to the downside. The top 12 films earned only $75.4 million, the lowest January/February top 12 since 2007. The good news is that things will pick up next weekend, as the Super Bowl will be behind us. Openers next weekend include Adam Sandler and Jennifer Aniston in Just Go With It, the Justin Bieber concert film (in 3D, natch!), Gnomeo and Juliet, and The Eagle, with one of my favorites, Drederick Channing Tatum.